Commentary & Voices
Q4 2022 Kelley Blue Book Brand Watch Luxury Report: Tesla Wins Luxury Sales Crown Despite Plunge in Shopping
Thursday February 9, 2023
Article Highlights
BMW remains most-shopped luxury brand despite Tesla's win in sales.
Shopping for luxury SUVs rose while shopping for luxury cars slipped.
Lexus and Porsche take the most top honors in factors important to shoppers.
Shopping for Tesla models fell again during the fourth quarter of 2022, according to the most recent Kelley Blue Book Brand Watch report on luxury vehicle shopping. The softening of demand was likely one of the reasons Tesla began to offer hefty discounts on some models in the final two weeks of the year and cut prices further in January,
The Kelley Blue Book Brand Watch™ report is a consumer perception survey that also weaves in shopping behavior to determine how a brand or model stacks up with its segment competitors on a dozen factors key to a consumer's buying decision. Kelley Blue Book produces the quarter Brand Watch reports for non-luxury and luxury brands and assesses shopping for electrified vehicles. Beginning a year ago, the methodology includes surveying both mobile and desktop users instead of only desktop users.
Shopping consideration for Tesla models dropped three percentage points from the third quarter to the fourth quarter of 2022, marking an unprecedented two straight quarters of decline. Typically, when Tesla shopping has a soft quarter in the Kelley Blue Book Brand Watch report, it bounces back the next quarter, sometimes with a vengeance. That did not happen in the second half of 2022. Only 9% of luxury vehicle shoppers considered a Tesla in the fourth quarter versus 12% in the third quarter, pushing Tesla down to the eighth most-shopped luxury brand. Shopping for the Tesla Model 3 plummeted by 30% in the quarter.
Compared with the 2021 fourth quarter, Tesla shopping plunged by 50% in the Kelley Blue Book Brand Watch report. In the fourth quarter of 2022, 9% of luxury vehicle shoppers considered a Tesla compared with 18% in the year-earlier fourth quarter.
The decline likely is short-lived, and, in fact, Cox Automotive data show shopping surged in the latter half of December after the discounts were confirmed. The price reductions in January triggered orders that outstrip demand, Tesla CEO Elon Musk said in the company's January sales call.
Further, less shopping for Tesla doesn't result in lower sales. Tesla sales hit a record in 2022 and widened its margin over rivals for the U.S. luxury vehicle sales crown. Tesla buyers appear to know exactly what they want, and the decline in shopping traffic and brand strength does not appear to be negatively impacting sales in the near term.
BMW Remained the Most-Shopped Luxury Brand
BMW held its spot for the most considered luxury brand for the fourth consecutive quarter, buoyed by higher shopping for the X5 and 5 Series, up 21% and 3% in shopping, respectively, despite a drop in 3 Series shopping. Of all luxury vehicle shoppers, 22% considered a BMW, the same percentage as in the third quarter.
Quarterly Brand Consideration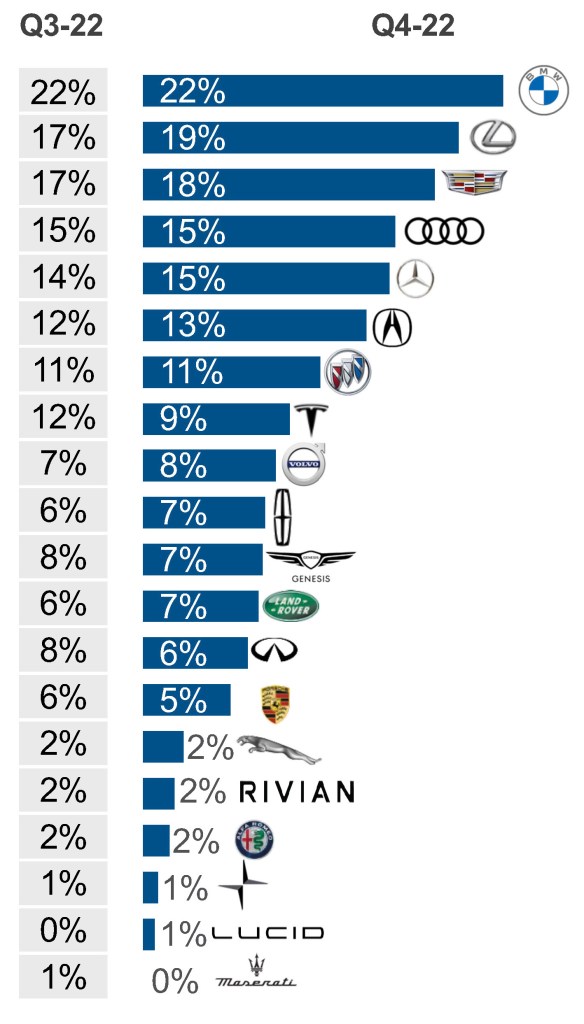 Lexus saw a 2-percentage point boost in shopping to 19% of all luxury shoppers. Lexus' gain in Q4 came from the new RX and RX hybrid. Shopping for the RX soared by 32% quarter-to-quarter. That helped narrow the gap with BMW and edge out Cadillac, even though the GM luxury brand had a 1-percentage point gain to 18% on higher shopping for the CT5, up 17%, and the Escalade, up 2%.
Mercedes-Benz and Acura each gained a percentage point of shopping. Acura saw higher shopping for the MDX, up 41%, and the TLX, up 7%. Volvo, Lincoln and Land Rover also gained a percentage point of shopping each.
Infiniti lost 2 percentage points in shopping. Porsche, on weaker Macan shopping, and Genesis, on softer GV70 and G70 consideration, were down a percentage point each.
In addition to BMW, Audi held steady, as did Buick, despite big gains in shopping for the Buick Enclave and Encore. Jaguar, Rivian and Alfa Romeo held steady at 2% of all luxury shoppers. Polestar and Lucid were at 1%. Maserati fell off the charts.
Shopping for Luxury SUVs Rose While Shopping for Luxury Cars Slipped
Shopping for SUVs rose to 68% of all luxury vehicle shoppers, up a percentage point from the previous quarter but down from 70% a year ago. Shopping for luxury cars slipped to 51% from 53% in the last quarter but was still up from 49% the year before.
Quarterly Segment Consideration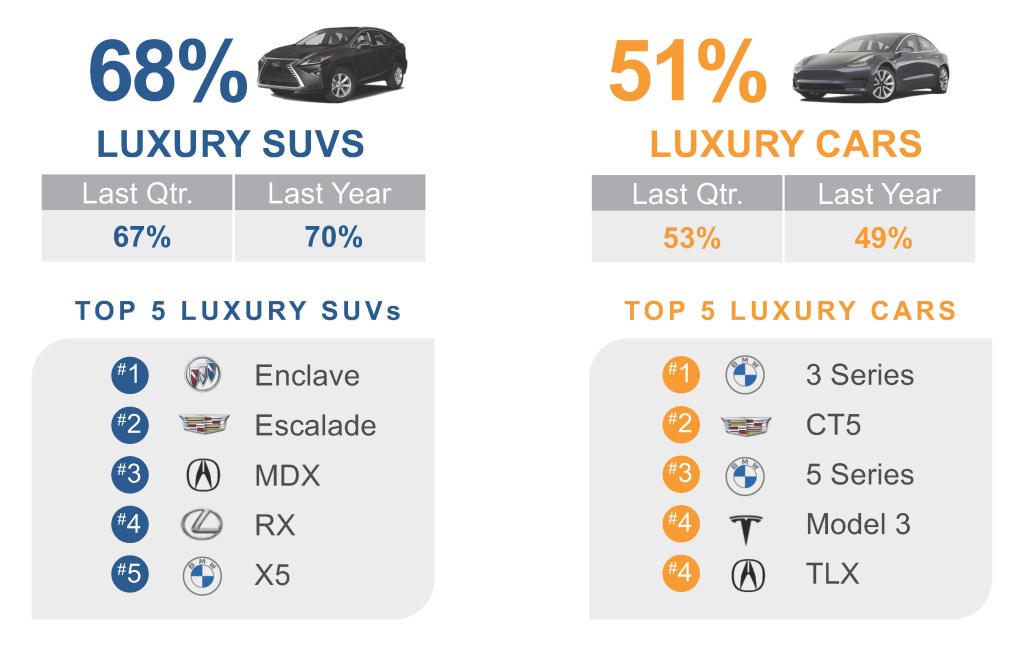 The most-shopped luxury SUV was the Buick Enclave, supplanting the Cadillac Escalade, which had held the top spot for the past three quarters. The Enclave has not been No. 1 in nearly seven years. The Acura MDX, Lexus RX and BMW X5 rounded out the Top 5.
The Top 5 most-shopped luxury cars were led by the BMW 3 Series, knocking out the Tesla Model 3, which fell to No. 4. The Cadillac CT5 was No. 2. The BMW 5 Series re-joined the list at No. 3. The Acura TLX rounded out the Top 5.
In terms of the Top 10 most considered luxury vehicles, SUVs ruled, taking six spots. The Buick Enclave led that list as well, followed by the Cadillac Escalade, the Acura MDX, Lexus RX, BMW 3 Series, BMW X5, Cadillac CT5, Buick Encore, BMW 5 Series and Model 3 tied for No. 10 with the Acura TLX. In terms of brands, BMW dominated the Top 10 list with three entries. Worth noting: In Q4 2021, a year earlier, Tesla had three models in the Top 10 most-considered list, including No. 1 (Model Y) and No. 2 (Model 3).
Top 10 Models Considered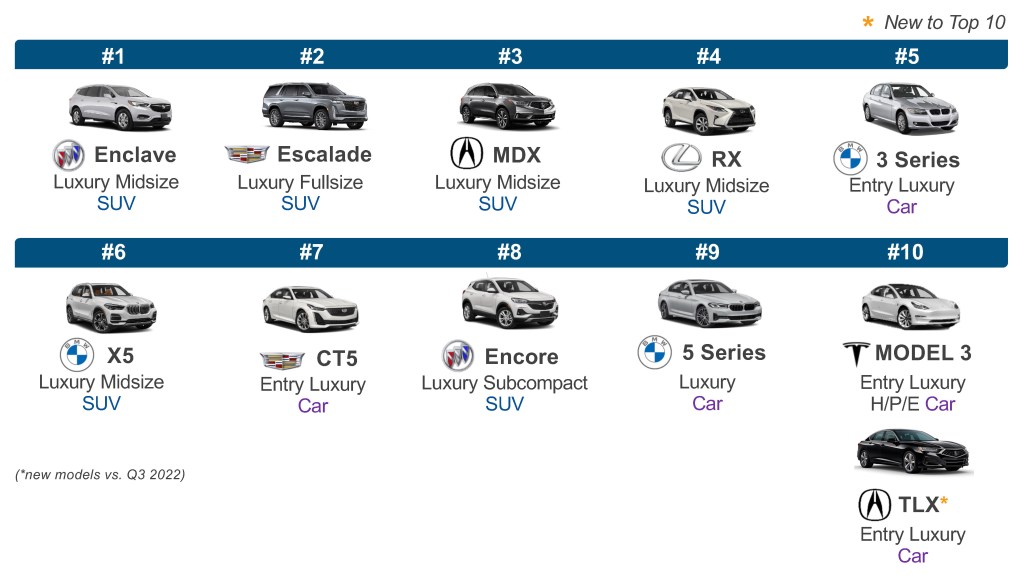 Lexus and Porsche Take the Most Top Honors in Factors Important to Shoppers
Volatile gas prices have resulted in Fuel Efficiency becoming increasingly important to luxury vehicle shoppers. They also rate Performance, Affordability, Technology, Exterior Styling and Prestige/Sophistication as more important to their purchase decision. Durability/Reliability and Safety remain No. 1 and 2, respectively, in importance, but they have slipped in percentages, likely as luxury shoppers view those factors as givens.
Factors Driving Luxury Consideration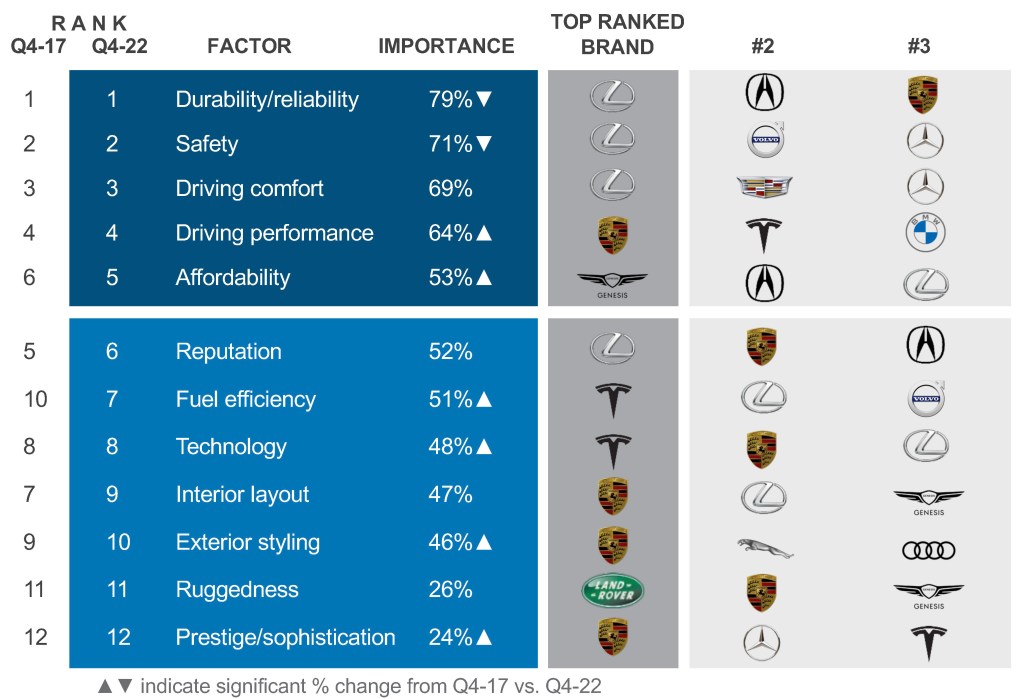 Lexus ranked No. 1 in Durability/Reliability, Safety, Driving Comfort and Reputation. The launch of the new Lexus RX and RX Hybrid and the upcoming release of the RX450e are revitalizing perceptions of Lexus. The brand ranked second for Fuel Efficiency and Interior Layout and third for Technology.
Porsche re-claimed the top honors in Performance, Interior Layout, Exterior Styling and Prestige/Sophistication after falling off in the third quarter. Porsche placed second in Reputation, Technology and Ruggedness and third for Durability/Reliability, which Japanese brands have generally dominated.
Other firsts included Tesla for Fuel Efficiency and Technology. Genesis for Affordability. and Land Rover for Ruggedness.
---
Michelle Krebs is the executive analyst at Cox Automotive.
Tags