Data Point
Seismic Shift: The U.S. New-Vehicle Market is Becoming a Luxury Market
Thursday February 23, 2023
For many current car shoppers, new-vehicle prices are about as enjoyable as a sharp stick in the eye. All the reasons are well documented – supply disruptions, low inventory, new technology, higher interest rates, and automakers focused on high-earning buyers. With the average manufacturer's suggested retail price (MSRP) now close to $50,000, finding big-ticket items was not difficult recently as our team cruised the 2023 Chicago Auto Show. Six-figure offerings were common – at least three were on the Jeep stand – and $75,000 pickup trucks were routine. All excellent vehicles, indeed, but the sticker shock was breathtaking.
This is the new-vehicle market right now, where affordability continues to be one of the greatest challenges facing vehicle buyers. How fast has the market changed? Quite fast, particularly for new-vehicle shoppers just entering the market again after, say, a three-to-five-year hiatus. The shift is remarkable.
To illustrate the point, the Cox Automotive Industry Insights team considered the market shift over the past five years. Their analysis focused on vehicles priced under $25,000 – generally regarded as affordable – and vehicles priced over $60,000, above the annual income of the average American. The team took a snapshot of total new-vehicle sales in December 2017 (1.6 million vehicles sold) and, five years on, December 2022 (1.3 million sold) and considered three key measures of the two groups (Under $25K and Over $60K): Number of models available at each price point, volume sold, and share of total sales.
Market Shift in New-Vehicle Pricing Segments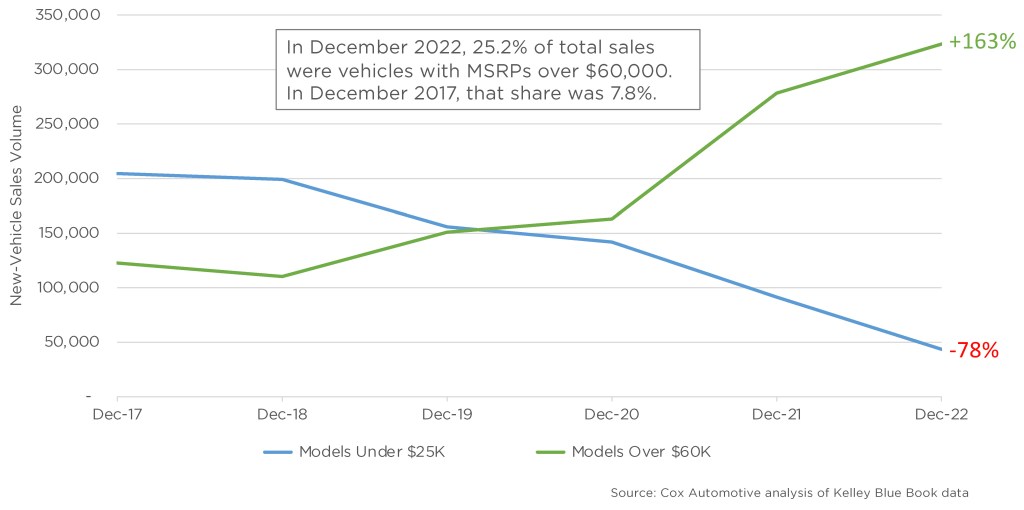 As prices rise and high interest rates shut out many shoppers with low credit scores, the U.S. market is becoming a luxury market, i.e., a new vehicle is a luxury afforded only by wealthier buyers. In December 2017, there were 36 models with MSRPs below $25,000, and the under-$25K share accounted for nearly 13% of total new-vehicle sales. Sales volume was 204,593. In December 2022, there were only 10 models with MSRPs under $25K, and the share of sales plunged to under 4%. Volume for the under-$25K set dropped to 43,557. In December 2022, buyers with subprime credit scores accounted for only 5.2% of the market. In 2017, subprime buyers were 13.9%.
While the lower end of the market shrank in our measured timeframe, the bigger move was on the upside, as luxury brands took more share of the market and non-luxury brands made and sold more luxury-priced vehicles. In December 2022, more than 25% of the new vehicles sold had MSRPs over $60,000. There were 90 unique models in that category, with total sales of 323,368. Five years earlier, in December 2017, the share of vehicles priced $60K-plus was less than 8%. There were 61 models, with sales of 122,864.
According to the Cox Automotive/Moody's Analytics Vehicle Affordability Index, new-vehicle affordability improved slightly in January, as new-vehicle prices moderated some and household incomes improved. Still, with more interest rate action on the horizon and a continued focus on high-end buyers, our analysts expect vehicle affordability to remain a top concern among vehicle buyers. Five years ago, the idea of a $110,995 Jeep might have been absurd. But in our current automotive market, that price point is becoming more routine and pushing industry ATPs higher and higher.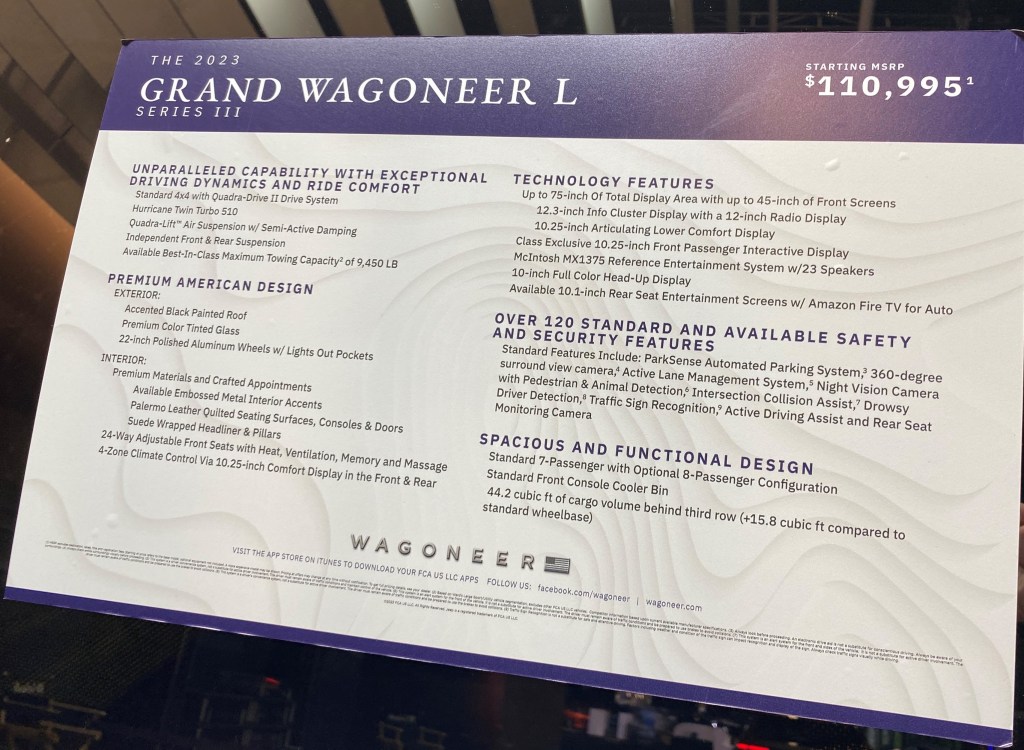 Tags