Data Point
New-Vehicle Affordability Improved in September
Monday October 16, 2023
In September, strong income growth and lower vehicle prices were enough to offset higher auto loan rates. Income and market dynamics favored consumers in September, and new-vehicle affordability improved enough in the month to now see improvement year over year. This marks the first time since 2019 that the Cox Automotive/Moody's Analytics Vehicle Affordability Index (VAI) was lower year over year.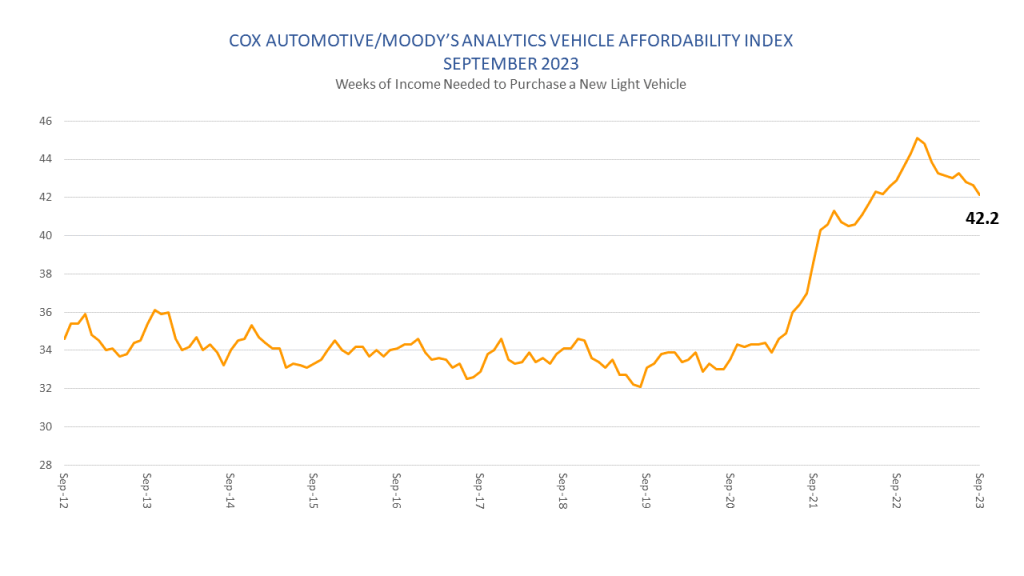 The typical new-vehicle payment declined 0.8%, and the number of median weeks of income needed to purchase the average new vehicle declined to 42.2 weeks from an upwardly revised 42.6 weeks in August. At 42.2, the affordability index was lower than the 42.9 recorded last September by 1.6%.
Vehicle Affordability Improves Year Over Year for First Time Since 2019
The median income grew 0.3%, the average new-vehicle transaction price declined 0.5%, and incentives from manufacturers were nearly unchanged. The typical new vehicle loan interest rate increased to 10.48%, which was a new peak. As a result of these changes, the estimated typical monthly payment declined 0.8% to $765, from an upwardly revised $771 in August. The average monthly payment peaked at $794 in December.
New-vehicle affordability in September was slightly better than a year ago. New-vehicle transaction prices averaged $47,899 last month, lower than a year ago when prices were $48,259. Interest rates last month, however, were two and a half percentage points higher than one year ago. Still, even with significantly higher loan rates, there is good news for buyers: The estimated number of weeks of median income needed to purchase an average new vehicle last month was down 1.6% from last year.
Click here for the full methodology for the Cox Automotive/Moody's Analytics Vehicle Affordability Index.
The next update of the Cox Automotive/Moody's Analytics Vehicle Affordability Index will be published on Nov. 15, 2023.
---
1 The index input of the average interest rate paid by consumers is calculated to reflect a 72-month, fixed-rate loan. For the latest Dealertrack estimated, volume-weighted average new loan rate, visit the Auto Market Snapshot.
---
The Cox Automotive/Moody's Analytics Vehicle Affordability Index (VAI) is updated monthly using the latest data from government and industry sources, including key pricing data from Kelley Blue Book, a Cox Automotive company. This important industry measure will be released at mid-month to indicate if the prices paid for new vehicles are moving out of consumers' financial reach or becoming more affordable over time.
Tags