Data Point
Still Low, New-Vehicle Supply Nears 1 Million Units, Average Price Surpasses $45,000
Wednesday December 15, 2021
Article Highlights
New-vehicle inventory is rising though it remains historically low.
Average listing price set another record, surpassing $45,000 for the first time.
Asian and luxury brands rank lowest for supply; domestic inventory is improving.
Revised Jan. 14, 2022 – The new-vehicle supply rose to nearly 1 million units at the end of November, a level not seen since early August, according to a Cox Automotive analysis of vAuto Available Inventory data. The average listing price surpassed $45,000 in November for the first time ever.
---
935,100
Total Inventory
as of Nov. 22, 2021
$45,084
Average Listing Price
---
"With supply stuck near 1 million units, it means December sales may be stuck at that level too," said Charlie Chesbrough, Cox Automotive senior economist. "December is normally one of the biggest selling months of the year for the vehicle market, but not this year. Luxury manufacturers usually expect to finish the year with strong sales, but supply constraints will have a huge impact this holiday season."
Still restrained due to the global computer chip shortage and subsequent production cuts, the total U.S. supply of available unsold new vehicles stood at 935,100 vehicles at the end of November, the highest level since early August and up from the revised 920,959 at the end of October. New-vehicle inventory levels are 64% lower than a year ago. In raw numbers, the current supply of new vehicles is more than 1.8 million vehicles less than the stock of a year ago and more than 2.5 million less than in 2019.
The days' supply of unsold new vehicles was 30 as December opened, down from 31 at the start of November. Days' supply of both luxury and non-luxury vehicles stood at 32.
The total days' supply has hovered in the range of 29 to 33 range since May. Still, the day's supply at the end of November was 57% below a year ago.
By comparison, new-vehicle inventory in November 2020 was nearly 2.8 million units for a 70 days' supply. In pre-pandemic October 2019, supply was nearly 3.6 million vehicles for an 88 days' supply, according to Cox Automotive data.
The Cox Automotive days' supply is based on the daily sales rate for the most recent 30-day period. November sales were down 16% from a year ago for a seasonally adjusted annual rate (SAAR) of 12.9 million, up from September's low of the year and slightly from October's pace.
Though sales are constrained by inventory shortages, consumer demand for vehicles is strong. In November, the number of days it took to sell a vehicle and the number of days a vehicle remained in inventory were the lowest on record, according to Cox Automotive's data.
Average Listing Price Exceeds $45,000
The average listing price – or asking price – for new vehicles set another record and hit a new milestone, surpassing $45,000. The average listing price of $45,078 heading into November, up from the revised $44,681 a month earlier. By comparison, at the end of November 2020, the average listing price had just broken $40,000 at $40,059. In November 2019, it was $37,863.
Average transaction prices (ATP) – the price buyers actually paid – also set a record, according to a Kelley Blue Book report. November marked the eighth straight month of ATP increase. Price gains are being driven by luxury vehicles, large SUVs and pickup trucks. Incentives remain at a 20-year low.
The average listing price for luxury vehicles was $63,845 in November, up from $63,726 in October. The non-luxury average list price was $41,957, up from $41,700, according to Cox Automotive data.
The lowest supply is in the cheapest price category, below $20,000, where there are few offerings to begin with – at a 19 days' supply. Price categories between $20,000 and $50,000, the bulk of the market, has between 26 and 30 days' supply. Vehicles priced above $50,000 have a 38 to 41 days' supply.
Asian and luxury brands have lowest supply
Asian brands continue to have the lowest days' supply. But some import luxury brands joined them in November.
Of non-luxury brands, Toyota, Honda, Kia and Subaru have the lowest supply. Many popular Toyota, Honda and Kia models have days' supply under 20. On the luxury side, Land Rover, Lexus and Acura fell to near the bottom of brands with the lowest inventories as they head into December, normally a robust month for luxury vehicle sales.
National Days' Supply by Brand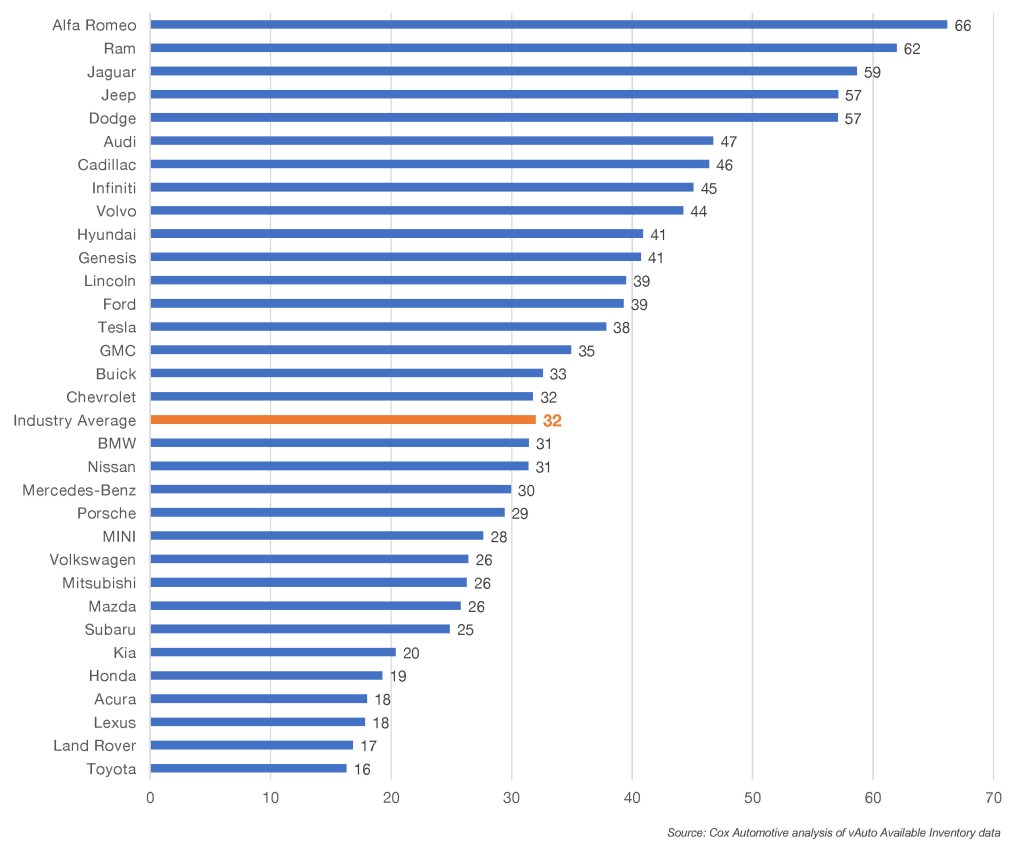 Toyota had expected to return to full production in December, after massive cuts in the fall. But that didn't happen as the spread of COVID-19 throughout Southeast Asia caused parts plants to close. Those cuts particularly hurt Toyota's Lexus brand.
In contrast, domestic brands, specifically GM and Ford brands, got hit early with the chip shortage and are now building inventory. All domestic brands had above industry average days' supply, except Chevrolet, which was just below the average. The supply of profit-generating full-size pickup trucks appears to be improving for American automakers.
Because Asian brands dominate traditional car categories, the inventory for compact, subcompact and midsize cars as well as hybrids were at the low end as were luxury SUVs of various sizes.
---
More insights are available from Cox Automotive on new-vehicle inventory, using a 30-day rolling sales methodology to calculate days' supply.
Tags