Data Point
Strong Sales Hold New-Vehicle Inventory Levels in Check
Wednesday March 11, 2020
Article Highlights
New-vehicle inventory was down on unexpectedly strong sales.
New-car inventory fell as automakers drop models.
No supply disruptions detected due to COVID-19.
As March opened, new-vehicle inventory was lower than a year ago and a month earlier because sales so far this year proved to be stronger than expected, according to Cox Automotive calculations.
On a volume basis, new-vehicle inventory at the end of February was down nearly 12% from a year ago and down nearly 11% from January. February had the fourth-lowest monthly inventory since the start of 2019 at 3.58 million vehicles.
In terms of days' supply, new-vehicle inventory at the end of February stood at 68 days, down nine days from February 2019 and down eight days from January, according to Cox Automotive calculations. For overall inventory, a 60 days' supply is considered ideal, though healthy levels for light trucks is higher – closer to 70 days' supply – due to the wider variety of configurations.
Overall inventories dipped because February new-vehicle sales were more robust than expected. Strong fleet sales were driven by higher sales to commercial customers who are still reaping the benefits of the Tax Cuts and Jobs Act of 2017 that provides accelerated depreciation on new-vehicle purchases. Retail sales rose a higher percentage than fleet sales, likely driven by hefty incentives, averaging about $3,890 per vehicle, according to Cox Automotive figures.
Should the COVID-19 outbreak and wild stock market gyrations scare consumers, automakers look to be in good shape by having new-vehicle inventory levels in check.
No COVID-19 Disruptions – Yet
The pipeline of new vehicles and the supply of parts for new vehicles has not been disrupted by COVID-19, which caused a massive shutdown of new vehicle and parts production in China, cascading to South Korea and Italy. Automakers and analysts are closely monitoring for possible disruptions in the U.S.
The notable exception is the Hyundai Palisade. The popular, three-row SUV that was launched late last year has a falling supply, now down to 28 days. The plant in South Korea that makes the Palisade was recently closed a second time due to a worker testing positive for COVID-19. The first closure was due to a parts shortage caused by supply chain disruptions.
The Palisade's cousin, the Kia Telluride, is made in Georgia, but its supply is extremely low due, in part, to its popularity after winning numerous awards and critical acclaim. The just-launched Kia Seltos, built in South Korea, also is in short supply, which is not unusual for a new vehicle. Supplies of the Kia Rio and Kia Forte cars, assembled in Mexico, are also low.
In contrast, Buick appears to have plenty of inventory for its South Korea-built Encore and Encore GX SUVs.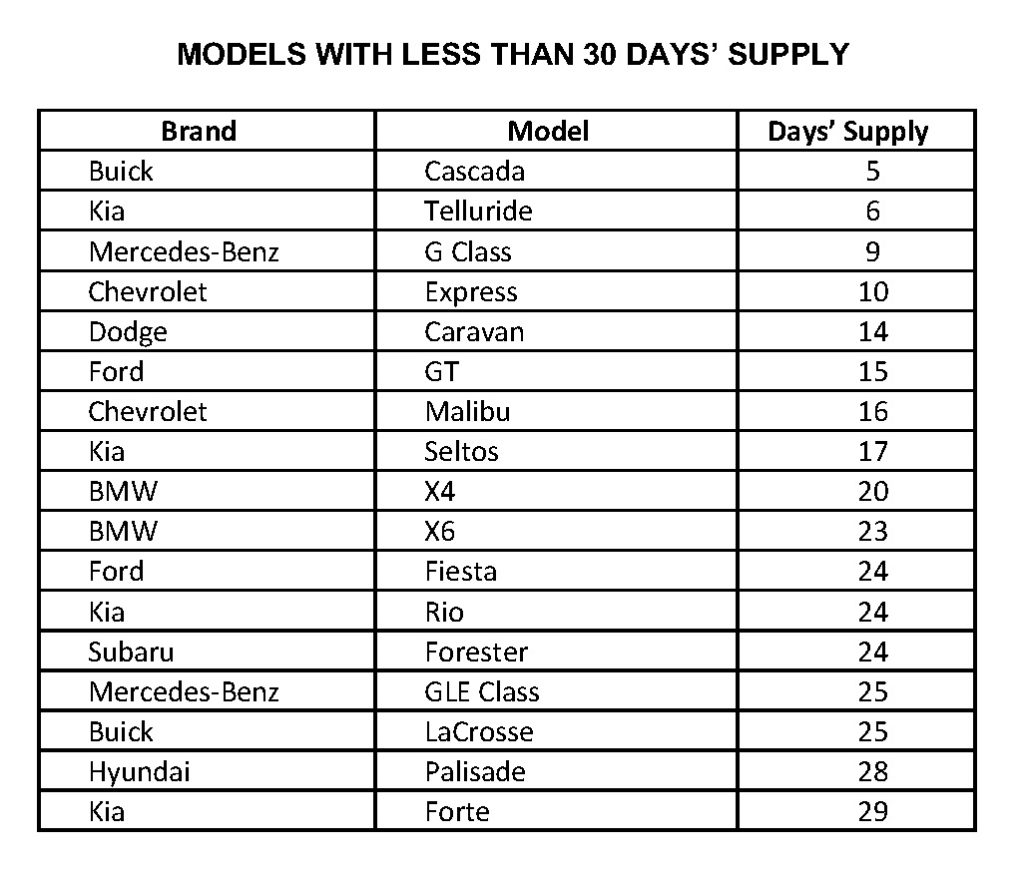 Car Supply Dwindles
The days' supply of cars dropped to 59, a decline of 10 days from a year earlier. The drop-off illustrates consumer preference for SUVs that has prompted manufacturers to trim their car lines or eliminate some models completely. The car share of new-vehicle sales is running at a historically low level – below 26% of all new-vehicle sales – so far this year.
Days' supply of the Buick Cascada is in the low single digits, and Buick LaCrosse is at 25 while General Motors is winding down sales of all Buick cars. Buick is being re-positioned as an all-SUV brand for the future. The Cascada was made in Europe by Opel, which GM sold to PSA, Fiat Chrysler's proposed merger partner. It no longer made sense to import the Cascada.
Ford ended production last year of the Fiesta, which is down to a small supply.
Truck, SUV Inventory Slips with Wide Variation by Model
The days' supply of light trucks, which includes pickup trucks and SUVs, stood at 71 at the end of February, down nine days from a year ago, according to Cox Automotive calculations.
German automakers BMW and Mercedes-Benz have among the lowest inventory levels for their SUVs. The South Carolina-made BMW X4 and X6 have days' supply in the 20s. Mercedes-Benz has low supplies of the European-sourced G wagon, with under 10 days' supply. Meanwhile, the Alabama-built GLE has a 25 days' supply, which is two days more than last year when the plant was experiencing production challenges.
Inventory for pickup trucks and SUVs from the Detroit automakers vary widely. Chevrolet clearly is still suffering from the hangover due to lost production during the six-week UAW strike against General Motors last fall. Chevy's supply of trucks and SUVs are a low 68 days. Ford, meantime, has a 98 days' supply of trucks and SUVs.
Truck War Part 2 Depends on Supply
Last year marked a brutal war among the Detroit Three's full-size pickup trucks. The truck war continues this year, and the winner may come down to supply.
Ford has a hefty supply of pickup trucks. It has a 114 days' supply of F-Series. Ford likely is stocking before it begins converting its assembly plants later this year to produce the redesigned F-Series. It has a 125 days' supply of the smaller Ranger, which had a hot launch a year ago at this time.
Ram has an 88 days' supply of its popular pickup truck, down 20 days from a year ago. Ram outsold the Chevrolet Silverado last year for the first time. Similarly, Fiat Chrysler is taking a Ram production line down temporarily to add another model.
Chevrolet could be hampered with low inventories in the short term, but, if GM successfully builds up stock, the brand could have an advantage as Ram and Ford lose production while re-tooling plants.
Chevrolet has a low supply of the Silverado, at 72 days' supply, also down 20 days from a year ago. Chevrolet executives have promised dealers they would more aggressively market the Silverado so as not to be beat by Ram again. Chevrolet has even lower inventory of the smaller Colorado, which had a minor freshening this year, with a 66 days' supply.
Interestingly, the hottest new trucks last year – the Ford Ranger and Jeep Gladiator – have very high inventory levels. Perhaps the newness has worn off.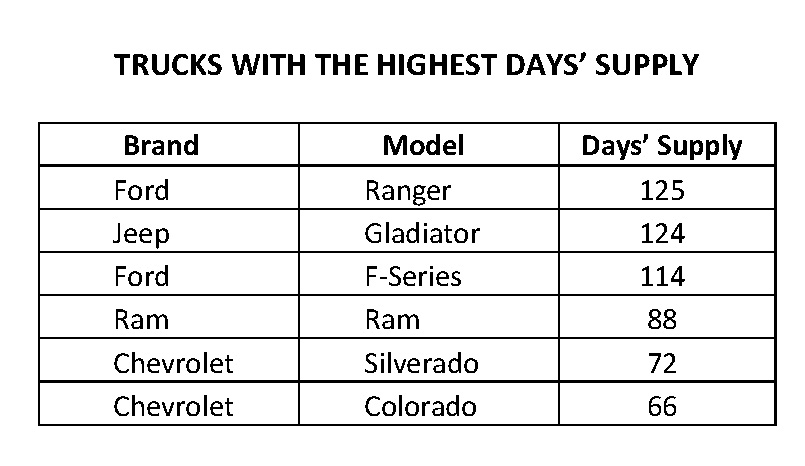 Other models with the most bloated inventories – in the triple digits of days' supply – are those from struggling brands, such as Mini and Fiat, as well as car models.
Tags