Commentary & Voices
SUVs and Pickups Dominate Q3 Retail Registrations
Wednesday December 18, 2019
The top 10 new luxury and non-luxury retail models registered in the third quarter of this year continue to show a clear consumer focus on utility vehicles and pickup trucks.
Of the top 10 luxury and top 10 non-luxury vehicles sold at retail and registered through Q3, 11 were sport-utility vehicles, three were pickup trucks and six were traditional cars, according to the Cox Automotive analysis of IHS registration data.
Pickups posted a strong sales performance last quarter. Among the new, non-luxury retail vehicles registered in the first half, Ford F-Series, Ram Pickup and Chevrolet Silverado, respectively, took three of the top five non-luxury vehicle spots.

The Toyota RAV4 took the first spot in non-luxury top models for Q3. Showing the trend of consumer focus and demand for sport utility vehicles. In addition, the Honda CR-V came in as the fourth most registered non-luxury vehicle in Q3 2019.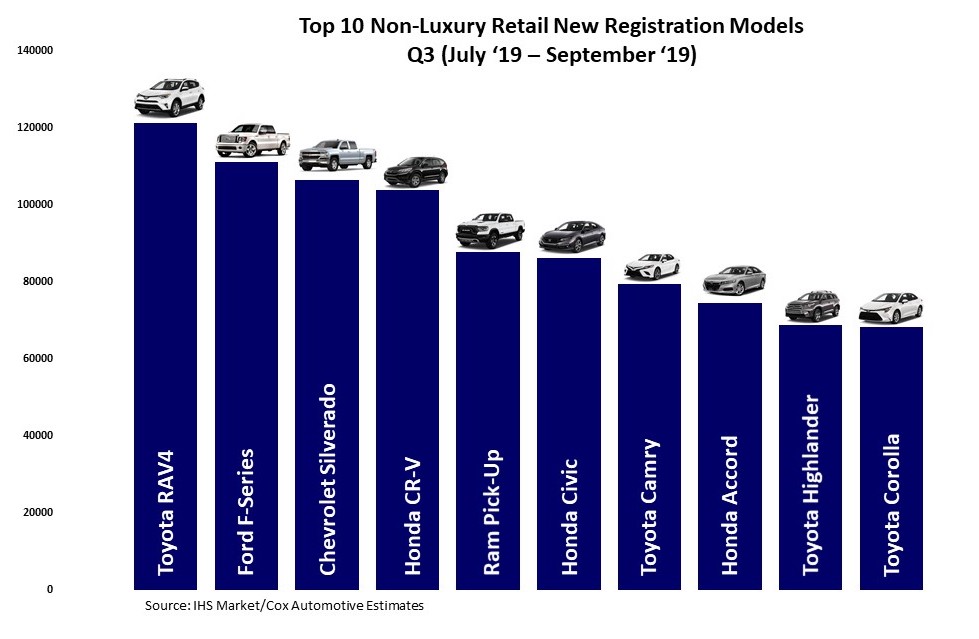 Trucks are continuing to surge, in part, due to their multipurpose ability for commercial use and comfort. The Ram and Silverado were recently redesigned with more comfort, function and technology, appealing to buyers for both business and personal use.
Honda and Toyota still hold a heavy presence with their car offerings, with the Honda Civic, Toyota Camry, Honda Accord, and Toyota Corolla rounding out the top 10 of Q3 registered non-luxury vehicles. While other automakers, including Chevrolet, Ford and Fiat Chrysler have abandoned or vastly scaled back their car models, Toyota and Honda have stuck with them. In fact, Toyota and Honda nameplates dominated the top 10 list.
Among the top 10 new, retail luxury vehicle registrations, the Tesla Model 3 sedan took first place with more than 35,000 registrations through the end of September. The gap between the Model 3 and the rest was wide. Additionally, the Model 3 was the only electric vehicle among any of the top 20 luxury and non-luxury vehicles registered as retail in the first half.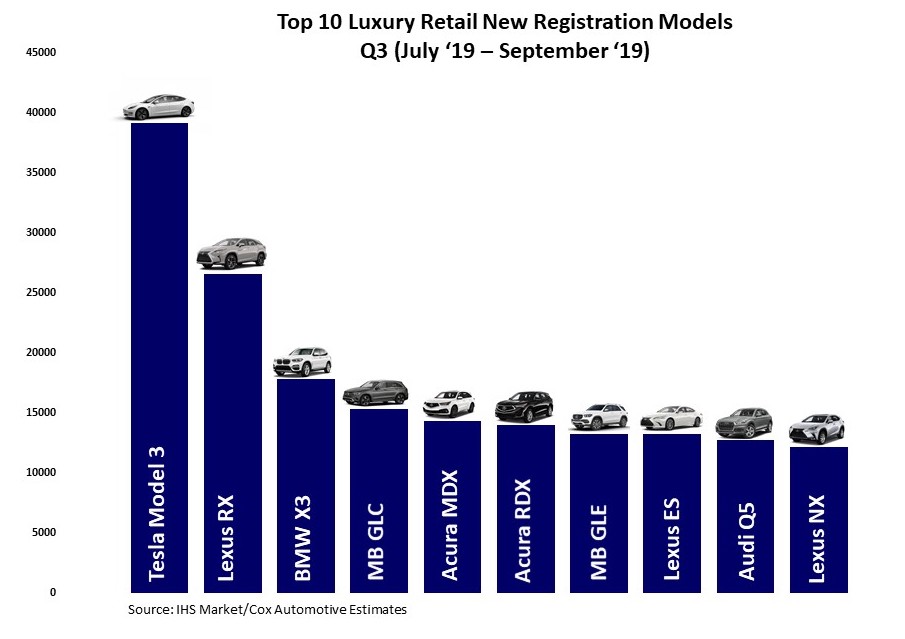 The Lexus ES was the only other car on the top 10 luxury list. Similar to Q2, the rest were sport utilities from a variety of luxury automakers.