Commentary & Voices
Tesla: Surprises with Q3 Profit on Lower Revenue, Record Global Sales
Tuesday October 22, 2019
Article Highlights
Tesla's U.S. sales in Q3 were down across the board, but up for the year.
No profit expected, but signs of future profitability will be scrutinized.
Tesla electric truck to be unveiled in November.
UPDATED, October 24 – Tesla shocked the experts by reporting a Q3 profit of $143 million, causing its stock price to spike by nearly 20%. The company said it took out substantial costs from its operations. As predicted, Tesla's revenues were somewhat lower than Q3 2018.
Tesla announced third-quarter financials after the stock market closed on Wednesday, October 23. Some Wall Street analysts were calling Q3 a fork-in-the-road moment for Tesla. They expected no profit and, for the first time in a decade, a decline in quarterly revenue despite record global vehicle sales.
Tesla announced in early October that it had delivered 97,000 vehicles globally, a record but still shy of the 100,000 that Tesla CEO Elon Musk said the company might hit. The increase came from overseas sales. Tesla sales reportedly rose 175% in China. During the quarter, the Model 3 became the Netherland's most popular vehicle, surpassing the Volkswagen Polo.
In the U.S., which accounts for the bulk of Tesla's sales, sales were down in Q3, though September closed up and Tesla remains ahead for the year and is one of the industry's biggest sales gainers, according to Cox Automotive.
Tesla doesn't report sales in the way other automakers do, but Kelley Blue Book estimates Tesla's U.S. sales totaled 54,700 vehicles, down 22% from the nearly 70,000 in Q3 2018. The luxury market in which Tesla competes rose nearly 3% in Q3, causing Tesla to lose market share.The good news is that the Model 3 is a strong seller. Even though U.S. sales of the Model 3 were down 14%, it still was the best-selling entry luxury car in the U.S. during the quarter. The bad news is that the Model 3 is the least expensive Tesla, which is why revenues are down while global sales are up.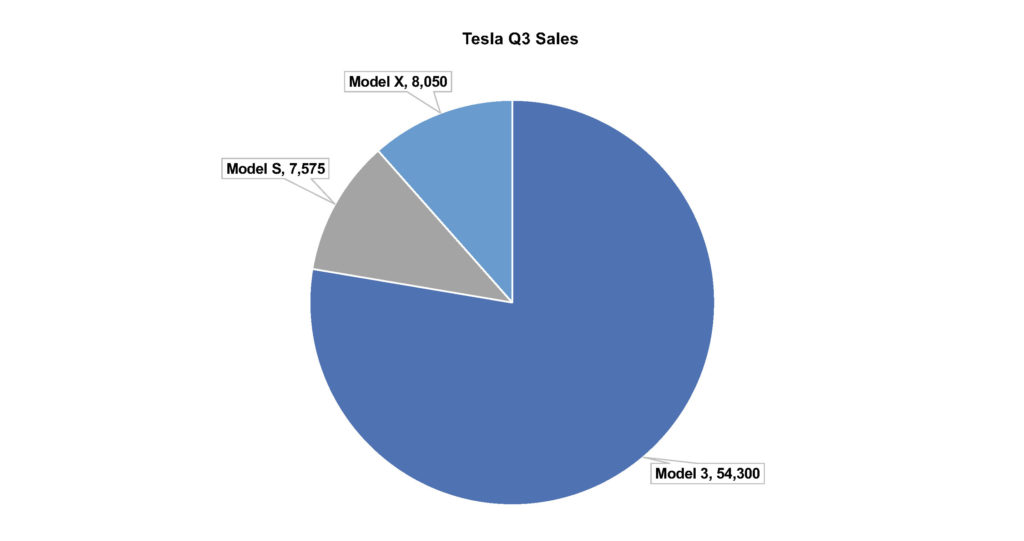 U.S. sales of the flagship Model S plummeted 59% to 3,125 units, according to Kelley Blue Book estimates. Sales of the Model X SUV also fell, dropping 41% to 4,725 units, Kelley Blue Book estimates. Wall Street analysts are concerned that demand for the Model S and Model X, older models that Tesla does not plan to refresh beyond over-the-air updates, has been exhausted and newly launched competition from Jaguar, Audi and Porsche will keep Tesla's growth plans in check.
Despite lower U.S. sales, Tesla's shopping consideration on Kelley Blue Book grew in Q3, driven by the Model 3, the most considered model in the luxury segment. Obviously, many of these are window shoppers, intrigued with the aspirational brand but not in a position to buy. The Tesla brand has been a winner, in terms of consumer perception. The upcoming Q3 Kelley Blue Book Brand Watch, which analyzes consumer perception and shopping consideration, shows Tesla holds seven top spots among the 12 factors shoppers consider most important in their luxury vehicle purchase. Tesla wins for both practical and emotional factors, according to KBB Brand Watch.
Looking ahead, analysts will be closely examining cash flow and looking for any signs that Tesla will become profitable in the near future. In November, Tesla will unveil its electric pickup truck, described by Musk as "a personal armored personnel carrier from the future." That vehicle will also face competition from Rivian, Ford and General Motors, which revealed during UAW negotiations that it is working on a Hummer-like electric pickup.