Data Point
The Chevrolet Corvette is Already Tops in Styling and Performance. Will the All-New 'Vette be Better?
Thursday July 18, 2019
With the new Corvette, Chevrolet has rethought everything, giving its two-seater a mid-engine layout for improved performance and a more exotic, stand-out design. With these moves, Chevy likely envisions a Corvette among a more exotic competitive set, high performers such as the Acura NSX and Porsche 911.
Our team at Kelley Blue Book looked at how well the current Corvette would fit in a more upscale neighborhood, among the Acura NSX, Audi R8, Mercedes AMG GT, Nissan GT-R and Porsche 911. The short answer: pretty well.
The Kelley Blue Book Brand Watch study measures 12 key attributes considered to be the most important to car buyers, attributes such as performance, styling, reliability and reputation. Reviewing our Q2 2019 data, the current-generation Chevrolet Corvette comes out on top within the competitive set in 5 of the 12 attributes, including in the very important attributes of performance and styling, two area of focus for the all-new 2020 model launching this evening.
Here's the data point: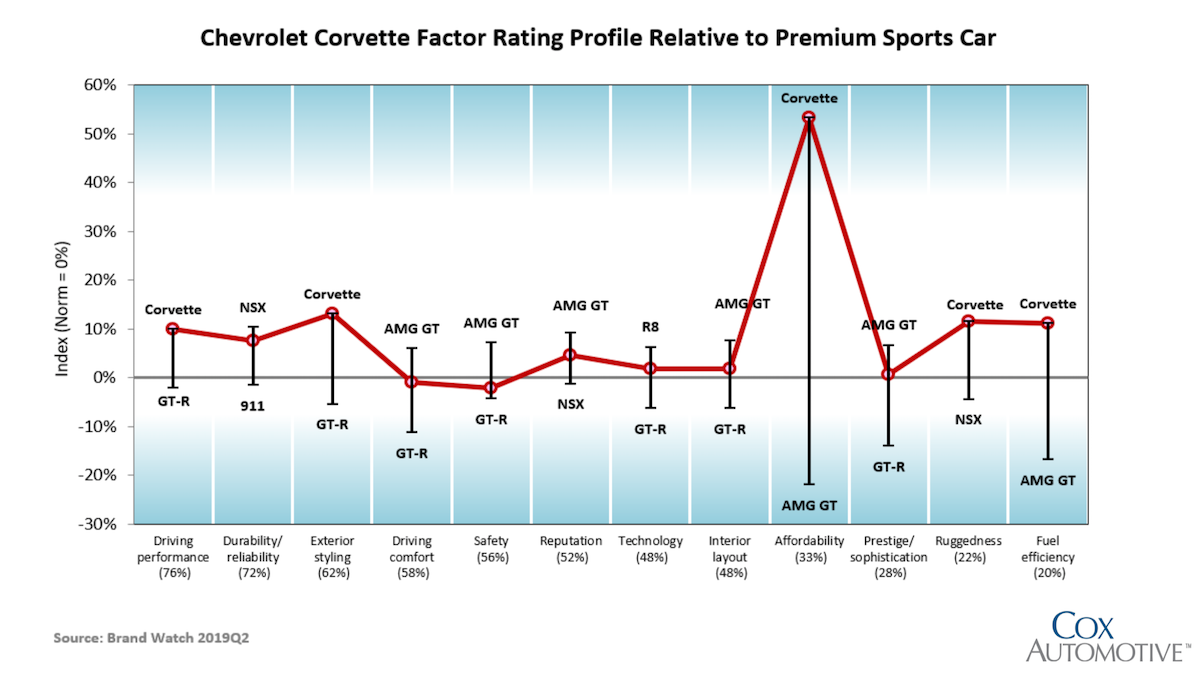 Notes:
• Competitive set is current generation Audi R8, Acura NSX, Mercedes AMG GT, Nissan GT-R and Porsche 911.
• Red line shows current-generation Corvette relative ranking in the field. Top and bottom ranked vehicles noted.
• Height of line indicates relative spread from top to bottom in rankings. For example, Corvette is seen as FAR more affordable than competitors. In performance, Corvette is top, but by a smaller margin.
• Percentage shows importance of attribute. For example, only 20% of buyers in this segment consider fuel economy as an important vehicle attribute.