Data Point
Used-Vehicle Inventory, Prices Rise in April on Softening Sales
Friday May 12, 2023
Article Highlights
Used-vehicle inventory closed higher at the end of April than in March but below April 2022.
Used days' supply held steady at 44. The lower the price, the lower the supply.
The average used-vehicle listing price closed higher in April.
The inventory of used vehicles edged higher at the end of April compared to March as the spring selling came to a close and sales slowed. However, supply remains below year-ago levels, according to the Cox Automotive analysis of vAuto Available Inventory data, and days of supply have slipped. Meanwhile, the average listing price climbed to nearly $27,000.
---
2.11M
Total Unsold
Used Vehicles
as of April 24, 2023
$26,969
Average Listing Price
---
The total supply of unsold used vehicles on dealer lots, both franchised dealers and independents, across the U.S. stood at 2.11 million units at the close of April. That was up from a revised 2.06 million at the end of March but down 16%, or 400,000 units, from the same time a year ago.
The total days' supply at the end of April stood at 44*, mostly unchanged from the revised 44 days' supply at the end of March. Days' supply was 13% below the year-ago levels.
The Cox Automotive days' supply is based on the daily sales rate for the most recent 30-day period, ending April 24, when sales were 1.44 million units, down 4% from a year ago. After a relatively strong spring selling season, used vehicle sales for the full calendar month of April were down 8% from April 2022.
APRIL 2023 AVERAGE USED-VEHICLE LISTING PRICE
Prices still falling – on average – but rate of decline at 4%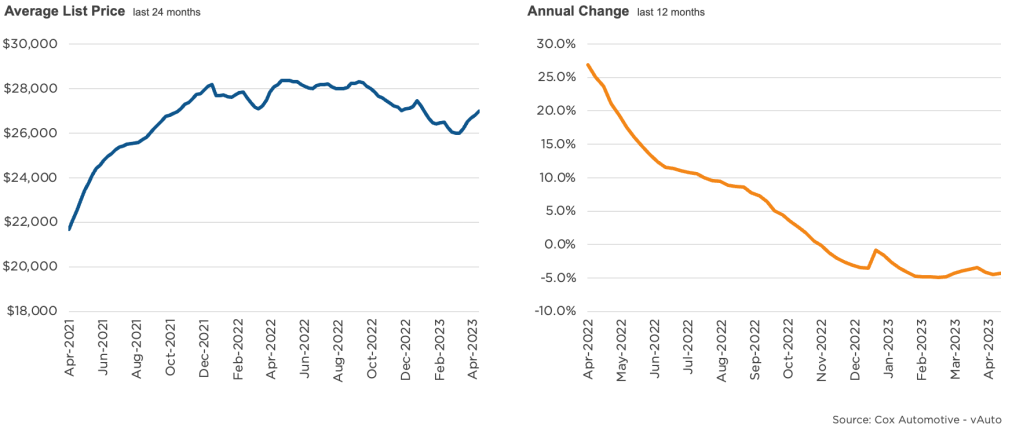 The average used vehicle listing price closed April at $26,969*, the highest since mid-January but down 4% from the same period a year ago. According to the Manheim Used Vehicle Value Index, wholesale prices are dropping, suggesting retail prices may dip as well. However, the average price likely will stay relatively high since few new vehicles were sold in recent years and little leasing was done, so newer used vehicles are in short supply and in high demand.
As with new cars, the lower the price, the tighter the inventory, and days' supply by segment remained unchanged in April from March. Days' supply for under $10,000 vehicles was 31. Days' supply for vehicles priced between $10,000 and $15,000 was 37, between $15,000 and $20,000 was 40 and $20,000 to $35,000 was 44. Vehicles priced above $35,000 had the highest days' supply at 46.
Non-luxury used vehicles with the lowest inventory – all below the industry average – were from Chevrolet, Chrysler, Dodge, Honda, Hyundai, Kia, Mazda and Volkswagen. Luxury used vehicles with the lowest inventory were from Acura, Infiniti and Lexus.
---
*April days' supply and listing price were corrected on May 16. For more insights on used-vehicle inventory using a 30-day rolling sales methodology to calculate days' supply, reach out to the Cox Automotive Public Relations team.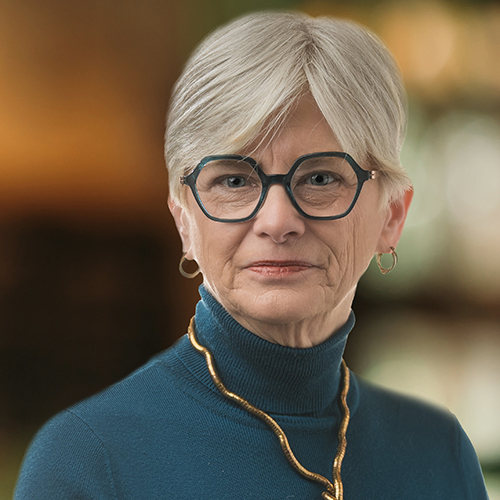 Michelle Krebs
Executive Analyst
Michelle Krebs is an automotive analyst and award-winning writer with over 35 years of experience covering the global auto industry. She has spent the last eight years providing analysis and insights on the auto industry using a trove of consumer and industry data from Cox Automotive and its brands including Autotrader and Kelley Blue Book.
Tags