Data Point
Used-Vehicle Market Remains Resilient, Days' Supply 30% Higher Than A Year Ago
Friday September 16, 2022
Article Highlights
The average used vehicle list price fluctuated throughout August to $28,061.
Used vehicle inventory held steady at 2.46 million units.
Used vehicle sales were brisk; highest 30-day period since May.
Revised, Oct. 14, 2022 – Used-vehicle inventory volume held steady from July to August, as did prices – a sign of market stability, according to the Cox Automotive analysis of vAuto Available Inventory data.
---
2.46M
Total Unsold
Used Vehicles
as of Aug. 29, 2022
$28,064
Average Listing Price
---
The total supply of unsold used vehicles on dealer lots, both franchised dealers and independents, across the U.S. stood at 2.46 million units at the close of August, about the same as the revised number at the end of July.
Total days' supply at the end of August stood at 52, even with the revised 52 days' supply at the end of July. Days' supply in July was 24% above year-ago levels.
"Inventory volume at the end of August was 10% above year-ago levels, so we're seeing some improvement. In fact, we're tracking at a fairly normal pace for supply," said Chris Frey, Cox Automotive's senior manager for Industry Insights.
The Cox Automotive days' supply is based on the daily sales rate for the most recent 30-day period, in this case, ended August 29. Sales were 1.50 million, the highest for any 30-day period since May when sales were 1.53 million.
"While used-vehicle sales in total so far this year are down 16% from 2021, the year is tracking in a normal trend line," said Frey. "The latest uptick in August suggests resilience in the used market."
By brand, Toyota and Honda had the lowest used-vehicle inventory, with days' supply at 42 and 41, respectively. They are near the bottom in supply of new vehicles as well.
Other Asian automakers with low used supply as well as skimpy new-vehicle inventory are Subaru and Hyundai, with used days' supply of 43 and 44, and Kia with 46. Mazda has above-average new vehicle inventory but is on the low side at 45 days' supply of used vehicle inventory.
By price category, the lower the price, the lower the supply. The under $10,000 segment has the lowest available supply and lowest days' supply of 31, one point lower than a month ago. The $10,000 to $15,000 segments had days' supply dip to 36 from 37 a month earlier. Price categories between $15,000 and $30,000, representing the bulk of available inventory, had 51 to 53 days' supply. Above $30,000 categories had 55 to 61 days' supply.
The used-vehicle average listing price surpassed $28,000 in mid-April and rose to a record high of $28,375 in early May. The average listing price then edged downward throughout August, closing at $28,064. That compared with a revised $28,003 at the end of July. Price growth versus the year earlier was 28% in mid-April but has been falling every week since and now stands at 9% higher than a year ago.
Average Used-Vehicle Listing Price
Up 9% from last year, price growth slowing as anniversary of price shift passes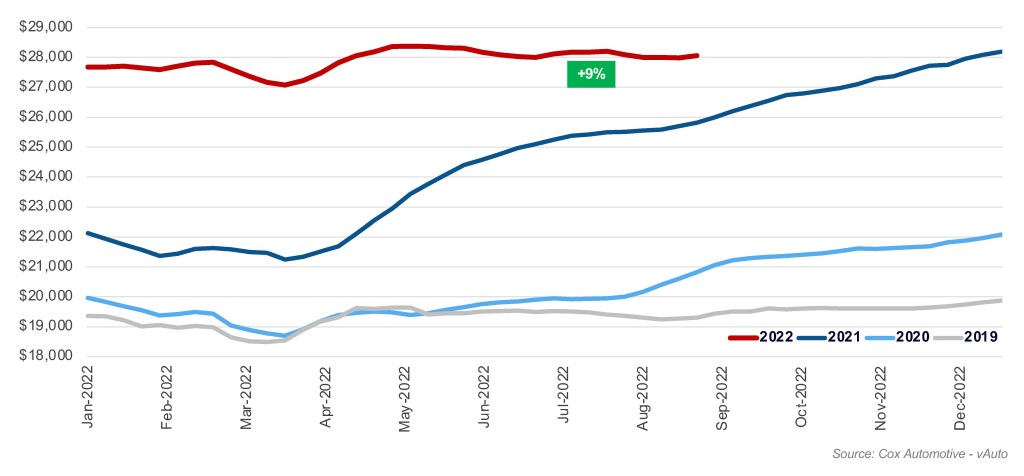 "The average listing price for used vehicles continues to trend at just over $28,000, but the price growth has definitely come down since we passed the anniversary of last year's big run-up," said Frey. "Still, prices remain above 2021 levels and will stay there as demand remains strong and until new-vehicle inventory builds."
In terms of wholesale prices, the Manheim Used Vehicle Value Index shows prices had been moving downward for most of the year and decreased 4% in August from July. Over the last six weeks, the divergence between wholesale and retail prices has widened.
"It is unclear if the retail index will follow the wholesale index through the depreciation cycle over the next 16 weeks," said Frey. "Regardless, wholesale has returned to depreciating after the spring."
---
For more insights on used-vehicle inventory using a 30-day rolling sales methodology to calculate days' supply, reach out to the Cox Automotive Public Relations team.
---
Michelle Krebs is executive analyst at Cox Automotive.
Tags