Data Point
Used Vehicles Have Steady Supply, Lower Average Asking Price
Friday January 13, 2023
Article Highlights
The average used-vehicle asking price slipped to $27,143, lower than a year ago.
Used-vehicle inventory held steady at 2.32 million units available.
Used-vehicle sales remain stable but could soften this year.
The used-vehicle market has stabilized, resembling the pre-pandemic normal, with inventory holding steady and prices dipping from their record highs, according to the Cox Automotive analysis of vAuto Available Inventory data.
---
2.32M
Total Unsold
Used Vehicles
as of Dec. 26, 2022
$27,143
Average Listing Price
---
The total supply of unsold used vehicles on dealer lots, both franchised dealers and independents, across the U.S. stood at 2.32 million units at the close of December. That was in line with a revised 2.33 million at the end of November and down about 3% from the 2.38 million in December 2021 and
Total days' supply at the end of December stood at 54, in line with the revised 54 days' supply at the end of November. Days' supply was 7% above the year-ago levels.
The Cox Automotive days' supply is based on the daily sales rate for the most recent 30-day period, in this case, ended Dec. 26. Sales in the period were 1.29 million vehicles, the same as were sold in the equivalent 30-day period in November. Sales remained relatively strong during the fall, a time when sales generally weaken. Still, sales near year-end were 9% below the previous year.
"As the supply of new vehicles improves – and it is improving rapidly – demand for used vehicles is declining," said Cox Automotive Chief Economist Jonathan Smoke.
Used-vehicle prices also are in decline. The average list price was $27,143 at the end of December, down from the revised $27,156 at the end of November and from $28,193 at the end of 2021. Prices had shown some year-end strength but closed the year down 4% from the end of 2021.
Average Used-Vehicle Listing Price Pace of Decline Slowing Slightly
Prices see some support at year-end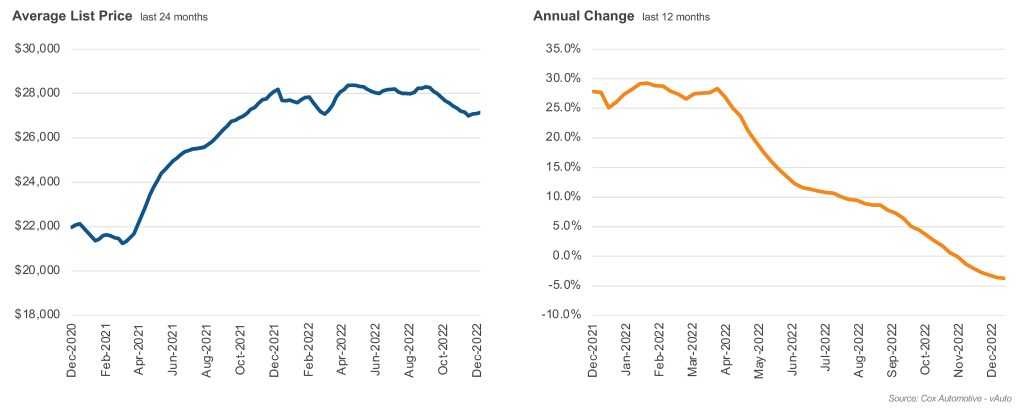 Wholesale prices have been dropping, and, so far, retail prices have not declined as quickly, but they will, noted Chris Frey, Cox Automotive senior manager of economic and industry insights. "It's a good sign economically that prices are decreasing, making the vehicles more affordable despite interest rate increases," he said. Record used-car prices had played a major role in inflation a year ago.
As with new cars, the lower the price, the tighter the inventory. Days' supply for under $10,000 vehicles was 36. Day's supply for vehicles priced between $10,000 and $15,000 was 45, between $15,000 and $20,000 was 51, and $20,000 to $25,000 was 57. All other price categories had about a 60 days' supply.
Lexus, Subaru, Toyota and Mazda had the lowest days' supply of used vehicles at 50 or fewer days' supply. Also at the low end were Acura, Honda, Hyundai, Mitsubishi and Nissan, in the low 50s for days' supply.
For more insights on used-vehicle inventory using a 30-day rolling sales methodology to calculate days' supply, reach out to the Cox Automotive Public Relations team.
---
Michelle Krebs is executive analyst at Cox Automotive.
Tags