Data Point
Used-Vehicle Inventory Edges Higher; Average List Price Surpasses $27,000
Thursday December 16, 2021
Article Highlights
The average used vehicle list price in November exceeded $27,000.
Days' supply rose to 44.
Available inventory edged slightly higher but remain below normal.
Used-vehicle inventory inched slightly higher in November as the average listing price climbed past $27,000 for the first time, according to the Cox Automotive analysis of vAuto Available Inventory data.
---
2.31M
Total Unsold
Used Vehicles
end of November
$27,569
Average Listing Price
---
The total supply of unsold used vehicles on dealer lots across the U.S. edged higher to 2.31 million units at the end of November, compared with Cox Automotive's revised number of 2.25 million at the end of October. The supply at the end of November was about 11% lower than in 2020.
At the end of November, the days' supply of unsold used vehicles was 44, up from the revised number of 41 at the end of October. Days' supply was 15% below year-ago levels.
The Cox Automotive days' supply is based on the daily sales rate for the most recent 30-day period. November sales were about 5% ahead of the same year-ago period.
The average listing price for used vehicles exceeded the $27,000 milestone at the start of November and continued to climb, closing the month at $27,569. That's up from the revised number for October of $26,976. Used vehicle list prices in November ran 27% ahead of 2020 and 41% ahead of 2019.
Average Used-Vehicle Listing Price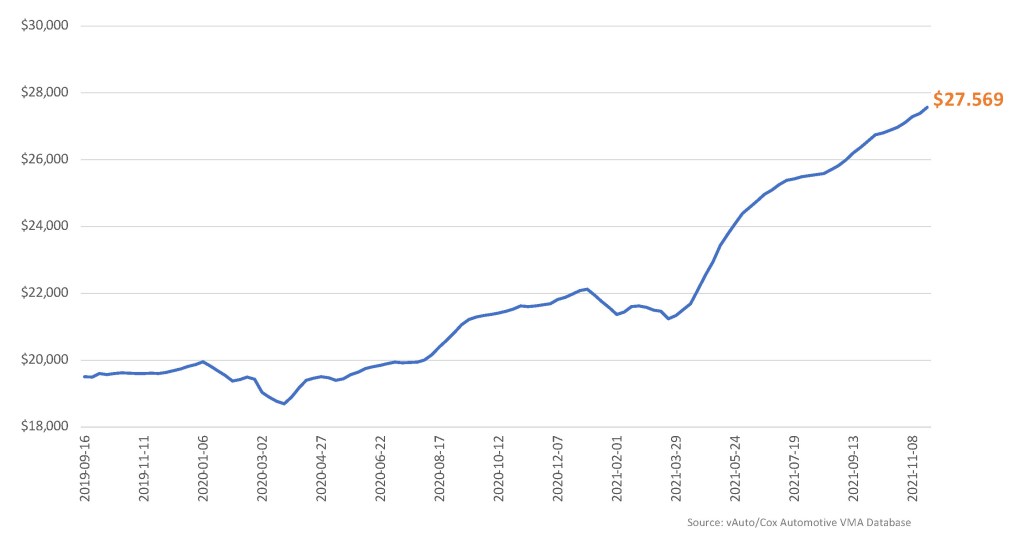 Franchised dealers had 1.29 million vehicles in inventory for a 41 days' supply. The average listing price was $29,728 with average mileage of 61,976. Independent dealers had 1.01 million vehicles in stock for a 48 days' supply. The average price was $24,585 with average mileage of 78,267.
The lowest price segments – under $15,000 – had the lowest supply, each of two segments having less than 10,000 units. The $15,001 to $20,000 segment had the next lowest inventory at under 100,000 units and the lowest days' supply at 40. The $20,001 to $25,000 category had the second-highest supply at more than 600,000 units and a 41 days' supply. The $25,001 to $30,000 category had the biggest supply at more than 1 million units for a days' supply of 45. Price categories above $30,000 had a range of 46- to 50-days' supply.
---
For more insights on used-vehicle inventory using a 30-day rolling sales methodology to calculate days' supply, reach out to the Cox Automotive Public Relations team.
---
Michelle Krebs is executive analyst at Cox Automotive.
Tags