Data Point
Used-Vehicle Supply Down and Sales Flat for March
Friday April 14, 2023
Article Highlights
Used-vehicle inventory fell to its lowest point since 2019.
Used days' supply stood at 40 at the end of March, down from 44 in February.
The average used-vehicle listing price dropped to $26,213 in March.
Revised, May 12, 2023 – The supply of used vehicles is sparse as the spring selling season wraps up this year, according to the Cox Automotive analysis of vAuto Available Inventory data.
---
2.06M
Total Unsold
Used Vehicles
as of March 27, 2023
$26,202
Average Listing Price
---
"The supply of used vehicles at dealerships is at its lowest point in our data, which goes back to 2019," said Cox Automotive Senior Economist Charlie Chesbrough. "Finding the right product at the right price is more challenging for buyers today."
The total supply of unsold used vehicles on dealer lots, both franchised dealers and independents, across the U.S. stood at 2.06 million units at the close of March. That was down from a revised 2.09 million at the end of February and down 10% from 2.3 million in March 2021.  
Days' supply at the end of March stood at 44, flat with the revised 44 days' supply at the end of February. Days' supply was 15% below the year-ago levels.
The Cox Automotive days' supply is based on the daily sales rate for the most recent 30-day period that ended March 27. Sales remained stable throughout the spring selling season, which got off to an earlier-than-expected start and stayed relatively flat compared to a year ago. Sales for the full calendar month of March were down 4% compared to a year ago.
March 2023 Average Used-Vehicle Listing Price
Prices still falling – on average – but rate of decline now 4%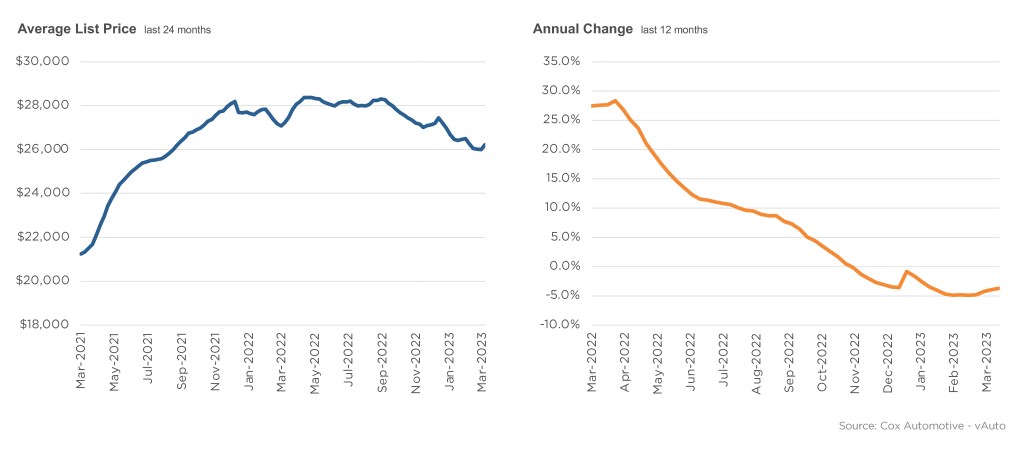 The average used-vehicle listing price at the end of March was measured at $26,202, down from the revised $26,250 at the end of February, but was trending upward after falling further in the early part of March. Wholesale price increases at the beginning of the year are likely beginning to filter through to the retail level.
"Compared to Spring 2021, used-vehicle prices at retail have been relatively stable and trending downward," said Chesbrough. "However, with tight inventory, still-high used-auto loan rates, and improving new-vehicle inventory, the used-vehicle market might be cooling off in the coming months."
As with new cars, the lower the price, the tighter the inventory. Days' supply for under $10,000 vehicles was 29. Days' supply for vehicles priced between $10,000 and $15,000 was 34, between $15,000 and $20,000 was 37 and $20,000 to $35,000 around 41. Above $35,000 had the highest days' supply at 50.
Honda, Toyota, Mazda, Dodge, Nissan, Mitsubishi, Subaru, Hyundai, Chrysler, Chevrolet, Kia, GMC and Volkswagen had days' supply below 40.
---
For more insights on used-vehicle inventory using a 30-day rolling sales methodology to calculate days' supply, reach out to the Cox Automotive Public Relations team.
---
Rebecca Rydzewski, research manager of economic and industry insights at Cox Automotive
Tags