Data Point
Used-Vehicle Inventory Improves; Prices Approaching $27,000
Thursday October 21, 2021
Article Highlights
The average used vehicle is listed for sale at nearly $27,000.
Days' supply climbed to 42, the highest it has been in months, on higher supply and slower sales.
Available inventory edged closer to normal to only 3% below a year ago.
Revised, Nov. 22, 2021 – Used-vehicle inventory improved modestly in September as the average listing price kept climbing, now approaching nearly $27,000, according to a Cox Automotive analysis of vAuto Available Inventory data.
---
2.28M
Total Unsold
Used Vehicles
end of September
$26,548
Average Listing Price
---
The total supply of unsold used vehicles on dealer lots across the U.S. edged higher to 2.28 million units at the end of September, compared with Cox Automotive's revised number of 2.27 million at the end of August. Used-vehicle inventory had been edging slightly higher through the summer but fell back by the end of August to late June levels. Used-vehicle supply at the end of September was 3% below the same period a year ago.
The higher supply and lower sales rate resulted in a bump in days' supply. At the end of September, the days' supply of unsold used vehicles was 42, up from the revised number of 38 for the end of August. Days' supply is only 1% below year-ago levels.
The Cox Automotive days' supply is based on the daily sales rate for the most recent 30-day period, which ended September 27. About 1.61 million vehicles were sold during that period, compared with 1.77 million sold in August.
Average Used-Vehicle Listing Price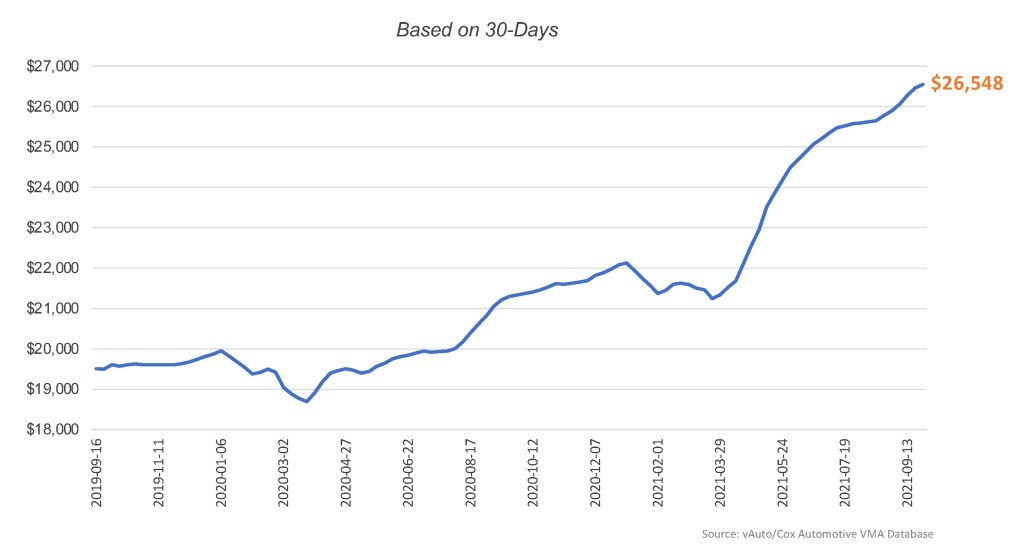 The average listing price for used vehicles broke another record, landing at $26,548 by the end of September. The average listing price is running 25% above year-ago levels. In August 2020, the average listing price surpassed the $20,000 mark for the first time. The pace of increase has accelerated every week since spring.
By price segment, used vehicles under $10,000 had the lowest days' supply at 33. The $25,000 to $30,000 category had the highest supply at more than 1 million units for a 45 days' supply. The $10,000 to $25,000 price range had between 38- and 39-days' supply. Above $35,000, the days' supply was the highest of all price categories at 50.
---
For more insights on used-vehicle inventory using a 30-day rolling sales methodology to calculate days' supply, reach out to the Cox Automotive Public Relations team.
---
Michelle Krebs is executive analyst at Cox Automotive.
Tags