Data Point
Used-Vehicle Market Stabilizes in Supply and Prices
Friday October 14, 2022
Article Highlights
The average used vehicle list price fluctuated throughout August to $28,061.
Used vehicle inventory held steady at 2.46 million units.
Used vehicle sales were brisk; highest 30-day period since May.
Revised, Nov. 17, 2022 – Used-vehicle inventory and asking prices are stabilizing, according to the Cox Automotive analysis of vAuto Available Inventory data. Used supply held steady in September from August and is higher than a year ago. Growth in listing prices is slowing.
---
2.46M
Total Unsold
Used Vehicles
as of Sept. 26, 2022
$28,064
Average Listing Price
---
The total supply of unsold used vehicles on dealer lots, both franchised and independent dealers, across the U.S. stood at 2.46 million units at the close of September, about the same as the revised number at the end of August and 10% higher than September 2021.
The total days' supply at the end of September stood at 53, compared with the revised 52 days' supply at the end of August. Used-vehicle inventory has been holding at about this level since mid-January.
The Cox Automotive days' supply is based on the daily sales rate for the most recent 30-day period, in this case, ended September 26. Sales were 1.48 million vehicles, compared to the revised 1.43 million at the end of August. For the calendar month of September, Cox Automotive estimates used retail sales declined 8% from August and are down 10% from a year ago.
The average listing price for a used vehicle was $28,266 at the end of September, up from $28,064 at the end of August. That price is only $285 ahead of a year ago.
Average Used-Vehicle Listing Price Stabilizing Near $28,000
Price growth now falling – should continue to fall through the summer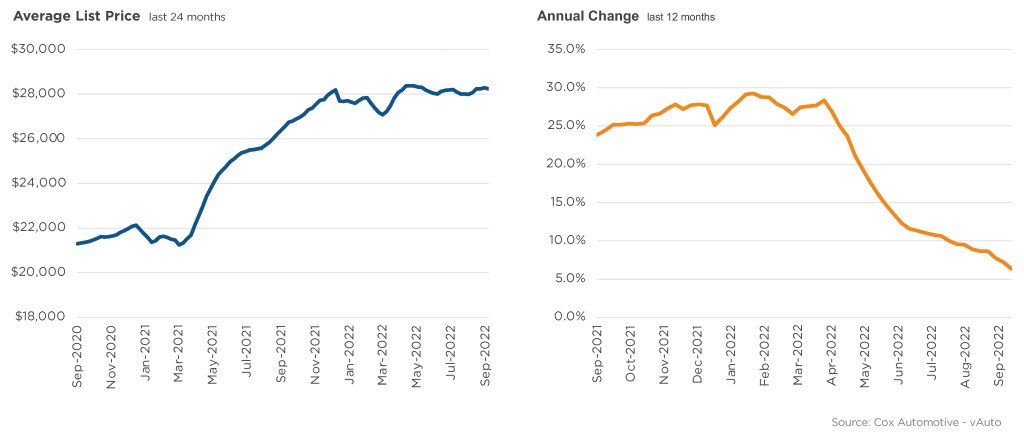 "It may well be that higher interest rates are beginning to hurt used-vehicle demand because consumers can't afford the higher monthly payments," said Charlie Chesbrough, senior economist at Cox Automotive. "Slowing sales and building inventory could force dealers to lower prices over the next few months."
As with new cars, the lower the price, the tighter the inventory. The days' supply increases with every $10,000 increase in price category. Days' supply for under $10,000 vehicles is 33. At the opposite end of the spectrum, days' supply for vehicles over $35,000 is 65.
Also, as with new vehicles, Toyota, Subaru and Honda have the lowest days' supply of used vehicles at about 44.
---
For more insights on used-vehicle inventory using a 30-day rolling sales methodology to calculate days' supply, reach out to the Cox Automotive Public Relations team.
---
Michelle Krebs is executive analyst at Cox Automotive.
Tags