Data Point
Used-Vehicle Inventory Tightens as Sales Pace Quickens
Wednesday March 17, 2021
Used-vehicle inventory fell from January to February just as the spring selling season got off to an early start, according to a Cox Automotive analysis of vAuto Available Inventory data.
---
2.59M
Total Unsold Used Vehicles
end of February
$21,627
Average Listing Price
---
The total supply of unsold used vehicles totaled 2.59 million at the end of February, down from 2.66 million vehicles at the end of January. The supply has been fairly stable within that range since early December. Still, February's inventory was 12% lower than the same time a year ago when 2.97 million used vehicles were available.
The days' supply in February was 48, the same as in January but well below the 54 of a year ago. Days' supply of used vehicles has remained relatively stable since last October.
The Cox Automotive days' supply is based on the daily sales rate for the most recent 30-day period. During February, used-vehicle sales were on the rise throughout the month but remain 10% below the same period a year ago.
Franchised dealers had 1.42 million vehicles in inventory for a 43 days' supply. Non-franchised dealers had 1.17 million vehicles to sell for a 54 days' supply.
The average listing price edged higher to $21,627 by the close of February, according to the Cox Automotive analysis of vAuto Available Inventory data. For franchised dealers, the average listing price was $23,365 in February. For non-franchised dealers, the average price was $19,349.
Average Used-Vehicle Listing Price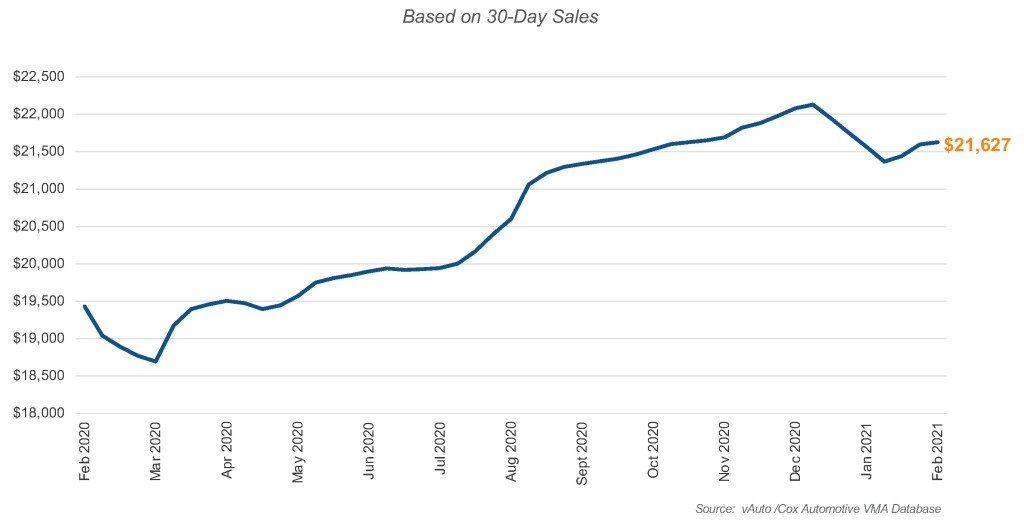 The total national average compares with $21,572 at the end of January and $18,974 from a year ago. Used-vehicle listing prices peaked in early January at $22,131 but retreated somewhat – perhaps not for long.
The traditional "spring bounce" in used-vehicle values started early this year and accelerated in February, noted Cox Automotive Chief Economist Jonathan Smoke. The seasonally adjusted Manheim Used Vehicle Value Index increased 3.8% in February, pushing the index to a new record and leaving it up 17.9% year over year.
"Spring traditionally is strong for used-vehicle sales, due mostly to tax returns and maybe some optimism that spring and summer are coming," said Cox Automotive Senior Economist Charlie Chesbrough. This year, he added, used-vehicle sales are being turbocharged by government checks coming from the recently passed COVID-19 relief package. Many recipients of those checks are in an income group that favors used vehicles.
"Those buyers may be surprised to see tight inventory and high prices," he said. The combination ultimately could limit sales.
---
More insights are available from Cox Automotive on used-vehicle inventory, using a 30-day rolling sales methodology to calculate days' supply.
---
Michelle Krebs is executive analyst at Cox Automotive.
Tags