CAMIO
Used-Vehicle Inventory Volume Drops in 2022 While Days' Supply Increases
Wednesday June 7, 2023
Through 2022, used-vehicle inventory volume declined, while weak sales contributed to an increase in days' supply. As the year ended, listing prices dipped from their record highs but remained elevated compared to the previous year.
Looking back to 2021, the used-vehicle market, like the new one, was anything but normal. Used-vehicle inventory started the year at about 2.6 million units in stock, according to a Cox Automotive analysis of vAuto Available Inventory data. However, by spring, supply became depleted. New-vehicle shoppers turned to the used market because of the minimal supply of new vehicles due to production disruptions caused by the global chip shortage and other supply chain issues. Used-vehicle supply bottomed out in mid-year 2021 at about 2.2 million units for a 30 days' supply. By the end of summer, it was on the rise again, dipped and then closed on a high note at 2.4 million units for a days' supply that surpassed 50 for the first time since the start of 2021.
That set the stage for 2022. In January 2022, used-vehicle inventory stood at about 2.4 million units for a days' supply around 50. Supply kept building in the early months of the year to a high of 2.6 million units in March as the spring selling season got off to a delayed start due to late-arriving tax refunds that are often applied to buying used vehicles. Albeit later than usual but in a more normal pattern, inventory was drawn down as summer approached.
2022 Used-Vehicle Inventory Volume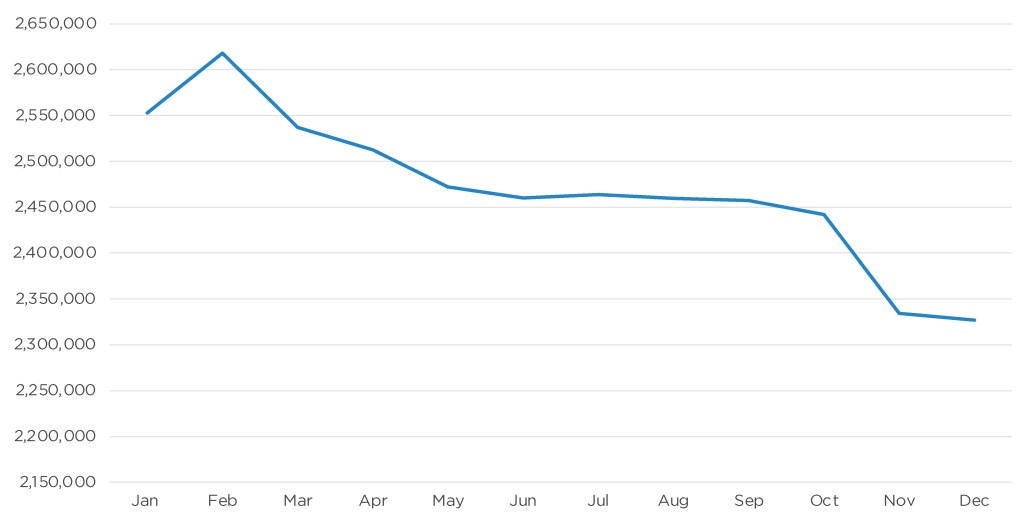 However, used-vehicle inventory did not fall as severely as it had in 2021. Days' supply in June was 52 and increased from there. By the end of December 2022, supply stood at just over 2.3 million units, the lowest point of the year, and days' supply had climbed for four straight months, finishing the year at 57.
2022 Used-Vehicle Days' Supply
Low supply and strong demand led to record used-vehicle prices in 2021, with the average listing price hitting $28,000 for the first time ever. The average listing price in January 2022 was just shy of the $28,000 mark but returned to over $28,000 in the spring. Prices held remarkably steady at that level, retreating in late fall when the average listing price slipped to slightly over $27,000, closing the year at just over that mark. Listing prices in December were 1.5% lower than in January.
2022 Used-Vehicle Listing Price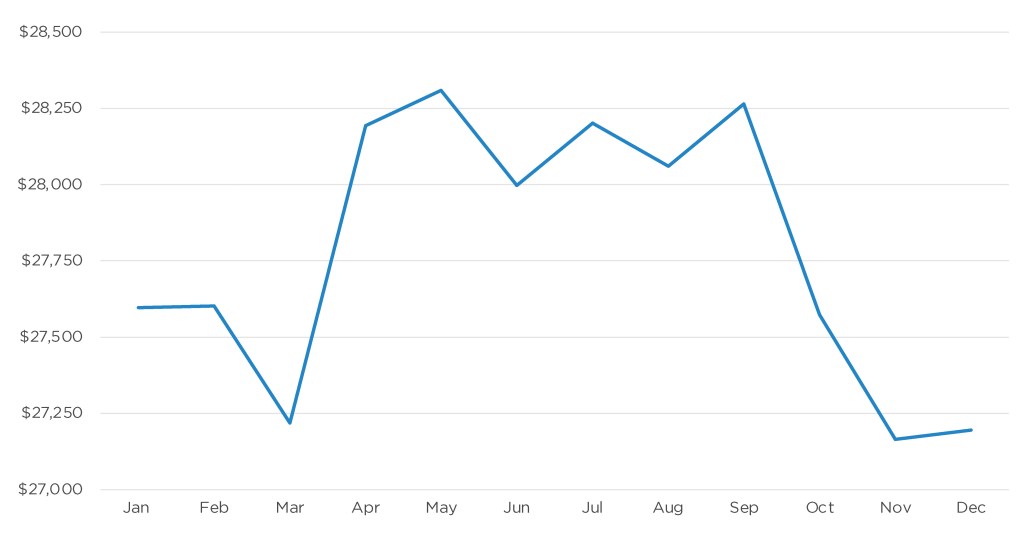 Outlook: The used-vehicle market is expected to behave in a relatively normal pattern, barring something unpredictable happening. However, supply will remain somewhat constrained for the next few years because of low new-vehicle sales in recent years and extremely low levels of leasing, a source of nearly new used vehicles. At the same time, demand for used vehicles is expected to remain healthy as many consumers are knocked out of the new vehicle market due to high prices coupled with soaring interest rates. That combination will keep used vehicle prices high.