CAMIO
Used-Vehicle Prices Retreat in 2022 but Remain Elevated
Wednesday June 7, 2023
While the used-vehicle market has normalized in terms of sales and inventory, prices remain elevated.
Low supply and strong demand for used vehicles led to record prices in 2021, with the average listing price hitting $28,000 for the first time ever in 2021, according to a Cox Automotive analysis of vAuto Available Inventory data. By the start of 2022, the average listing price of a used vehicle had retreated from 2021's records at just shy of the $28,000 mark. However, by spring, strong sales pushed the average listing price past $28,000 again.
2022 Used-Vehicle Listing Prices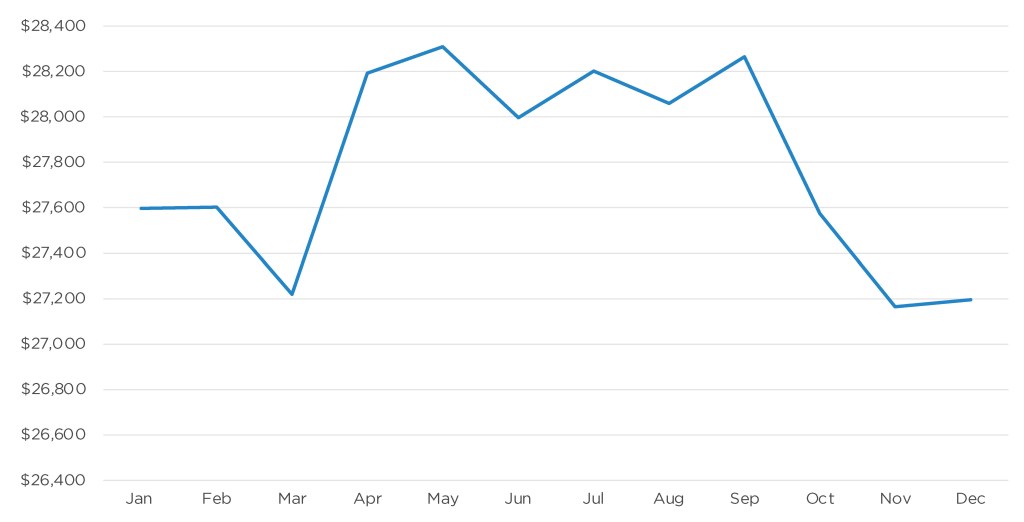 The average listing price held at about that level throughout the summer and early fall. The price was falling by late fall, slipping to just over $27,000, closing the year at just over that mark. By historical standards, however, used-vehicle prices remain elevated.
Outlook: Used vehicles are forecasted to be in high demand in the coming years due to high new-vehicle prices and rising interest rates forcing some shoppers out of the new-vehicle market. Supply will remain constrained because of low new-vehicle sales in recent years and extremely low levels of leasing, the primary source of nearly new used vehicles. High demand and constrained supply will result in continued high prices for used vehicles.