Used-Vehicle Market
Used-Vehicle Sales Finish Strong in 2018; Same Expected for 2019
Friday February 1, 2019
Used light-vehicle registrations finished at 39.4 million units in 2018, up 100,000 units from 2017. Cox Automotive expects 2019 to rack up about the same number.
Interest rate increases continue to add headwinds, but economic conditions remain favorable and continued economic growth will keep demand for personal transportation strong.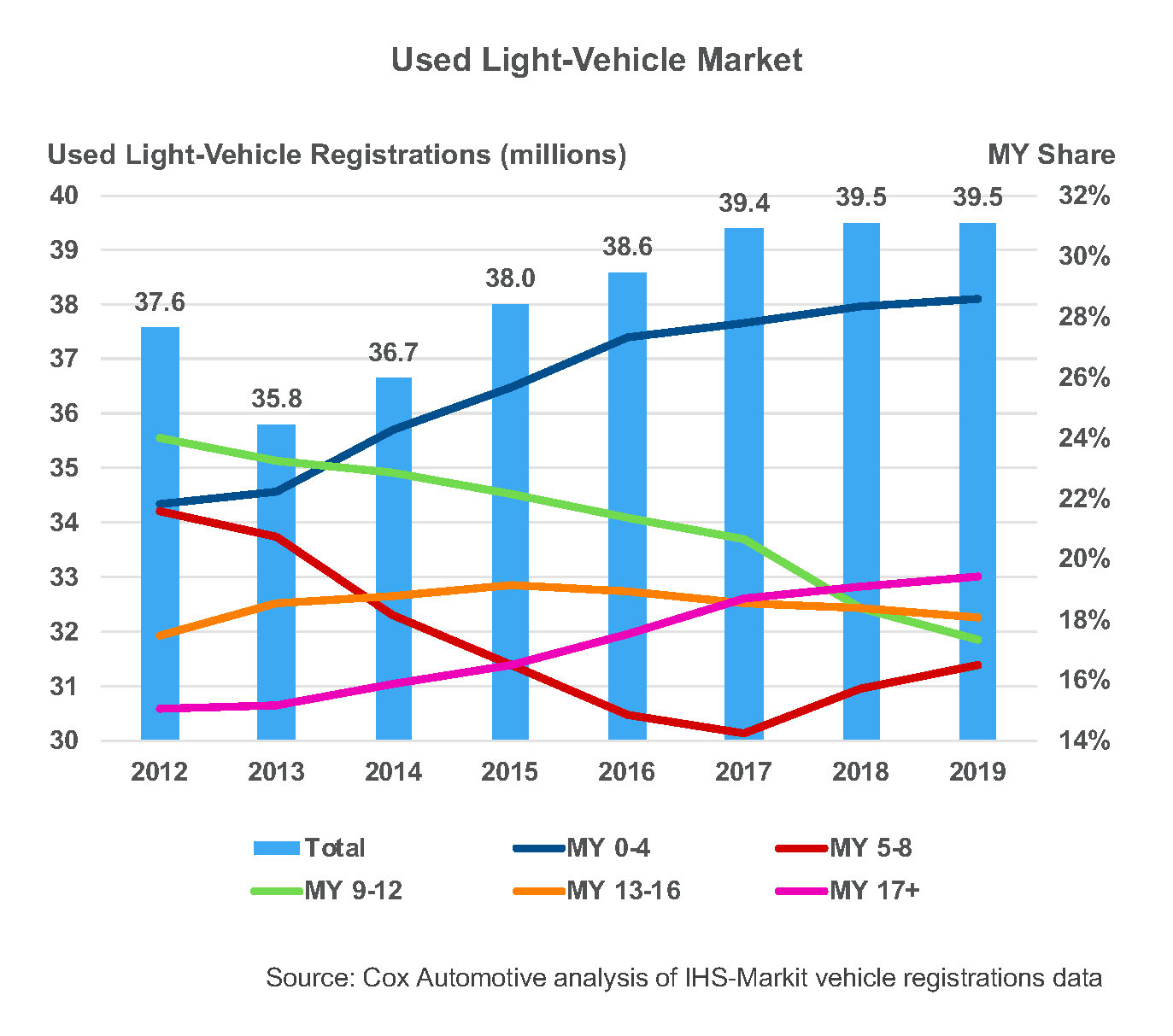 Strong consumer demand due to affordability challenges with new vehicles and growth in the supply of off-lease vehicles from the market's record years of 2015 and 2016 is fueling the used-vehicle market. The segment share of vehicles up to four years old reached 28% of the market in 2018, up from 22% in 2012. The oldest model year vehicle sales also remain strong while the success of new-vehicle sales, prior to the Great Recession, provides elevated supply.
A key question for the market in 2019 is whether gains in newer product sales can offset the decline in vehicles that are 9 to 12 years old, a critical product segment for independent and franchise dealers. The lack of supply of the older vehicles, due to the Great Recession when new-vehicle sales plummeted, will force interested buyers into newer and older model years.
POTENTIAL VEHICLE MARKET EXCEEDS 28 MILLION WITH USED SHARE GROWING
To view the new- and used-vehicle markets as separate paints an incomplete picture of the whole vehicle market.
In 2018, vehicle registrations for new and nearly new- and gently-used vehicles – that is, used vehicles up to four-years-old and generally coming off lease – hit 28.3 million units in 2018.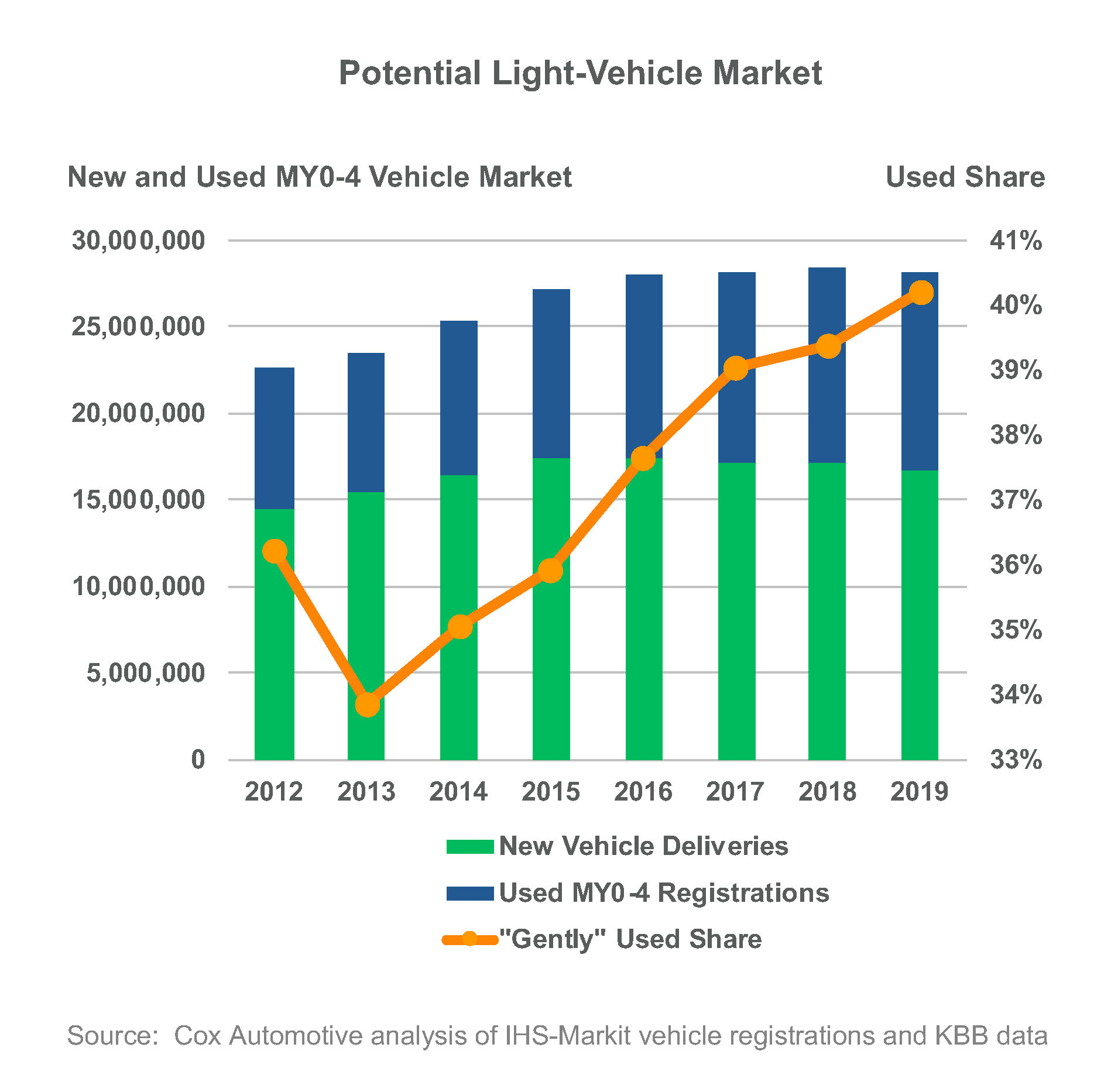 The share of the gently-used part of the combined market is on the rise. It accounted for nearly 40% of the combined market in 2018, continuing the upward trend from 34% in 2012.
What's more, buyers looking at new- and gently-used vehicles share similar traits and budgets. Both have generally higher incomes and look for similar-sized monthly payments. The used buyer in this new-used combined market likely could have purchased a new vehicle but did not due to individual finances (demand) and strong vehicle selection (supply).
Gently-used vehicles challenge new vehicles as affordability issues become paramount. Indeed, it appears the new-vehicle market is losing thousands of sales to the gently-used competition as a similar gently-used model sells at a 40% or more discount.
The competition is increasing because the number of off-lease, gently-used vehicles available is rising. Sales of vehicles up to four-years-old reached 11.2 million units in 2018, up over 200,000 from 2017.
The sales of these vehicles are driven by the supply, and that is driven by the high leasing share of new-vehicle sales during the record years of 2015 and 2016. Cox Automotive expects another strong year in 2019 for these slightly-used vehicles, with about 4 million vehicles coming off lease this year, but then supply slows starting in 2020.
Tags