CAMIO
Used-Vehicle Sales Lose Ground in 2022
Wednesday June 7, 2023
Total used-vehicle sales in 2022 were well below what might be considered normal. While the pandemic slowed the used-vehicle market in 2020, estimated used-vehicle sales volumes in 2021 recovered well. Used sales in 2022 could be described as a long, slow decline, with each month posting a year-over-year drop in total volume as the market slowed. Monthly used-vehicle sales volume peaked in March 2022 at approximately 3.5 million units, while used retail sales also peaked in March at 1.8 million units. Both measures declined from there.
Like the new market, the used-vehicle market faced supply constraints, pushing prices to all-time highs. Buyers faced many challenges in 2022, leading to a 10.6% decline in total used sales compared to 2021.
Aside from the lower-than-normal supply, the Fed began raising interest rates in March 2022 to combat inflation, leading to higher monthly payments for all buyers. The rate increases continued throughout the year, making already high-priced vehicles more costly as the months passed. Stubborn, high inflation also taxed many household incomes, keeping many used-vehicle buyers on the sidelines.
The payment shock was notable as 2022 progressed. The overall used market began the year with a healthy seasonally adjusted annual rate (SAAR) of sales at 39 million in January but ended the year at a 35.2 million SAAR in December. To put this in perspective, the used retail market SAAR was 20.6 million in January and ended December at 18.6 million, a 9.7% drop. Subprime and lower-income buyers were hit the hardest as the combination of inflation, high used-vehicle prices, and increasing interest rates made affordability very difficult and put the brakes on used-vehicle sales.
2022 Monthly Used-Vehicle Sales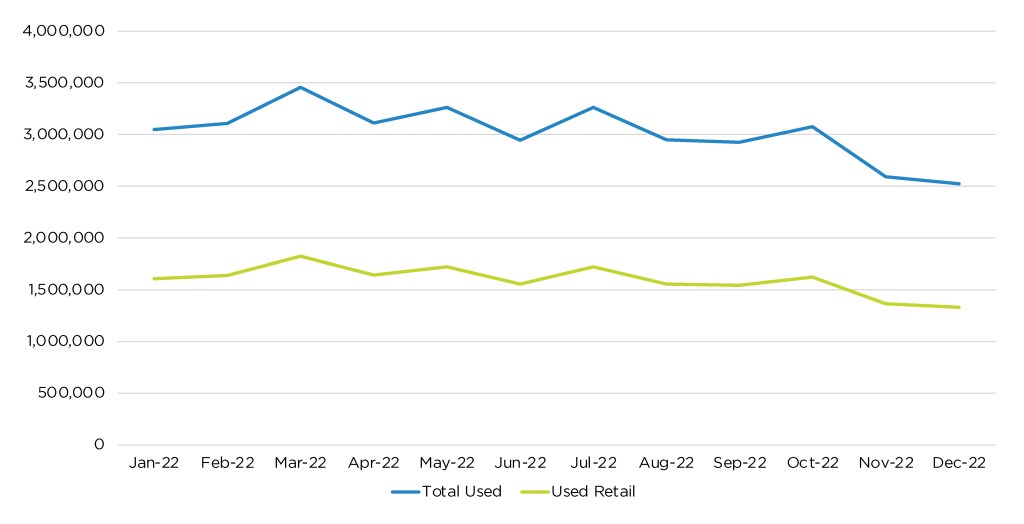 Outlook: Total used-vehicle sales are expected to remain challenged in 2023, with continued supply constraints, still high vehicle prices, elevated interest rates, and consequently, inflated monthly payments. Total used sales look to be down slightly from 2022 levels, with a forecast volume of 36.2 million units. Used retail is forecast with a similar profile, with volumes finishing 2023 at 18.9 million vehicles.