Data Point
Used-Vehicle Supply and Prices on the Rise
Wednesday November 18, 2020
Article Highlights
Used-vehicle supply increased to 52 days' supply.
Average used-vehicle list price hits new high of $21,607.
Used-vehicle sales are slowing.
Used-vehicle inventory, which had been rising modestly in recent weeks, accelerated more quickly to open the month of November, and the average listing price set a new record, according to a Cox Automotive analysis of vAuto Available Inventory data.
As of Nov. 2, the total U.S. supply of unsold used vehicles stood at 2.56 million, up from 2.35 million a month ago, but still down from 3 million in the same week a year ago. That put days' supply entering November at 52, up from 42 a month ago.
---
2.56M
Total Unsold Used Vehicles
as of Nov., 2
$21,607
Average Listing Price
---
The days' supply has been edging higher every week since June when the usual supply sources that had been disrupted, causing a drawdown of inventory, resumed.
The large jump of the past week in days' supply is mostly due to weakening sales. Cox Automotive data shows that sales for the 30 days leading up to this past week were the lowest they have been since early May. For the 30-day period, sales were down 18% from the same week last year and are down 28% from the late June sales peak.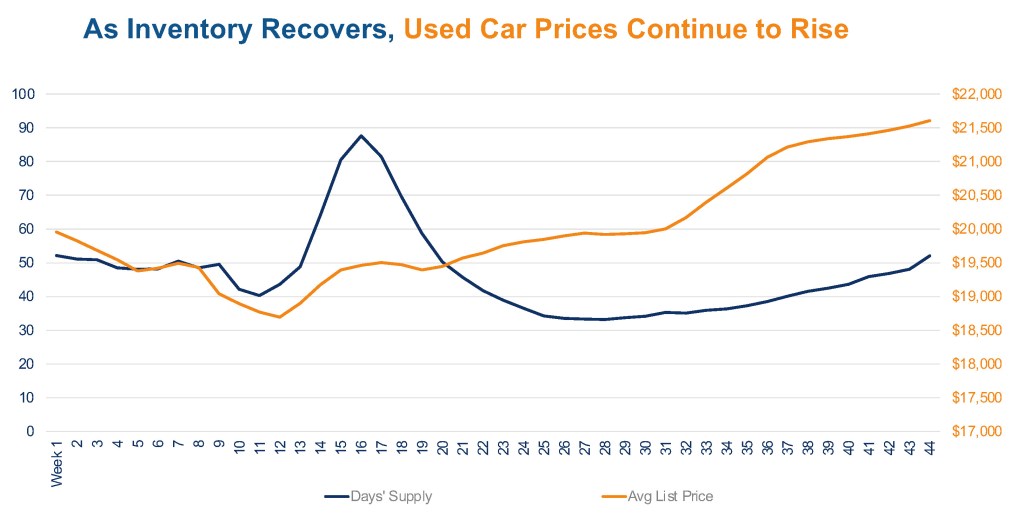 The average listing price of used vehicles set yet-another record at $21,607, according to a Cox Automotive analysis of vAuto Available Inventory data. That was up from $21,337 a month ago and $19,604 a year ago. At the depth of the pandemic, the week of March 23, the average list price bottomed out at $18,681 and has been on the rise since then.
"Used-vehicle supply is likely rising for a number of reasons," said Cox Automotive Senior Economist Charlie Chesbrough. "Higher prices for used vehicles are likely slowing sales. Plus, more trade-ins from improving new-vehicle sales are coming into the market along with ongoing off-lease vehicles. The combination of all of those factors are causing days' supply to rise."
The Cox Automotive data shows a distinct difference in inventory levels and prices between franchised dealers and independents. Franchised dealers had 5 days' supply less than independents. The average listing price was $4,000 more for franchised dealers.
Across the mainstream brands, both luxury and non-luxury, days' supply was in the same general range, without wild outliers either way. Subaru and Toyota, as always, had the lowest inventory at 48 days' supply, according to the Cox Automotive analysis of vAuto Available Inventory data. Luxury brands BMW, Lexus, Mercedes-Benz and Volvo had days' supply under 50.
Similarly, inventory of used vehicles in all price ranges were pretty close in the 50 to 53 days' supply range. Vehicles under $10,000 had the lowest inventory with only 37 days' supply, up again this month.
Tags