Data Point
Retail Used-Vehicle Supply Slumps to New Lows
Wednesday July 22, 2020
Article Highlights
Used-vehicle days' supply fell to 32 days from 45 a year ago.
Averaged used-vehicle prices is just under $20,000.
Shortages are across all mainstream brands.
Strong demand for used vehicles has caused retail used-vehicle inventories to slump to new lows, according to a Cox Automotive analysis of vAuto Available Inventory data.
"Limited supply in both new and used vehicles is the next hurdle on the path to recovery for automakers and dealers," said Cox Automotive Senior Economist Charles Chesbrough.
The total U.S. supply of unsold retail used vehicles at franchised and independent auto dealerships stood at 2.18 million vehicles at the start of this week, compared with 2.65 million vehicles in the same week a year ago. That put the national days' supply of used vehicles at 32, down from 45 a year ago, which is typically average.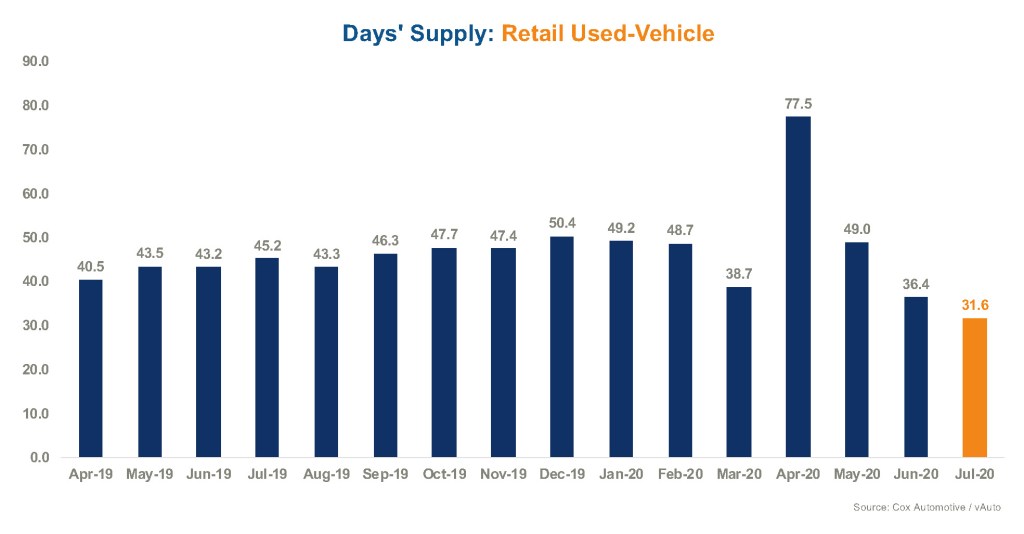 Demand is even stronger for used vehicles than for new. In the seven days that ended Saturday, July 18, used-vehicle sales were down only 5% from a year ago; new-vehicle sales were down 26%. In some weeks, used-vehicle sales have actually been higher than they were a year ago.
Budget-constrained consumers are buying used vehicles as the most affordable transportation in these economically challenging times. But prices are rising. The average used vehicle listed at $19,948 last week, compared with $19,496 in the same year-ago week, according to a Cox Automotive analysis of vAuto Available Inventory data.
Consumers are also turning to used vehicles instead of new ones, because new ones are are in extremely short supply. As of the start of this week, the days' supply of new vehicles dropped again – to 67 down from 70 the week before and down from 86 a year ago. Meantime, automakers continue to crank up assembly plants after a couple months of shutdown to replenish supplies on dealership lots.
The Toyota brand had the lowest used-vehicle days' supply among non-luxury brands at 28; Toyota has been lowest or next to lowest with Subaru on new-vehicle inventory as well. But, in used vehicles, the shortages were across the board for mainstream brands, with days' supply ranging from 28 to 35.