Data Point
Vehicle Inventories Back in Check, Down from Recent Highs
Friday June 14, 2019
Article Highlights
May new-vehicle inventories came in under 4 million units for the first time in four months.
Days' supply for May was 64, flat year over year and down 12 days from April.
Average car days' supply came in at 54, and light truck days' supply was 64 last month.
Automakers and their dealers entered June with inventories of unsold vehicles falling from the 10-year-high levels of recent months, thanks to improved May sales.
May inventories dipped below 4 million units for the first time in four months, according to Autodata/Motor Intelligence. That pushed the days' supply for all new unsold vehicles to 64 days, down from 78 days in April, the highest level since 2009. Around 60 days' supply is considered ideal.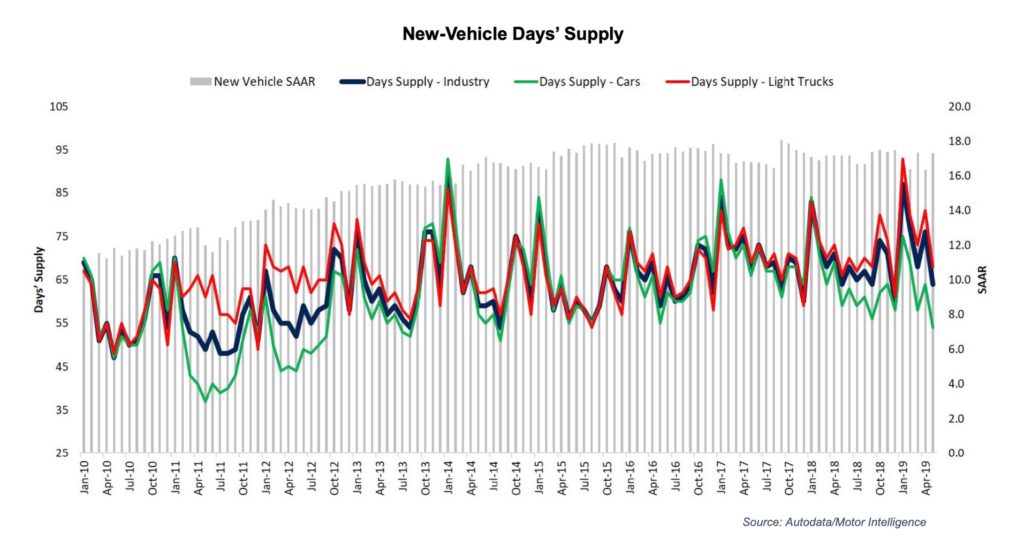 Stronger-than-forecasted May vehicle sales helped sop up some of the unsold inventory. Inventories climbed in the first four months of 2019 due to slower sales – down 3% – compared with the same 2018 period.
Bloated inventories are a sign of slowing sales that force automakers to boost incentives, which they have not done in order to maintain profits, or cut production.
Automakers have been trimming production of less popular vehicles, notably traditional cars. The days' supply for cars dropped to 54 days, down from 60 in April and 64 in May 2018. Ford quit making the Ford Focus and Fiesta. General Motors ended production of the Chevrolet Cruze when it closed its Lordstown, Ohio, assembly plant.
Days' supply of light trucks, including crossovers and sport-utility vehicles, was at 64 days, about flat with a year ago but down from 76 days in April. Inventories of pickup trucks tend to be higher purposely because of the myriad configurations available.