Data Point
Vehicle Inventories Remain in Check
Monday July 22, 2019
Article Highlights
Vehicle inventories stay in check, thanks to healthy May and June sales.
New vehicle inventories came in under 4 million units for the second consecutive month.
Car inventories are setting new lows; truck, utility inventories are rising.
After rising to worrisome levels throughout the spring, vehicle inventories remained pretty well in check to start July, though light truck inventories edged higher.
May sales popped above forecasts, sopping up some of the inventory that had built up during weak sales months in winter. Similarly, June sales came in stronger than expected, helped by somewhat beefier incentives.
A healthy June helped keep inventories mostly in check to open July. New vehicle inventories came in under 4 million units for the second consecutive month, translating into a 67 days' supply, down a day from a year ago though up three days from May. About 60 days is the traditional normal, though the industry is more heavily weighted for trucks and sport utilities these days.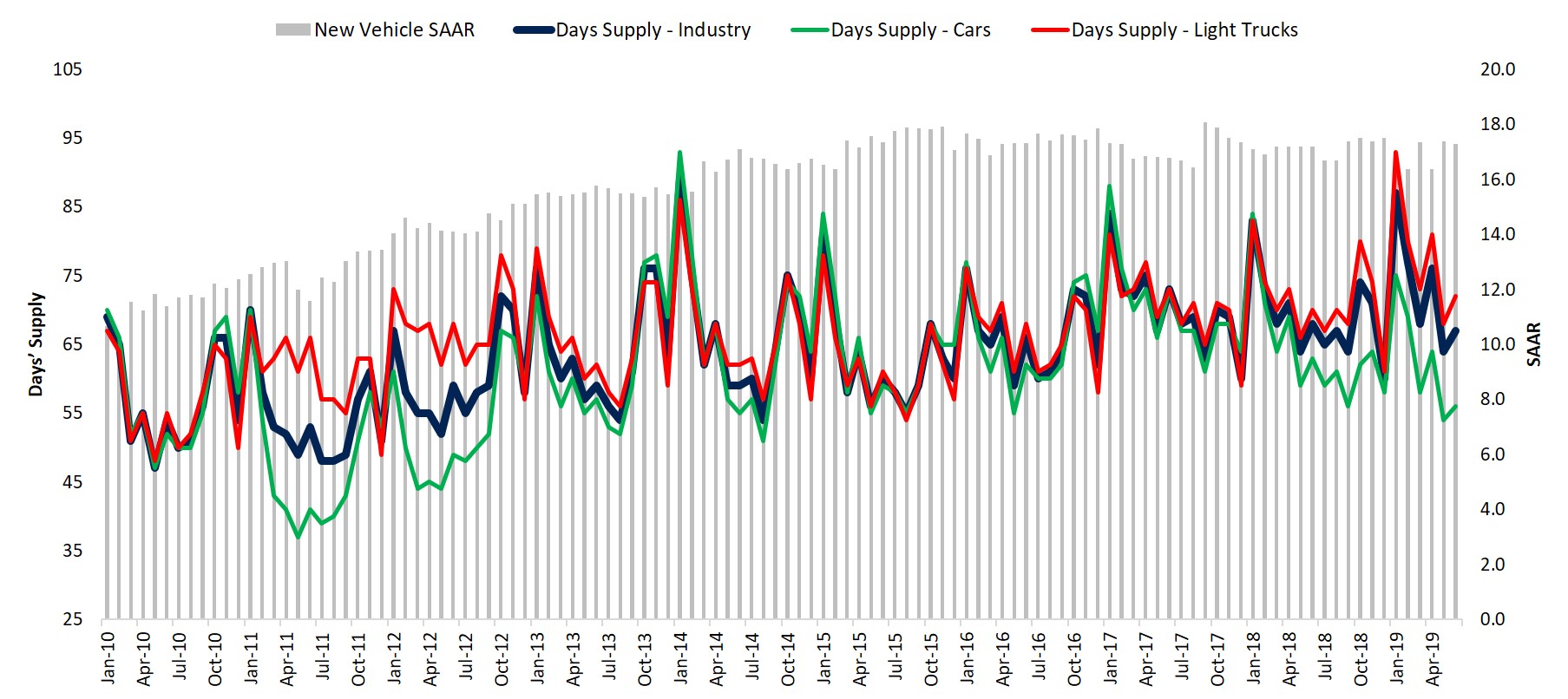 Inventory of traditional cars represented only a quarter of all of the inventory of unsold vehicles, though sales of cars is around 29%. That resulted in a days' supply for cars at 56, down a full week from a year ago though up two days from May. It is the lowest level of car inventory since October 2011.
Some automakers have eliminated cars from their lines. General Motors ended production of the Chevrolet Cruze, and Ford stopped making the Ford Fiesta and Focus.
The rising supply of light trucks – pickups and sport utilities – is one to watch. The days' supply of light trucks stood at 72 at the start of July, up two days from a year ago and up four days from May. Bloated inventories are a sign of slowing sales that force automakers to trim production or boost incentives.
Indeed, pickup trucks, in particular, require more inventory on the ground because of the vast numbers of configurations. General Motors is just now adding certain versions of its recently redesigned Chevrolet Silverado and GMC Sierra.
However, concern is increasing that the market is being inundated with crossovers and sport utilities, production of which may outpace demand.