Commentary & Voices
Volume is for Vanity, Profit is for Sanity
Monday February 27, 2023
As the old saying goes: "Volume is for vanity, profit is for sanity."
Automakers and dealers alike have a very important strategic business question to answer: to pursue volume or gross profit. There is an interesting divergence on this fundamental question playing out today between Hyundai Motor Group and Stellantis. The Korean automaker has been in full on growth mode pursuing volume, while Stellantis is clearly focused on maximizing their profit.
Sergio Marchionne, the legendary Fiat-Chrysler chief, was the first to bail on the higher-volume/lower-margin sedan business when he shut down production on the Dodge Dart and Chrysler 200 in 2016. He once famously said, "If you are considering buying a Fiat 500e, I hope you don't buy it because every time I sell one, it costs me $14,000."
His vision for the U.S. market was to focus on the most profitable segments where the Jeep and RAM brands compete. Marchionne would be proud of Stellantis' 2022 financial result: They delivered $17.7 billion in net profit, which makes them one of the most profitable car companies in the world.
On the flip side, the Hyundai Motor Group looks to be executing a business plan that's reminiscent of General Motors in the 1960s when they dominated with 50% market share leveraging shared platforms to develop unique products, separate management teams, distinct brand identities and independent dealer bodies.
Hyundai Motor Group, with their Hyundai, Kia and Genesis brands, has been on an absolute sales tear. Before the pandemic, Stellantis was outselling Hyundai Motor Group by 55,000+ units per month, but in four of the last six months, the Korean automaker has turned the tables and is outselling Stellantis. The "Big Three" just isn't what it used to be.
The Hyundai brands have added 148,967 in annual sales for an 11% increase since 2019, while Stellantis sales fell by 656,517 units (down 30%). Hyundai and Kia have both launched a number of exciting new products and are attracting new customers to their brands.
Annual U.S. Sales Volume / 2019 to 2022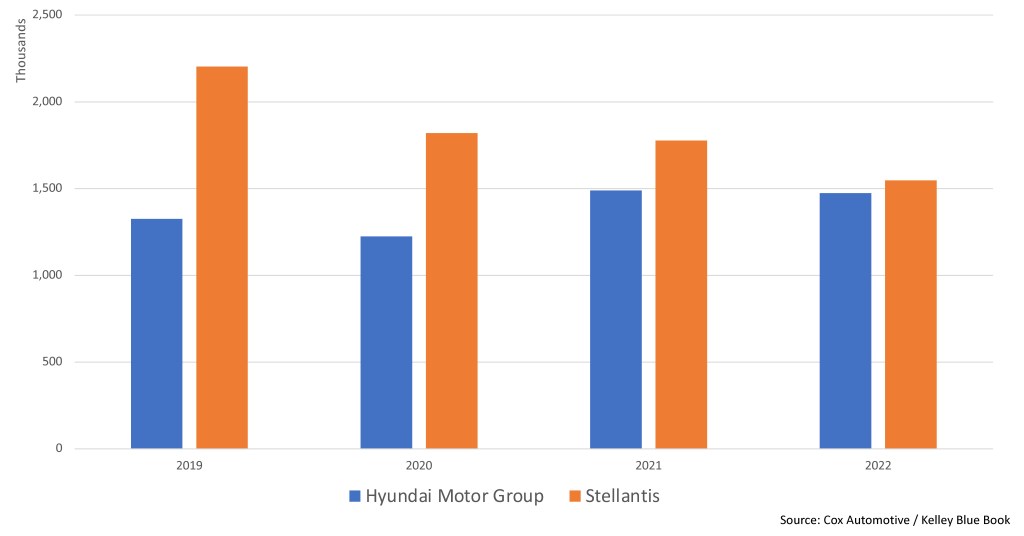 Despite comparable sales volumes between the two companies in 2022, Stellantis, with their focus on full-size trucks and large SUVs, generated over $30 billion more in U.S. revenue than Hyundai Motor Group. The average MSRP for Stellantis models sold in the U.S. is $57,201, while the average for Hyundai Motor Group product is $35,343. The days of $99 per month Dodge Dart deals are in the rearview mirror for Chrysler-Dodge-Jeep-Ram dealers.
While Stellantis has been doubling down on the Marchionne high-margin segment strategy, Hyundai and Kia have been more than happy to grow their share. Jeep once held a 10% share in the huge Compact SUV segment, but by neglecting their Cherokee of necessary updates and letting the model age, their share has fallen to 3% this past year. Meanwhile, Hyundai made big upgrades with their new Tucson and Kia with their new Sportage. Hyundai Tucson improved from a 9.5% segment share in 2019 to 13.4% in 2022, while Kia Sportage grew from 7.1% to 9.4%.
But you have to give Stellantis credit. They've pulled off a remarkable trick: reducing production and sales by 656,517 units while revenue only slipped by 6%.
Monthly U.S. Sales Volume / 2019 to 2022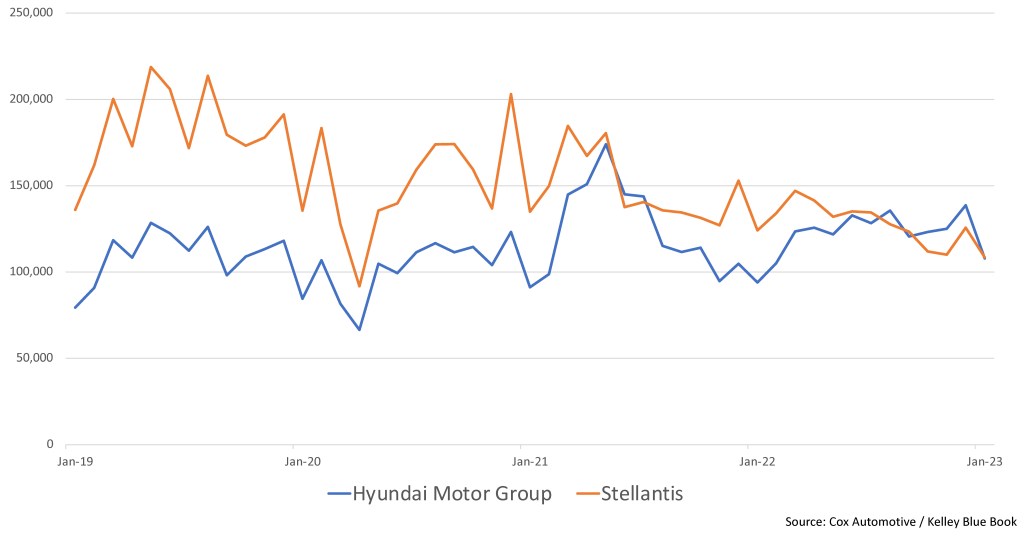 There are, however, some long-term consequences to the Marchionne "high margin" playbook. The 2,600 Stellantis dealers will have 656,517 fewer customers to service and generate repeat business. Those dealers will also miss out on all the used car sales opportunities those unit sales would have produced, not to mention the fact that Stellantis is not likely to regain many of those lost sales in the forward-looking years if product investments are not made.
So which plan is better?
From the dealer's perspective, the 1,600 Hyundai and Kia dealers must be absolutely thrilled to be growing their customer base and increasing their throughput while maintaining the same fixed cost structure. I met a 15-year Hyundai dealer at NADA who told me, "15 years ago, I would have never imagined Hyundai being my most profitable brand."
In this current period of economic uncertainty with higher borrowing costs and rising inflation, it would seem that Hyundai/Kia are better positioned to capitalize on consumers' move towards more affordable models. But it's also true that households making over $250,000 have never accounted for a higher percentage of total retail sales – which bodes well for Jeep and RAM.
Time will tell which company has the better business plan. In the meantime, perhaps Stellantis CEO Carlos Tavares and Hyundai COO Jose Munoz – who worked together years ago as top lieutenants at the Renault-Nissan Alliance – can jump on a Zoom call, rehash old times, and debate the right mix between vanity and sanity.
---
Brian Finkelmeyer is the senior director of new-vehicle solutions at Cox Automotive.