Week #2 Special Edition: Economic Impact on Auto Sales with Jonathan Smoke
Tuesday March 31, 2020
Watch this video with Chief Economist Jonathan Smoke from his home studio in Atlanta, GA, as he explains the impact of COVID-19 on the automotive industry. Jonathan examines:
Hardest hit COVID-19 areas in the U.S.
State-level jobless claims
Consumer sentiment and buying behaviors
Current view of new and used retail sales and prices
An outlook for vehicle sales in April 2020
Proprietary insights from Cox Automotive
During this unprecedented time, Cox Automotive is committed to providing you with the most up-to-date automotive news. Check back regularly for the latest updates.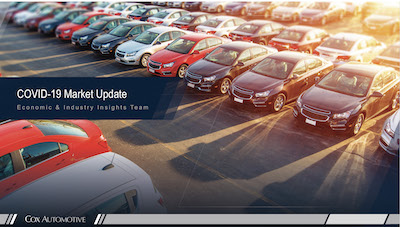 Download the Presentation
This presentation is the Week #2 COVID-19 Market Update.
Download