Data Point
Where the Buys Are
Thursday September 24, 2020
Article Highlights
New-vehicle inventory keeps falling.
Most of top 20 best-sellers are in short supply.
Biggest supplies are in small, cheap categories.
With the supply of new vehicles falling every week, some favorite vehicles are in extremely short supply, but others have abundant – even overabundant – inventory that could represent good value and wide choice for consumers.
In total, new-vehicle inventory slipped again last week, down to 56 days' supply from 58 only two weeks ago, according to a Cox Automotive analysis of vAuto Available Inventory data. However, the pace of decline is slowing, and prices are falling rapidly. The average listing price of $37,833 at the end of last week was down nearly $700 per vehicle – or 2% – from the Aug. 17 peak of $38,526.
"Inventory is relatively tight in the $30,000 to $40,000 price range – the market's pricing sweet spot," said Charlie Chesbrough, Cox Automotive senior economist. "We've also seen the industry pull back on incentives as a result of the supply situation, so consumers may now be unable to buy as much vehicle as they did before."
The new 2021 model year is off to an extremely slow start. Model year 2021 vehicles represent only 3% of all available new-vehicle inventory. Last year at this time, the new model year accounted for nearly a quarter of all inventory.
Looking at the top 20 best-selling models through the end of August, only seven have above the industry average of a 56 days' supply. Toyota and Subaru models have the lowest supplies.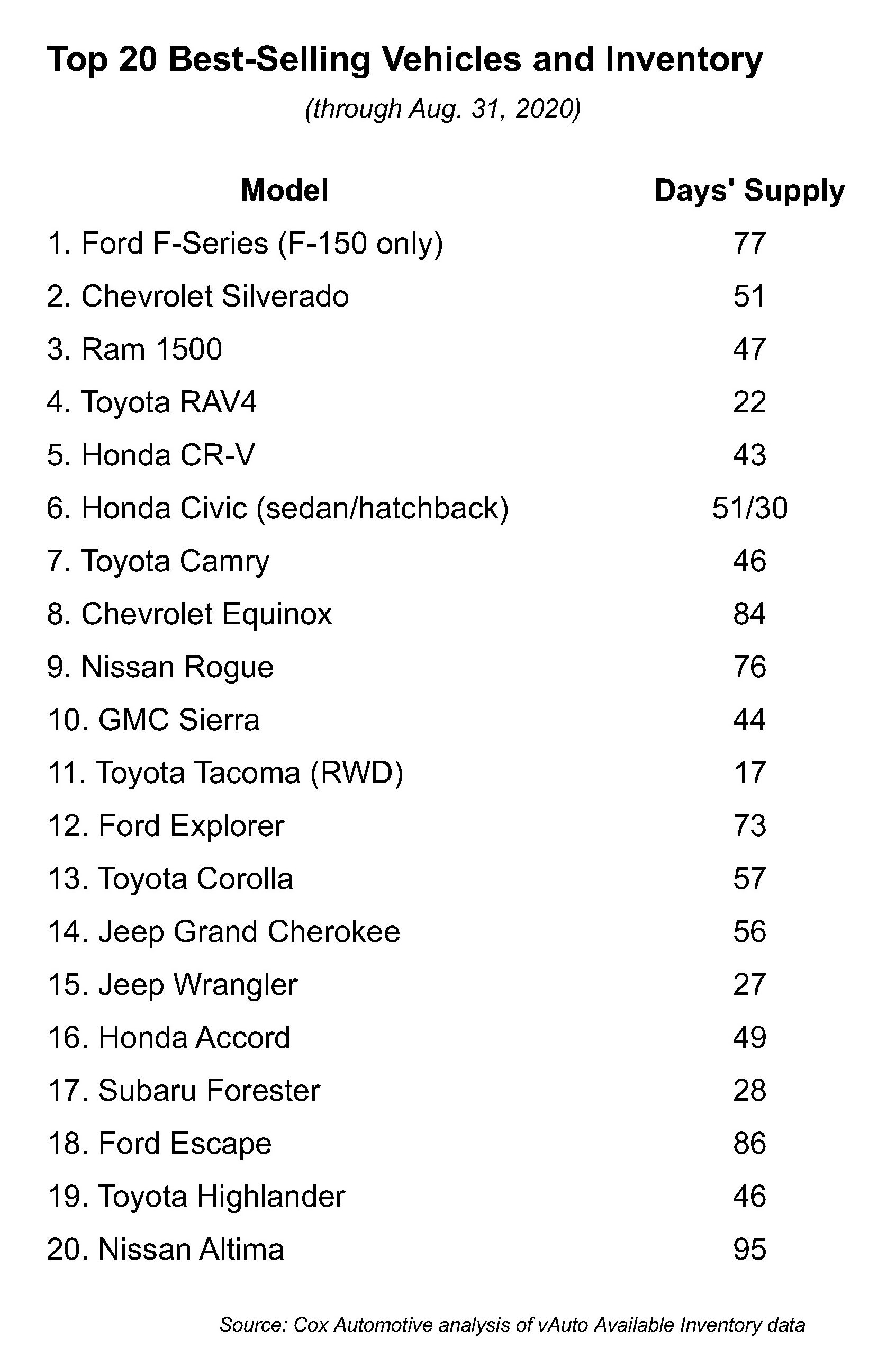 Truck inventory remains low
Pickup trucks continue to have the lowest supply due to strong sales, some planned manufacturing changes that are occurring and possible production hiccups following the re-start of plants in the spring.
Midsize pickups have a low 37 days' supply. The segment's best-selling Toyota Tacoma and Chevrolet Colorado have days' supply under 20. The GMC Canyon and Ford Ranger are in somewhat better shape with more than 50 days' supply. The Honda Ridgeline is just below 50.
Full-size pickups have a 55 days' supply, which is extremely low for trucks that typically have a higher amount of inventory than the industry average because they come in so many configurations. A supply of 80 or 90 days is more comfortable for big pickups.
No manufacturer has an overabundance. The Ford F-150 has the most at a 77 days' supply, but Ford is in the midst of a tricky operation to bring onstream the next-generation while it keeps producing the current version. Similarly, Fiat Chrysler had an ample supply of the Ram 1500 but then took down a truck line for several weeks to add a new Jeep product. The line re-starts by month's end, fortunately, as the inventory of the Ram 1500 has dwindled to 47 days' supply. Chevrolet Silverado is at 51, GMC Sierra is at 44, and Toyota Tundra is under 20.
Popular small, midsize SUVs low in inventory
The hot-selling categories of compact and midsize SUVs have the lowest supply among the mainstream brands at 50 days.
The compact segment's best-selling Toyota RAV4 has only 22 days' supply. The next biggest seller, the Honda CR-V, has 43 days' supply. However, Ford Escape and Chevrolet Equinox have an overabundance of inventory at 86 and 84 days' supply, respectively. Nissan Rogue, while launching the newest version, has a 76 days' supply, likely a mix of the old and new.
In the midsize category, the Subaru Ascent has only 12 days' supply, the lowest of any mainstream model as all Subaru's including the Forester, Crosstrek and Outback have well below the industry average of inventory, which is typical for the brand. Other SUVs with skimpy supplies are the new Toyota Highlander, Chevrolet Blazer, Jeep Wrangler, Hyundai Palisade, Kia Telluride and Honda Pilot.
Ford seems to have done better than most automakers in ramping up production after the lockdowns. It has an abundant supply of the new Ford Explorer, which initially suffered production problems but has been selling well of late. Buick has an overabundance of almost all of its SUVs, from its new Encore GX to the Envision and Enclave.
Ample inventory of cheap, small vehicles and minivans
The subcompact car and SUV segments and vehicles with a list price under $30,000 are well above the industry average.
"Supply of vehicles below $30,000 is relatively high right now, and some buyers may be able to take advantage of that availability and possible discounting," said Chesbrough.
In particular, vehicles like the Ford EcoSport, Chevrolet Trax, Kia Soul and Jeep Renegade have an overabundance of supply.
Minivan inventories are hefty as well, with the segment at 96 days' supply, largely due to Chrysler Pacifica. An oversupply of Pacifica minivans has led Fiat Chrysler to cut back production at its Windsor, Ont., plant for three weeks. Toyota Sienna and Honda Odyssey each have about half of the inventory of the Pacifica.
Tags