Commentary & Voices
Wholesale Prices Continue To Fade From Record High
Tuesday January 8, 2019
Wholesale used-vehicle prices (on a mix-, mileage-, and seasonally adjusted basis) decreased 1.03 percent month-over-month in December. This brought the Manheim Used Vehicle Value Index to 137.6, a 4.3 percent increase from a year ago.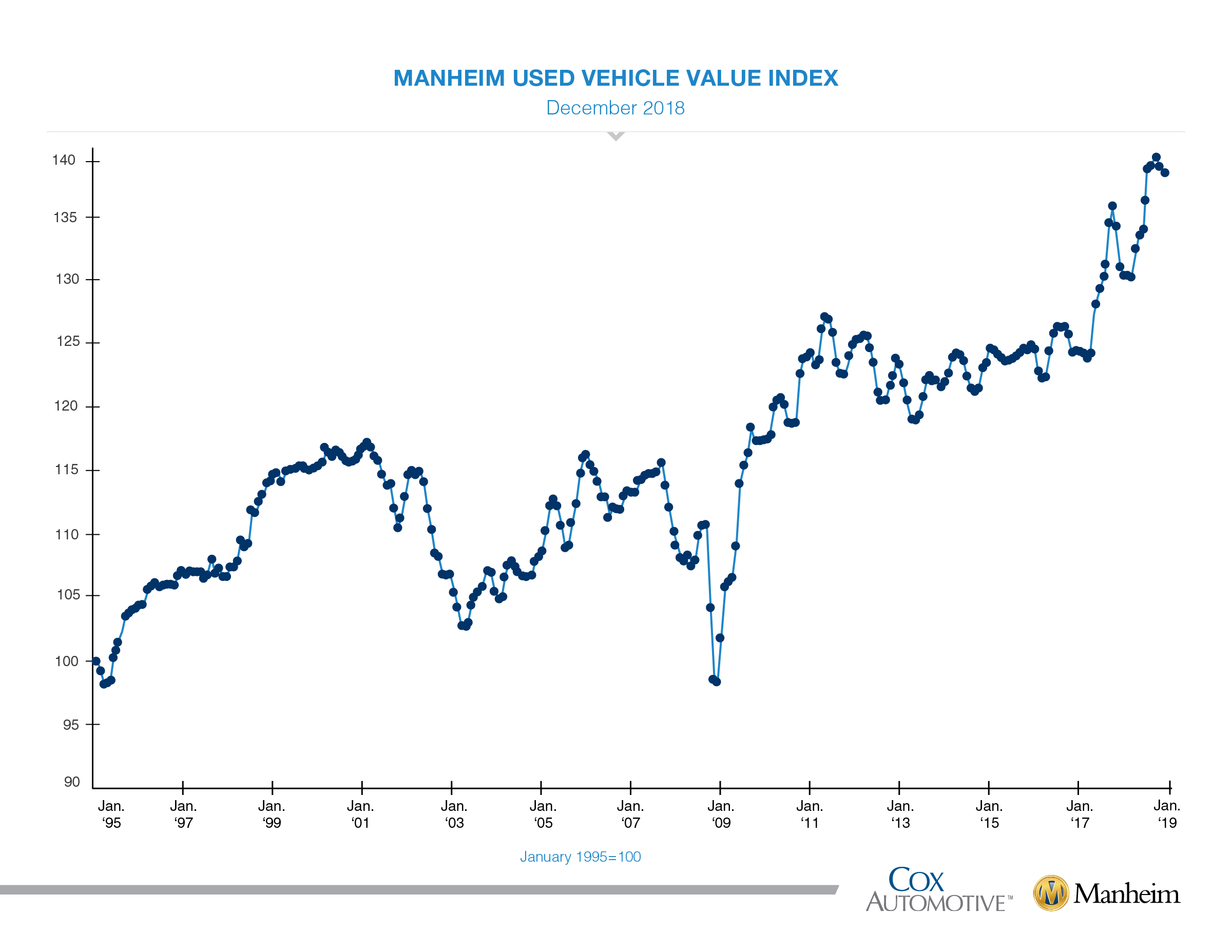 Looking at trends in weekly Manheim Market Report (MMR) prices, December saw continued and more normal levels of depreciation. Three-year-old vehicles ended the month worth 2 percent more than they would normally have been worth had typical depreciation occurred instead of the abnormal appreciation observed this summer.
On a year-over-year basis, all major market segments saw price gains in December; but more affordable vehicles continued to see the greatest increase in values. Compact cars and midsize cars outperformed the overall market, while utility vehicles and pickups underperformed the overall market.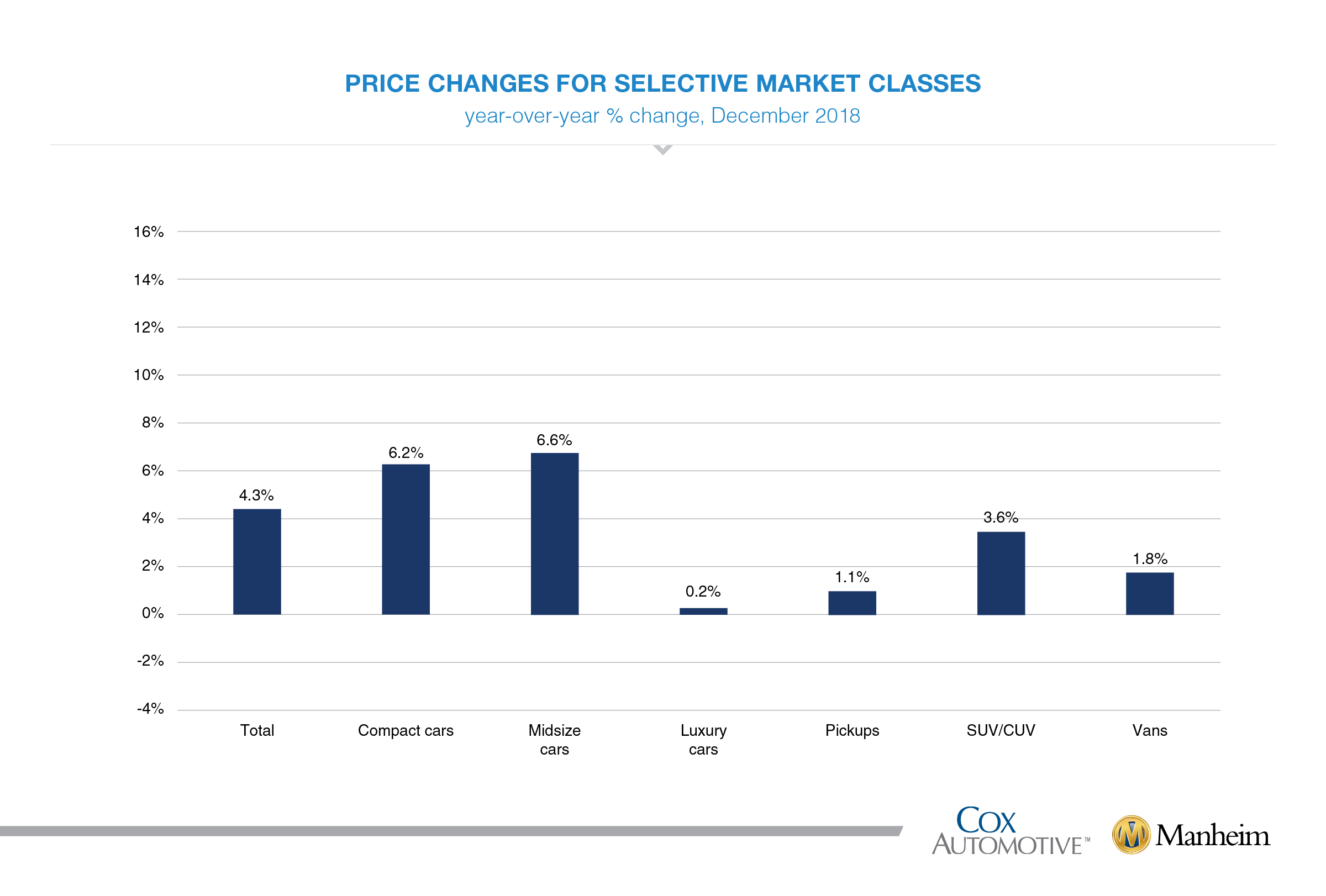 Positive results for vehicle sales in December. According to Cox Automotive estimates, used-vehicle sales volume was up 0.3 percent year-over-year in December. We estimate the December used vehicle SAAR to be 40.0 million, up slightly from 39.9 million last December. Used-vehicle sales volume increased 1 percent in 2018 leading to a full-year sales total of 39.6 million vehicles.
December new-vehicle sales were up 1.5 percent year-over-year, with the same number of selling days compared to December 2017. The December SAAR came in at 17.5 million, up versus last year's 17.3 million. Cars continue to see sharp declines, as sales in December fell 10 percent compared to last year. Light trucks outperformed cars in December and were up 6 percent year-over-year. New-vehicle sales in 2018 increased 0.5 percent versus the prior year to 17.2 million vehicles, the fourth consecutive year of sales exceeding 17 million units.
Fleet has been the driver of the strength in the new vehicle market for 2018. Combined rental, commercial and government purchases of new vehicles were up 6.6 percent year-over-year in December, and up 9 percent on a month-over-month basis. Rental (+12 percent) and government (+7 percent) fleet channels were up year-over-year in December. Fleet sales finished 2018 up 7 percent versus 2017. The strongest-gaining fleet channel was commercial, which increased 8.8 percent in 2018 versus the prior year. New-vehicle retail sales were up 1 percent in December leading to a retail SAAR of 15.11, up slightly from 15.08 last December. Retail sales finished 2018 down 1 percent versus 2017.
New vehicle inventories came in under 4 million units for the eighth consecutive month.
Rental risk pricing weakens. The average price for rental risk units sold at auction in December was up 4 percent year-over-year. Rental risk prices were down 1 percent compared to November. Average mileage for rental risk units in December (at 48,400 miles) was down 3 percent compared to a year ago and up 3 percent month-over-month.
Strong economic performance behind, concerns growing. The pace of real economic growth in the third quarter as measured by GDP was revised down in the third and final estimate to 3.4 percent. The Fed raised rates by a quarter-point as expected but was not as dovish as the financial markets had been expecting about the future trajectory of rate increases. They did revise expectations from three increases in 2019 to two, but the market had been expecting them to become more cautious and communicate at most one increase in 2019. Consumer confidence, as measured by the Conference Board, fell 8.3 points in December to 128.1. The consumer's view of the economy is starting to decline as worries about interest rates and a volatile stock market begin to grow.
The Manheim Used Vehicle Value Index data file is available. Download here.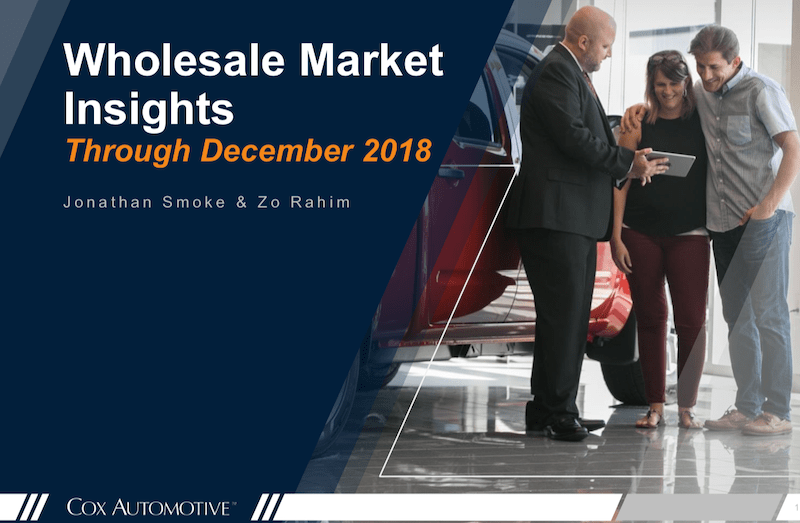 GET THE REPORT
Wholesale Market Insights Through December 2018
Download
Tags