Data Point
With Inventory Tight, It's a Market of Haves Versus Have-Nots
Thursday July 9, 2020
Article Highlights
End-of-June inventory totaled 2.55 million vs. 3.23 million a year ago.
Days' supply fell to 70 from 85 a year ago.
Toyota had the lowest inventories, followed by Subaru.
New-vehicle inventories in the U.S. closed June at new recent lows, despite auto assembly plants cranking back up after lengthy spring shutdowns due to the COVID-19 pandemic, according to a Cox Automotive analysis of vAuto Available Inventory data.
The total U.S. supply of unsold new vehicles stood at 2.55 million units at the end of June, down significantly from 3.23 million at the end of June 2019. That put the national days' supply at 70 days, down from 85 days from the same time a year ago.
"At the end of June, we are seeing a large spread across the many brands in terms of inventory – it's a market of haves and have-nots," said Charlie Chesbrough, senior economist at Cox Automotive. "We believe the tighter inventory, particularly with popular brands such as Honda, Subaru, Kia and Toyota, will further dampen July sales."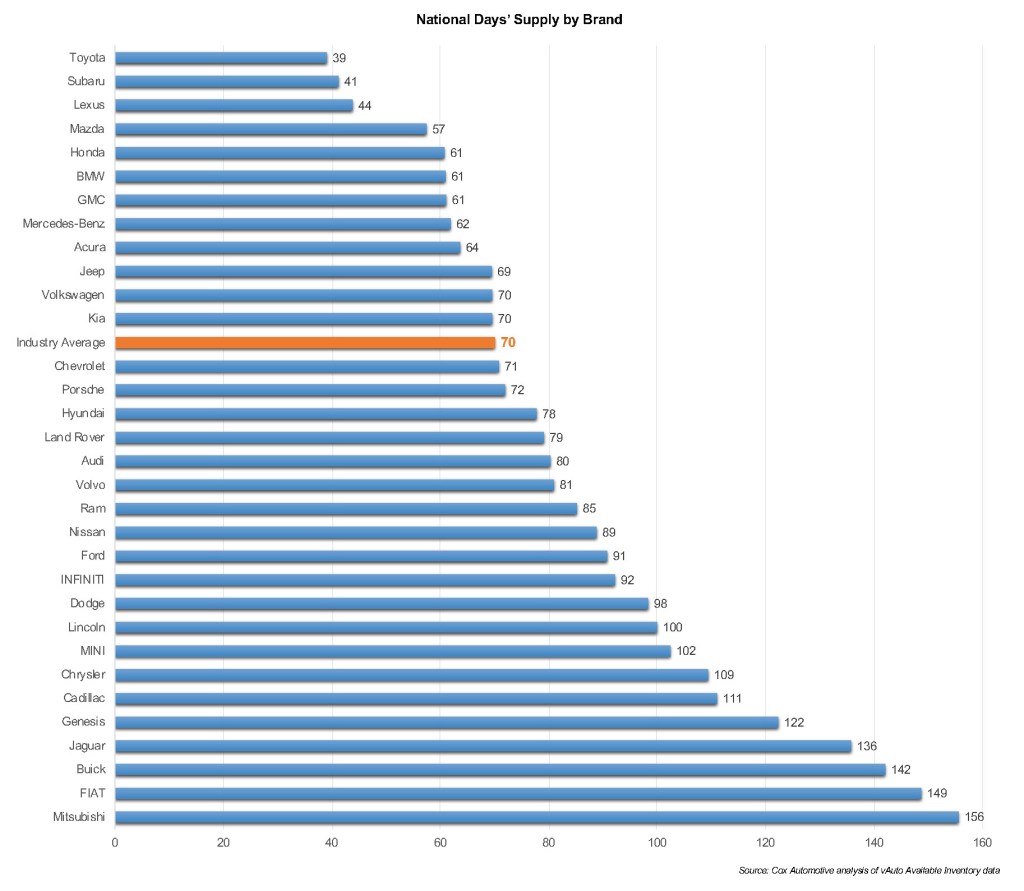 As is often the case, Subaru had among the lowest inventory at 41 days' supply. But Toyota was even lower – the lowest of all brands – at 39 days' supply; its Lexus brand had a skimpy supply as well.
Subaru and Toyota are in the heart of the non-luxury market, which is the part of the market that has enjoyed the strongest sales. Non-luxury inventory was down to 68 days' supply at the end of June; luxury, at 79 days' supply, was above the national average.
Pickup trucks, both midsize and full-size, had among the lowest days' supply, under the national average. Typically, automakers prefer to have a higher days' supply of trucks than cars or SUVs because trucks come in so many variations.
Midsize and compact SUVs, both non-luxury and luxury, were at the low end of the supply scale. In contrast to most car segments, which had abundant supply, compact cars were at the low end. Some companies have abandoned the small car market, notably General Motors discontinued the Chevrolet Cruze just over a year ago.
GM had a mixed bag of inventory levels. Chevrolet and GMC brands closed June with low inventories – 71 days' supply for Chevrolet and a scant 61 days' supply for GMC. The two brands have been low on hot-selling pickup trucks for months, while GM has been ramping up production at truck plants. In addition, both brands are launching the newest version of their full-size SUVs. Workers at the plant that makes GM's large SUVs in Arlington, Texas, have been asking the automaker to temporarily close the plant due to the massive increase in COVID-19 cases in the state; GM has refused so far.
In contrast, slow sales for the Buick and Cadillac brands have caused inventories to continue to bloat – 142 days' supply for Buick and 110 days' supply for Cadillac. GM recently announced it would permanently end the third shift at its Spring Hill, Tenn., plant where it builds Cadillacs.
At Fiat Chrysler, all brands closed June on the heavy side of inventory except for Jeep, which had only a 70 days' supply, on par with the national average.
At the opposite end of the spectrum, Fiat, which has seen sales shrink significantly, had a hefty 149 days' supply, the highest except for Mitsubishi at 155 days' supply. Chrysler, despite selling only two models, had a bloated 109 days' supply. Dodge followed at 98 days' supply. Last week, Dodge, announced it would discontinue the Journey crossover and Grand Caravan minivan at year-end to focus exclusively on performance models.
Ford has more than enough supply. Inventory of Ford brand products stood at 91 days' supply; Lincoln was at 100 days.
South Korean brands seem to be ramping up production well to keep up with relatively strong sales. Kia had been near or dead last for inventory in recent months is up to a 70-day supply; Hyundai is at 78 days. The exceptions are their hottest models. The Kia Telluride has barely any inventory at only 15 days' supply. The Hyundai Palisade stock isn't much better at 28 days' supply.
Nissan has an overabundance of supply with the Nissan brand at 89 days' supply and Infiniti at 92. In contrast, Honda has an undersupply with the Honda brand at 61 days' supply and Acura at 64.