Data Point
Worst of the New-Vehicle Inventory Crunch Has Passed
Wednesday November 11, 2020
Article Highlights
New-vehicle inventory built to 2.67 million vehicles; 65 days' supply.
Average listing price climbed to new record of $39,346.
Toyota, Subaru and import luxury makes have lowest stocks.
The worst of the new-vehicle inventory crunch appears to be over, according to a Cox Automotive analysis of vAuto Available Inventory data. Auto plants have ramped up and are re-filling the product pipeline, causing new-vehicle supply to vastly improve from the past several months. However, inventories remain well below year-ago levels.
---
$39,346
Average Listing Price
---
The total U.S. supply of available unsold new vehicles stood at 2.67 million vehicles on Nov. 2, more than the 2.54 million at the start of October but well below the 3.39 million at the beginning of November 2019.
The total industry's days' supply for November was 65, a level that held stable for the four weeks leading up to Nov. 2. November's number compares with 58 days' supply at the start of October and 80 days' supply in November a year ago. This month, non-luxury days' supply was 65; luxury was at 64 days' supply.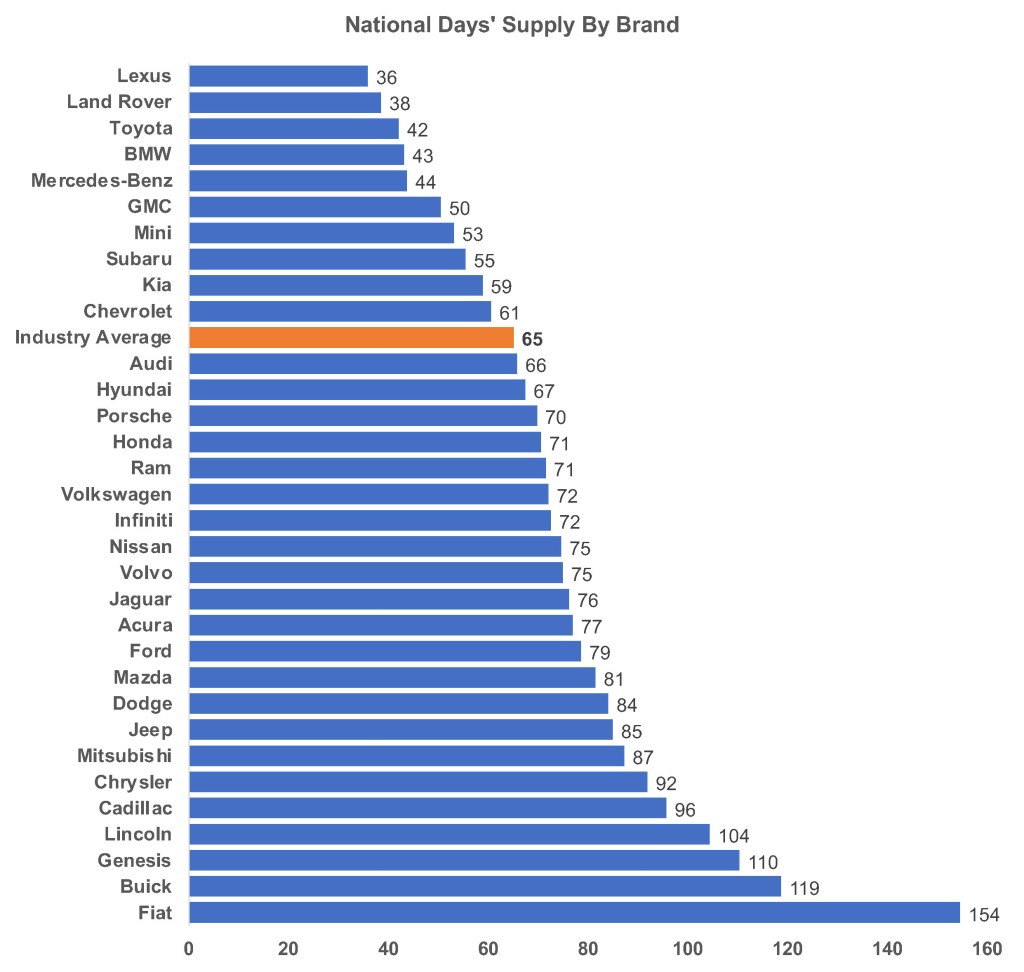 The Cox Automotive days' supply is based on the daily sales rate for the most recent 30-day period that ended Nov. 2. October sales came in at a 16.2 million SAAR.
Prices climb; average edges toward $40,000
The average listing price continued to climb to $39,346, setting a new record and up 5% from a year ago, according to a Cox Automotive analysis of vAuto data. The average listing price at the start of October had risen to $38,413. At the opening of November 2019, it was $37,266. Breaking it down, the average listing price for non-luxury vehicles was $36,276; for luxury, it was $56,851.
This year's low point was $37,211 in March, at the height of pandemic-triggered lockdowns. Due to falling inventories because assembly plants were closed and stronger than expected demand, prices have been increasing ever since. The average listing price broke the $39,000 milestone each of the three weeks leading up to Nov. 2, setting a record. The Kelley Blue Book average transaction price (ATP) for October, the price actually paid by consumers, stood at $39,561, up more than $1,400 from October 2019. Both the average listing price and ATP are closing in on the next historic milestone – $40,000.
Prices likely will continue to rise, in part due to still less-than-plentiful inventories, but also, because the model-year rollover is finally happening in earnest. After a slow start, the inventory of model year 2021 vehicles now represents 43% of all available inventory, just 2% lower than the same week a year ago.
"New model year vehicles tend to be higher priced ones and a richer segment mix, including less cars than years past," said Charlie Chesbrough, Cox Automotive senior economist. "Going forward, prices will continue to be high. The mix gain will support rising prices over the near term, and tighter days' supply means reduced incentives."
In addition, higher-priced vehicles are selling far better than lower-priced ones, skewing average prices higher. "Buyers with high incomes remain in the auto market, favoring SUVs, trucks and luxury vehicles," said Chesbrough. "The market weakness is in lower-priced segments, such as compact and subcompact cars. That suggests the vehicle market is an example of the K-shaped economic recovery, where higher incomes do well, while lower incomes do not."
High inventories of lower-priced vehicles
Nearly 37% of the available inventory now consists of vehicles priced under $30,000, segments of little interest to today's consumers, according to a Cox Automotive analysis of vAuto data. In contrast, the tightest inventories at a 47 days' supply were in vehicles priced $80,000 and above.
The days' supply of vehicles priced below $20,000 was highest among mainstream segments at 81. Subcompact cars had the highest days' supply among all mainstream segments at 87.
In between, the days' supply of vehicles priced between $20,000 and $30,000 was 71. Within that price range, subcompact SUVs had an 85 days' supply and midsize cars had 69 days' supply.
Compact utilities, among the industry's hottest sellers, had a 65 days' supply, on par with the industry average, though specific models had supplies well below the average. Notably the Kia Sorento was down to an 18 days' supply. Toyota RAV4, the best-selling SUV in the U.S., had only 26 days' supply.
Days' supply of vehicles over $30,000 to $60,000 was around 60, below the industry average. SUVs, especially midsize ones, generally had the lowest supplies and cars the highest. The midsize three-row Hyundai Palisade and its cousin, the Kia Telluride, once again had among the lowest supplies. The Telluride, which has had extremely low stocks for months, had a scant 18 days' supply. Palisade was at 28 days.
Pickup trucks supply tight but improving for some
Inventory of pickup trucks remains tight but is improving for some models. Full-size pickup trucks had a 56 days' supply at the start of the month, not an overabundance by historical standards considering all the variations they offer.
General Motors continues to have shortages of its full-size pickups. The Chevrolet Silverado was still at the low end with 47 days' supply. The GMC Sierra 1500 had even less at 40 days' supply. This week, GM and the Canadian union Unifor agreed on a new contract that will add production of full-size trucks to its Ontario plant.
Toyota Tundra's stocks were even lower than GM's, ranging between 30 and 34 days' supply depending on the trim level. Ford and Ram had healthier inventory levels.
Mid-size trucks still had extremely low inventories at 46 days' supply. Toyota Tacoma and Chevrolet Colorado were below the segment average. Ford Ranger and Honda Ridgeline had above average stocks.
Toyota, Subaru and import luxury makes have lowest supplies
Among non-luxury brands, Toyota had the lowest inventory with only 42 days' supply. Subaru had much improved inventory at 55 days' supply. The two brands have swapped back and forth over the past several months between lowest and next-lowest in days' supply.
Import makes had the lowest inventories in the luxury category, while domestic makes had the highest. Lexus inventories continue to be the lowest but are improving at a 36 days' supply. Land Rover was close at 38. BMW also remained low at 43 days' supply, and Mercedes-Benz was at 44 days' supply. In contrast, Buick had 119 days' supply while Cadillac had 96 and Lincoln 104.
Tags