Download Your Copy Today
Cox Automotive 2018 Used Car Market Report & Outlook Forecast Higher Used-Vehicle Sales for 2018 and a Decline in New-Car Sales
Friday March 23, 2018
Article Highlights
Used cars should experience strong demand and growth in sales across the U.S. in 2018, as the economy continues its strong performance, while new cars may see a slight downtick as industry headwinds become more pronounced.
Economic conditions improved throughout 2017, helping support 39.3 million used-car sales, up 1.8 percent from 2016. New-car sales, conversely, reached 17.1 million, down 2 percent. The economy is expected to accelerate further in 2018, supporting higher used-car sales of 39.5 million. New-vehicle sales in 2018 are expected to decline to 16.7 million, however.
"The U.S. economy in 2018 is ripe for continued strength in used-vehicle sales," said Cox Automotive Chief Economist Jonathan Smoke, who oversaw the compilation of the 2018 Used Car Market Report & Outlook. "But headwinds are growing, with the greatest risks being rising inflation, higher interest rates, and tightening credit. In this dynamic environment, a clear perspective on the trends impacting the industry is more important than ever."
Report from Cox Automotive examines trends and provides advice for dealers managing growing industry headwinds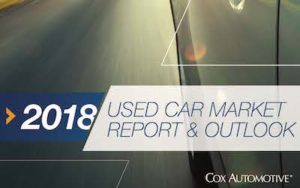 LAS VEGAS, March 23, 2018 – Used cars should experience strong demand and growth in sales across the U.S. in 2018, as the economy continues its strong performance, while new cars may see a slight downtick as industry headwinds become more pronounced.
Economic conditions improved throughout 2017, helping support 39.3 million used-car sales, up 1.8 percent from 2016. New-car sales, conversely, reached 17.1 million, down 2 percent. The economy is expected to accelerate further in 2018, supporting higher used-car sales of 39.5 million. New-vehicle sales in 2018 are expected to decline to 16.7 million, however.
These forecasts and the trends behind them are explored in the Cox Automotive 2018 Used Car Market Report & Outlook, released today at the annual National Automobile Dealer Association (NADA) Show in Las Vegas. Previously known as the Manheim Used Car Market Report, the book has been reinvented for its 23rd edition. The Used Car Market Report & Outlook has been expanded to include perspectives from across Cox Automotive's family of brands, while still maintaining the long tradition of packing its pages with salient data, smart insights and keen industry observations.
"The U.S. economy in 2018 is ripe for continued strength in used-vehicle sales," said Cox Automotive Chief Economist Jonathan Smoke, who oversaw the compilation of the 2018 Used Car Market Report & Outlook. "But headwinds are growing, with the greatest risks being rising inflation, higher interest rates, and tightening credit. In this dynamic environment, a clear perspective on the trends impacting the industry is more important than ever."
In addition to forecasts and trends, the 2018 report focuses on the technologies and services that are rapidly transforming the automotive marketplace.
"Technological advancements and consumer expectations are evolving rapidly," said Cox Automotive President Sandy Schwartz in the report's opening message. "We're all trying to stay ahead of a change curve that is getting steeper every year – in the automotive industry and well beyond."
The report provides a comprehensive look at the automotive industry from a number of different angles and includes insights from key industry players such as NADA Chairman Wes Lutz, National Independent Automobile Dealers Association (NIADA) President David Andrews, influential Cox Automotive clients, and a number of Cox Automotive executives, including:
Mark O'Neil, chief operating officer
Dale Pollak, executive vice president and founder of vAuto
Grace Huang, president, Inventory Solutions
Keith Jezek, president, Retail Solutions
Greta Crowley, vice president – Marketing, Media Solutions
Mike Burgiss, vice president, Digital Retailing
Data highlights from the 2018 Used Car Market Report & Outlook include:
REMARKETING INDUSTRY
National Auto Auction Association (NAAA)-member sales approached 10 million in 2017; the same level is expected in 2018.
Wholesale prices rose 6 percent in 2017, according to the Manheim Index. At the extremes, wholesale pickup truck prices rose 9.8 percent and compact car prices declined 3 percent. The Manheim Index is expected to rise 3 percent for 2018.
DEALERS
S. new-vehicle sales in 2017 came in at 17.1 million units, the fourth-best year in history. With a forecast of 16.7 million, 2018 would be the 10th best in history.
Franchised dealers set another new record of certified pre-owned sales at 2.644 million, the seventh consecutive increase with 2018 promising to be the eighth.
RENTAL
Total rental car industry revenue reached a record $28.63 billion.
The number of vehicles purchased by rental companies declined 12 percent to 1.59 million in 2017.
LEASING
New retail consumer lease originations fell 3 percent in 2017; 28.7 percent of new vehicles were leased.
Leases are expected to account for approximately 25 percent of 2018 new-vehicle sales.
The average lease payment is approaching $500 month, up from $400 in 2014.
6 million off-lease vehicles returned to market in 2017; 3.9 million are expected to come back in 2018.
REPOSSESSIONS
The dollar amount of auto loans outstanding stands at a record $1.22 trillion.
Auto loan originations set a record of $569 billion in 2017.
FLEET
New vehicle purchases by commercial and government fleets dipped 9.9 percent, ending a seven-year growth streak.
Commercial fleet sales rose 1.4 percent; government purchases dropped 6.4 percent.
Learn more about the 2018 Used Car Market Report & Outlook and download your copy here.
Or, download a one-pager of highlights here.