Economic outlook
8 Key Market Trends for 2018
Tuesday May 8, 2018
Earlier in the year, we introduced the 8 key market trends that would have the greatest impact on how the automotive industry performs in 2018. Now that we are nearly halfway through the year, we are revisiting those trends to see what has changed and what is the same.
Video Highlights
Economic Momentum: The economy continues to show signs of growth, and we are still on track to see GDP (Gross Domestic Product) growth of at least 2.8% and possibly 3% or higher.
Total Vehicle Sales: Our forecast for 2018 remains unchanged.  We are expecting to see total sales of 56.2 million units, which would represent another slight decline in new but a slight gain in used.  New vehicle sales have averaged an annualized pace of more than 17 million so far this year.  If the pace continues, our forecast would need to be revised up this summer.
New Vehicle Market: The new vehicle market continues to be in better shape from a supply perspective compared to last year. We kicked off the year with days supply down by 2 days.  This is now down by 5 days year-over-year as of March.  The good news is that OEMs are taking advantage of the strong sales pace to reduce supply while continuing to reduce production.  This relative balance should keep incentives and pricing stable.
The Shift Evolves: CUV sales continue to grow while sedan sales decline. As of March, the percentage of new vehicle sales attributed to cars is at 33% while the CUV share is at 35%.  However, this continued growth in CUVs will become more difficult as more off-lease CUVs present compelling alternatives to value conscious buyers. CUVs have never been more readily available in both new and used inventories as they are right now.
Interest Rates: Interest rates continue to move up. The Fed increased rates in March and are communicating that they may increase rates 3 more times this year as well as potentially increasing rates at least 3 times next year.  Rates are going to move more in the next 2 years than we've seen in the last 7 years combined.  As a result, this continues to be one of the more negative forces impacting consumer affordability and credit.
Tightening Credit: Lenders have reported tightening standards for six straight quarters. That tightening is expected to continue in 2018 as the financial markets become more risk averse.  Those most impacted are subprime borrowers, who tend to be young lower-income buyers.
Used Vehicle Prices: Prices through April are stronger than what we've seen at this time in the last 3 years – a very strong indicator that retail demand for used vehicles is strong and dealers are buying inventory and keeping prices high relative to the last several years. That is a good signal that April should be a very strong month for used vehicle sales.
Dealer Sentiment: Dealers are euphoric about the spring.  In February, dealers told us they were more positive about the market, especially Franchises, and when asked about expectations for the next 90 days, they were more optimistic than we have seen previously.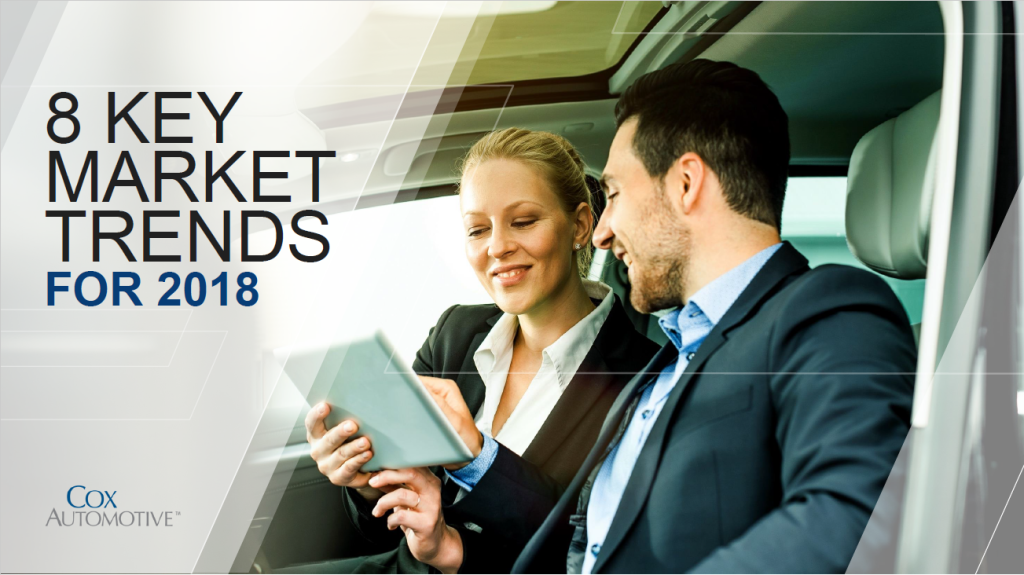 8 Key Market Trends for 2018
Check out the slides to see more on the 8 Key Trends.
Download