Economic Outlook
Cox Automotive Industry Update Report: April 2017
Wednesday April 19, 2017
Article Highlights
ECONOMIC INDICATORS: While 185,000 new jobs were projected for March, the Bureau of Labor Statistics reported growth of only 98,000. However, the unemployment rate nonetheless fell to a post-recession low of 4.5% and March job creation numbers are historically weak relative to overall trends.
DEMAND: New vehicle retail sales experienced a slight increase of 0.2% in March. The Used market continues to make strong gains in 2017. March Franchise sales are up 4.9% YTD and Independent sales are up 4.2% YTD. With New vehicle prices at an all-time high, more buyers are turning to Used. CPO sales remain at an all-time high.
SUPPLY: Incentives are at 10.3% of average transaction price and continue to be well above what they were at the beginning of last year. Trucks and SUVs are playing a significant role in incentive spend growth as competition for market share intensifies.
This monthly report leverages Cox Automotive's multifaceted insight into the automotive marketplace to provide a one-page overview of economic indicators, supply, demand, credit and other vital topics and trends affecting the industry.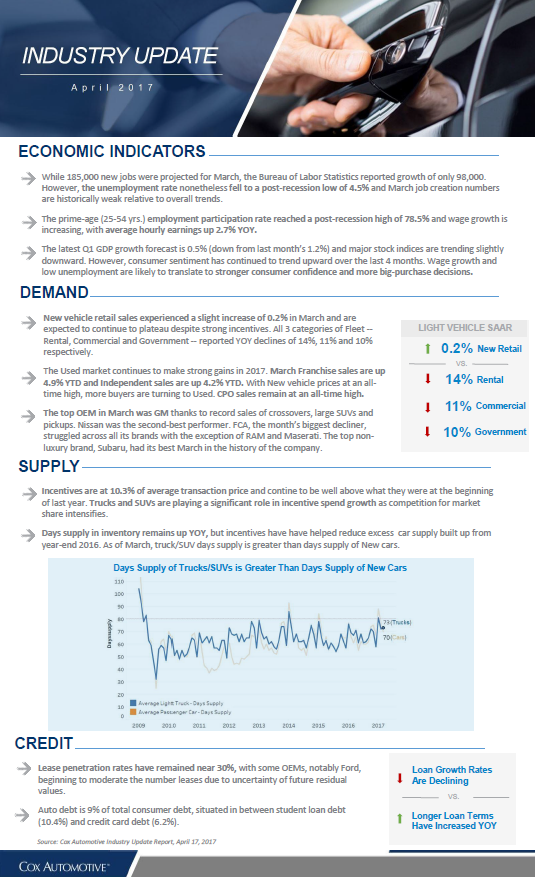 Cox Automotive April Industry Update
Get the full April 2017 report
Download
Tags