Economic Outlook
Cox Automotive Industry Update Report: August 2017
Tuesday August 22, 2017
Article Highlights
ECONOMIC INDICATORS: While new vehicle prices are no longer outpacing inflation, used vehicle prices are. The used market continues to favor trucks and SUVs, but even some used car segments saw YOY price gains in July.
DEMAND: New vehicle retail sales were down 6% in July. Commercial fleet sales decreased 1% while Rental and Government fleet sales fell 39% and 17% respectively. Cox Automotive estimates through June 2017 suggest retail used sales are up approximately 4% YTD, with Franchise used sales up 3% and Independent used sales up 5.2% YTD. CPO sales decreased 3.1% YOY in July.
SUPPLY: Because consumer preference has shifted heavily in favor of SUVs and Trucks, OEMs have seen an increase in car inventory. As a result, incentives remain at the highest levels seen since the Great Recession but have slowly decreased this year.
A monthly report leveraging Cox Automotive's multifaceted insight into the automotive marketplace to provide an overview of economic indicators, supply, demand, credit and other vital topics and trends affecting the industry.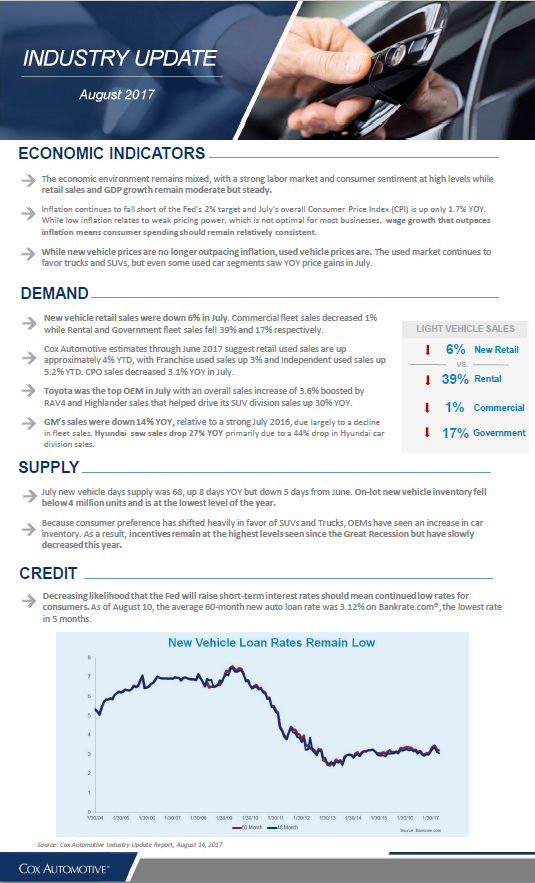 Cox Automotive August Industry Update
Get the full August 2017 report
Download
Tags