Check These 3 Boxes to Create an Individualized Buying Experience for Every Shopper
Wednesday January 12, 2022
With every consumer choosing their own, unique path to purchase, you need to deliver an individualized buying experience for every shopper — so you can get more leads, close more deals, and earn higher profits.
Let's explore how you can grow your dealership by supporting any consumer, shopping any way, from anywhere. The right digital retailing partner will check the boxes on the following three things.
Cover Every Purchase Path
No two car buyers are alike. Some still want to come in and kick the tires, others want an all-online eCommerce experience, and most are somewhere in between — picking and choosing which pieces of the process to complete online and which to finalize in person. According to the findings from Cox Automotive's report on thriving dealers, consumers have been preconditioned by other online retailers to accept — and even expect — a more digitally driven process.
The right digital retailing technologies will help you cover every purchase path, setting the stage for consumers to complete every step of the buying process how and where they choose, creating an individualized buying experience.
Leverage Shopper Data
Personal shopper data is crucial to individualized experiences. Without it, your customers will encounter generic information that doesn't get them any closer to a purchase. A report from the Winterberry Group suggested that "digital retailing…lacks detailed information that consumers are seeking as part of their car buying efforts."
Be sure that your tools have access to first-party data that can only come from powerful online shopping hubs like Autotrader and Kelley Blue Book. Armed with the browsing activity of car shoppers, your dealership gains a more complete view of the shopper and a source of actionable insights, including the ability to predict a customer's probability of purchase.
Stay Ready for the Future
The industry is moving fast, driven by consumer behaviors that seem to be shifting more rapidly than ever before. And most agree that customers now embrace the convenience of online shopping and that things "likely will continue to shift in that direction, as industry surveys consistently show that auto buyers don't want to wait for hours to sign paperwork or reenter information they filled out digitally."1 To keep up, you need best-in-class technologies that satisfy the demands of today's customers, and also scale to meet the future demands of the marketplace.
When adopting digital retailing technology, evaluate every tool for its flexibility. Factor in the potential to stay ahead of trends and behaviors as they continue to evolve. For example, you may not be ready to incorporate fully automated eCommerce car buying today, but you'll need to adjust quickly when the time is right. Look for a company with a track record of leading industry change and connect with a partner that can prepare you for where the market will be tomorrow and into the future.
Today's customers expect you to meet them wherever they are, and they demand intelligent buying experiences that serve their personal preferences every step of the way—no matter which purchase path they choose. Keep your customers satisfied today, and into the future, with a flexible, connected suite of solutions that lets you own every purchase path.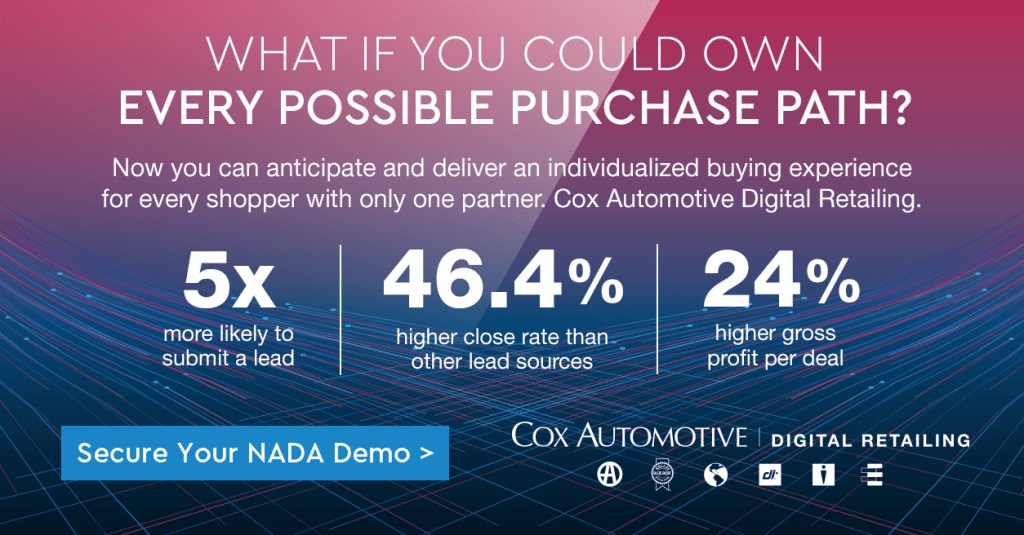 Tags