Economic outlook
Cox Automotive Industry Update Report: May 2018
Monday May 21, 2018
Article Highlights
ECONOMIC INDICATORS: Even with gas prices up 22% YOY, consumer sentiment remains close to a 14-year high. Demand should continue to be strong, but eventually higher rates and declining purchase power may slow down the pace of sales.
DEMAND: New vehicle retail sales volume decreased 7% YOY and Used vehicle sales decreased by 2% YOY.
SUPPLY: The days' supply for April was 71, down 4 days YOY and up 3 days from March.
The 2018 Cox Automotive Industry Update Report shares Cox Automotive's multifaceted insight into the automotive marketplace to provide an overview of economic indicators, supply, demand, credit and other vital topics and trends affecting the industry. Download the May 2018 Cox Automotive Industry Update Report to learn more.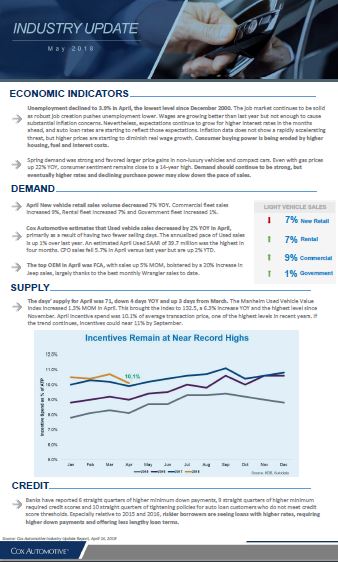 Cox Automotive May 2018 Industry Update
Get the full May 2018 report
Download
Tags