Economic outlook
Cox Automotive Industry Update Report: January 2018
Wednesday January 17, 2018
Article Highlights
ECONOMIC INDICATORS: Demand should begin to strengthen in March, influenced not only by tax refunds, but also by increased take-home pay resulting from tax reform.
DEMAND: New sales volume increased 5% YOY and Used car sales increased by 4% YOY.
SUPPLY: The days' supply was 60, down 2 days YOY and down 9 days from November.
A monthly report leveraging Cox Automotive's multifaceted insight into the automotive marketplace to provide an overview of economic indicators, supply, demand, credit and other vital topics and trends affecting the industry.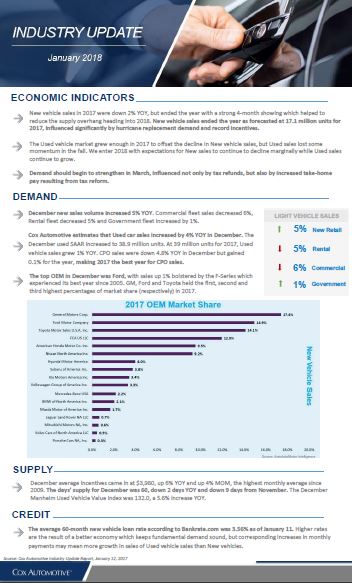 Cox Automotive January 2018 Industry Update
Get the full January 2018 report
Download
Tags