Economic outlook
Cox Automotive Industry Update Report: October 2019
Wednesday October 23, 2019
The October 2019 Cox Automotive Industry Update Report shares Cox Automotive's multifaceted insight into the automotive marketplace to provide an overview of economic indicators, supply, demand, credit and other vital topics and trends affecting the industry.
ECONOMIC INDICATORS
Headline unemployment rate fell to 3.5% in September, which was last seen in December 1969. The underemployment rate, which is the broadest measure of unemployment, fell to 6.9%, which was its lowest level since December 2000. The labor force participation rate was unchanged in September, but the employment-population ratio increased to a high for this economic expansion. Average hourly earnings growth YOY slowed to 2.9%, which was the lowest level in 15 months.
Second quarter economic growth as measured by GDP was left unchanged at 2.0% in the third and final estimate. The first half of the year delivered 2.6% growth relative to 3% growth in first half of 2018.
DEMAND
September total new vehicle sales were down 11.3% YOY, with two fewer selling days compared to September 2018 and did not include Labor Day weekend. The September SAAR came in at 17.2 million, a decline from last year's 17.3 million and up slightly from August's 17.0 million rate.
Cox Automotive estimates that used vehicle sales decreased in September as sales declined by 0.1% YOY, which led to the September used SAAR coming in at 39.8 million units, up from last September's 39.7 million.
Combined rental, commercial, and government purchases of new vehicles were down 7.3% YOY in September. The commercial fleet channel was particularly strong, up 18% YOY in September. Retail sales of new vehicles were down 12% in September, leading to a retail SAAR of 14.6 million, down from 14.8 million last September.
SUPPLY
Days' supply for September was 66, up 2 days YOY and up 5 days from August. Average car days' supply came in at 56 which was flat YOY and up 3 days from August. Light truck days' supply was 69 last month, up 1 day from last year and up 5 days from August. The Manheim Index decreased 1.04% MOM in September. This brought the Manheim Used Vehicle Value Index to 139.9, flat from a year ago.
CREDIT
The Federal Reserve Bank of New York reported that total household debt increased by $192 billion (roughly 1.4%) to $13.86 trillion in the second quarter of 2019. It was the 20th consecutive quarter with an increase.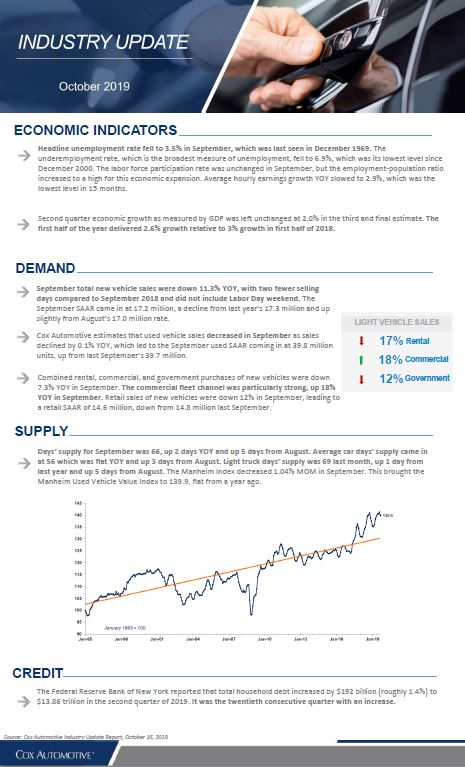 Cox Automotive October 2019 Industry Update
Get the full October 2019 report
Download