Economic Outlook
Cox Automotive Industry Update Report: September 2017
Tuesday September 19, 2017
Article Highlights
ECONOMIC INDICATORS: The negative impacts hurricanes Harvey and Irma should be mostly limited to Q3. We expect to see an increase in new and used vehicle sales in September as replacement demand drives growth. Vehicle sales should be stronger than recent months through November.
DEMAND: Wholesale used vehicle prices increased 0.75% month-over-month, bringing the Manheim Used Vehicle Value Index to a record high of 131.3. As demand surges following the hurricanes, the Manheim Index is likely to hit new records in September and October.
SUPPLY: The days' supply for August was 69, up 8 days YOY and up 1 day from July. Inventories of new vehicles at dealer lots stayed below 4 million units and are at the lowest absolute level of the year.
A monthly report leveraging Cox Automotive's multifaceted insight into the automotive marketplace to provide an overview of economic indicators, supply, demand, credit and other vital topics and trends affecting the industry.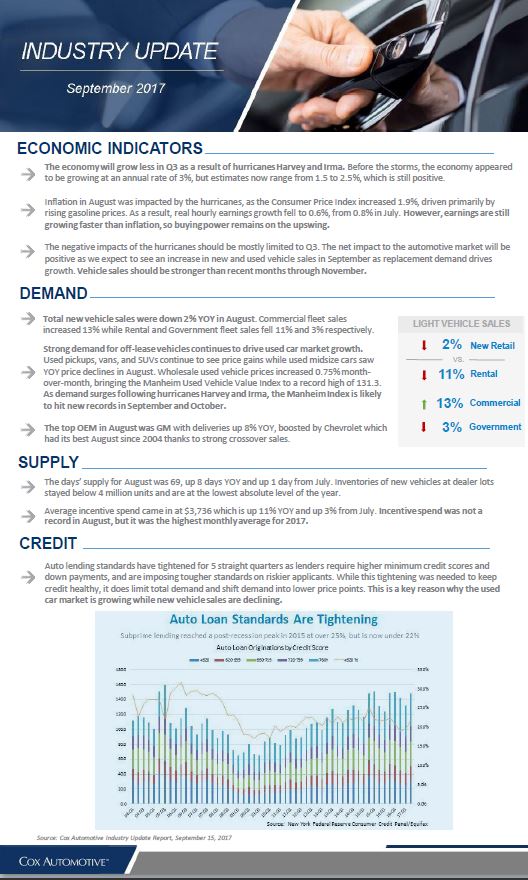 Cox Automotive September Industry Update
Get the full September 2017 report
Download
Tags