Differentiate your dealership
Data Reveals New Car Merchandising Best Practices
Wednesday August 15, 2018
Strong new car merchandising can differentiate your dealership from the competition and drive consumer preference for your inventory. In fact, data shows that shoppers are more likely to engage with well-merchandised vehicles.1 
The good news? Autotrader's search results are now not only based on shopper search criteria, previous shopping behavior, price and distance of vehicle to the shopper, but also on how well your inventory listings are merchandised. So the better your vehicles are merchandised, the higher they rank in Autotrader's search results!
Dealers can ensure their new cars rank higher on the Search Results Page (SRP) by making sure your new-car listings have multiple high-quality photos (the more, the better!), video, vehicle details, custom comments, and pricing.
This infographic shares key insights on the effectiveness of providing pricing in your listings, custom photos vs. stock photos and vehicle video to drive preference for your new car inventory. Take a look at the numbers.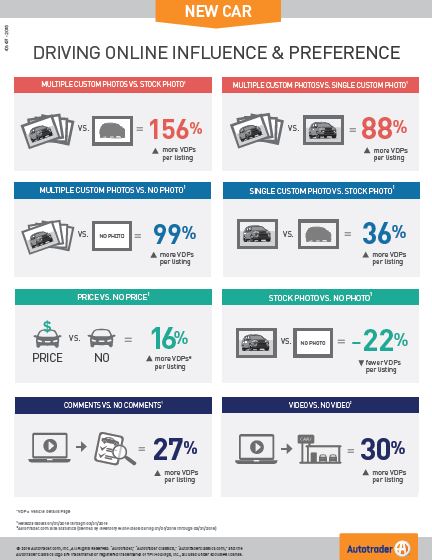 New Car Merchandising
See the infographic to drive influence & preference online.
Download
Tags
Source: 2017 SRP Hot Spot Test