Economic Outlook
Cox Automotive Industry Update Report: July 2017
Friday July 21, 2017
Article Highlights
ECONOMIC INDICATORS: Consumer prices for many goods and services are down. The overall Consumer Price Index (CPI) is up now only 1.6% YOY, and most of that gain is based on housing being up 3%. Substantial increases in vehicle prices may not be advisable while the overall CPI remains at or near the current level.
DEMAND: New vehicle retail sales were down 1% in June. Commercial fleet sales increased 15% while Rental and Government fleet sales fell 22% and 13% respectively.
SUPPLY: June new vehicle days supply was up 6 days from May (an increase of 7 days YOY), which continues to be high as new vehicle retail and fleet sales are marginally declining. Increased incentives and production cuts will help achieve a better inventory balance.
A monthly report leveraging Cox Automotive's multifaceted insight into the automotive marketplace to provide an overview of economic indicators, supply, demand, credit and other vital topics and trends affecting the industry.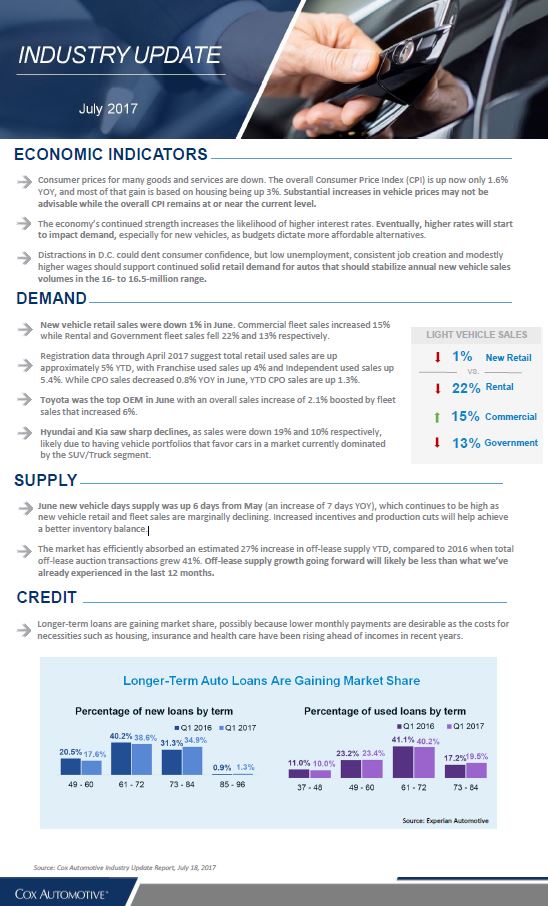 Cox Automotive July Industry Update
Get the full July 2017 report
Download
Tags