Economic Outlook
Cox Automotive Industry Update Report: June 2017
Wednesday June 14, 2017
Article Highlights
ECONOMIC INDICATORS: Consumer confidence is down slightly compared to last month but remains at a near 16-year high. Unemployment fell to a 10-year low of 8.4% in May, but job creation has slowed. The percentage of consumers planning to purchase a vehicle has dropped.
DEMAND: New vehicle retail sales experienced an increase of 0.3% in May compared to 2016. Commercial & Government fleet sales reported slight increases of 3% and 1% respectively. Rental fleet sales fell by 24%.
SUPPLY: Days supply for trucks came in at 69 days on average – an increase of eight selling days compared to May 2016. May was the fourth consecutive month that New vehicle inventory was more than 4 million units. New vehicle inventory did decline 1% from April but was up 9% YOY.
This monthly report leverages Cox Automotive's multifaceted insight into the automotive marketplace to provide a one-page overview of economic indicators, supply, demand, credit and other vital topics and trends affecting the industry.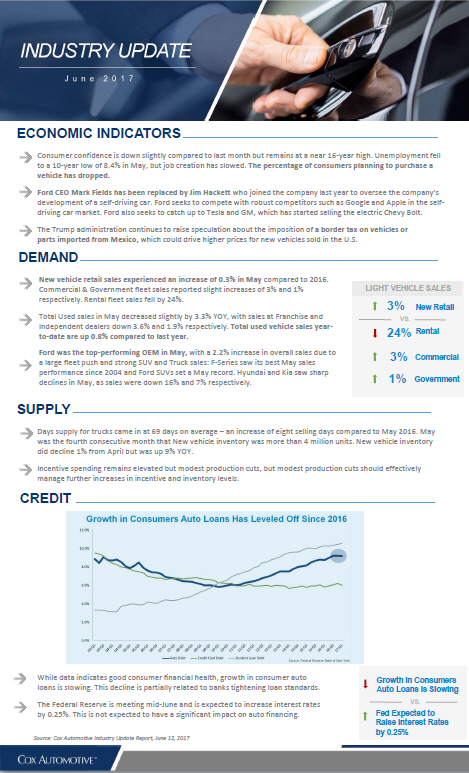 Cox Automotive June Industry Update
Get the full June 2017 report
Download
Tags