Economic Outlook
Cox Automotive Industry Update Report: March 2017
Wednesday March 15, 2017
Article Highlights
ECONOMIC INDICATORS: As the market continues to transition from one of steady growth to a more slowly evolving plateau, industry health may be increasingly gauged by indicators such as plant closings/shift eliminations, dealer throughput/staffing levels, incentive levels /activity and transaction prices.
DEMAND: New Vehicle Retail Sales were up 0.6% in February, but Fleet, Commercial, Rental and Government reported YOY declines of 2%, 9% and 12% respectively. Used car sales are off to a solid start this year with a 5.5% YTD increase in Franchise sales and 7% increase in Independent sales.
SUPPLY: A surge in off-lease vehicles entering the used vehicle market indicates that dealers should focus on capturing share from those consumers coming off-lease who are entering the market again.
This monthly report leverages Cox Automotive's multifaceted insight into the automotive marketplace to provide a one-page overview of economic indicators, supply, demand, credit and other vital topics and trends affecting the industry.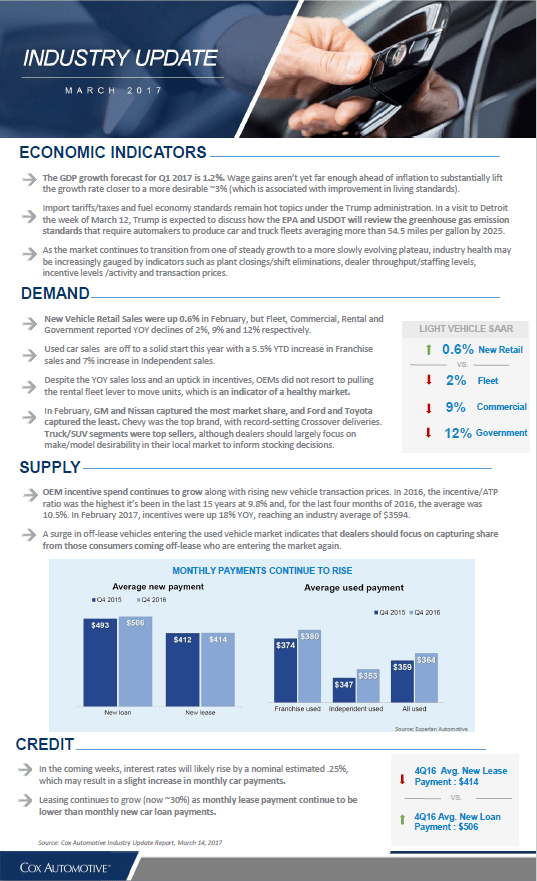 Cox Automotive March Industry Update
Get the full March 2017 report
Download
Tags