CAMIO
Supply Challenges Hinder 2022 New-Vehicle Sales
Wednesday June 7, 2023
The U.S. new light vehicle market had a disappointing year in 2022 as the global pandemic of 2020 continued to impact sales negatively. Only 13.8 million new light vehicles were sold, a decline of 8.0% or nearly 1.2 million sales from the year prior. This decline, though, was not from lack of demand but rather due to lack of supply, and that was the key obstacle facing the vehicle market all year. Many potential vehicle buyers could not find the product at the price they wanted. However, the new-vehicle market ended 2022 very differently than how it started.
Supply constraints caused by COVID-19-related supply chain disruptions kept vehicle supplies at a minimum through the first half of 2022. As a result, vehicle sales were stuck near 1.1 million units each month, as only minor gains in inventory were seen.
In the second half of 2022, the supply disruptions dissipated for many manufacturers. Product availability on dealer lots improved significantly and continuously from July through the end of the year. Vehicle sales improvement followed because of the supply recovery. After hitting a sales pace, or seasonally adjusted annual rate (SAAR), of 13.3 million in Q2, the pace improved to 14.3 million by Q4.
Although the whole market was down 8%, passenger car sales were down over 14%, while truck sales were down less than 6%. Car share of the market continued its decade-long decline and finished the year at just 20.8% of all vehicle sales. This is down from a 22.4% share in 2021. Cars are generally less expensive than trucks, so this shift contributes to rising prices in the new-vehicle market.
2022 U.S. New-Vehicle Sales Volume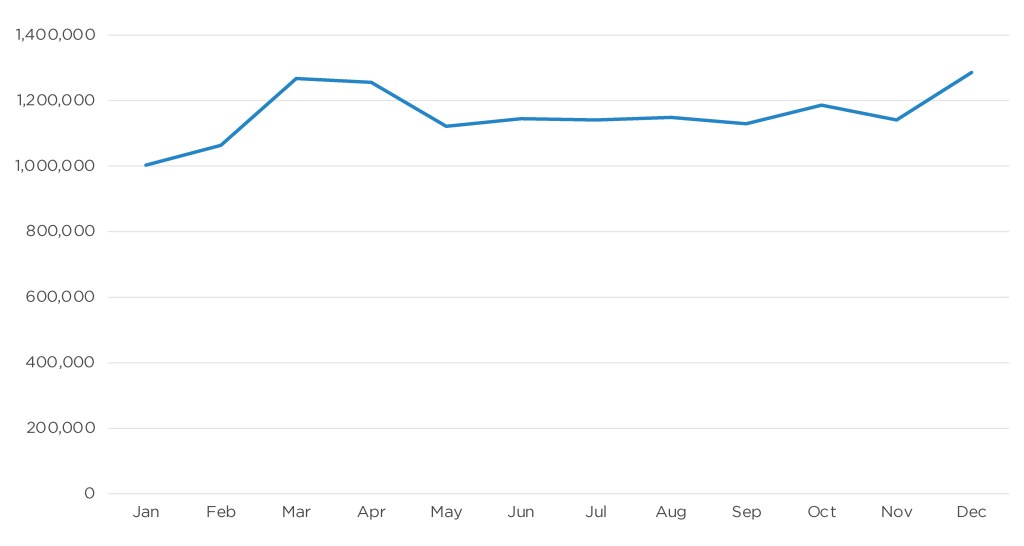 The Outlook: New-vehicle sales are expected to increase in 2023 compared to 2022. The Cox Automotive forecast for 2023 new-vehicle sales is 14.2 million as of the Q2 update. The ongoing recovery of the supply chain will continue to lift the market in 2023 and beyond. However, higher interest rates and higher new-vehicle prices will also continue to negatively impact the market in 2023, so consumers will face significant affordability challenges over the near term.