Smoke on Cars
Auto Market Weekly Summary
Monday January 7, 2019
The new year kicked off with positive reports on new-vehicle sales and the job market. Still, the economy and auto market are less certain with more risks to the downside in 2019.
Looking ahead: While 2018 was a very strong year for both the economy and vehicle sales, it will be nearly impossible to repeat. The impact from tax reform will be far less pronounced in 2019 and may produce some negative side effects. Trade remains a major wild card with big implications for the auto market. China's economy is slowing and may take the global economy down with it due to the trade war. The direction of interest rates is less certain.
Last week's recap: Jobs and vehicle sales closed 2018 on a high note. New-vehicle sales were strong again in December, pushing total annual sales slightly above 2017. The job market posted impressive job gains. Although wage inflation appears to be growing, the Fed is sounding less hawkish as it contends with less positive data about China and domestic manufacturing.
New-vehicle sales: Forecasts had 2018 new-vehicle sales down from 2017, but they gained by 0.5 percent, totaling 17.2 million vehicles. December sales rose 1.5 percent, pushing the SAAR to 17.5 million, from last year's 17.3 million. Fleet sales, supported by corporate tax reform, drove higher sales. Retail sales declined marginally for the year and improved slightly at year's end.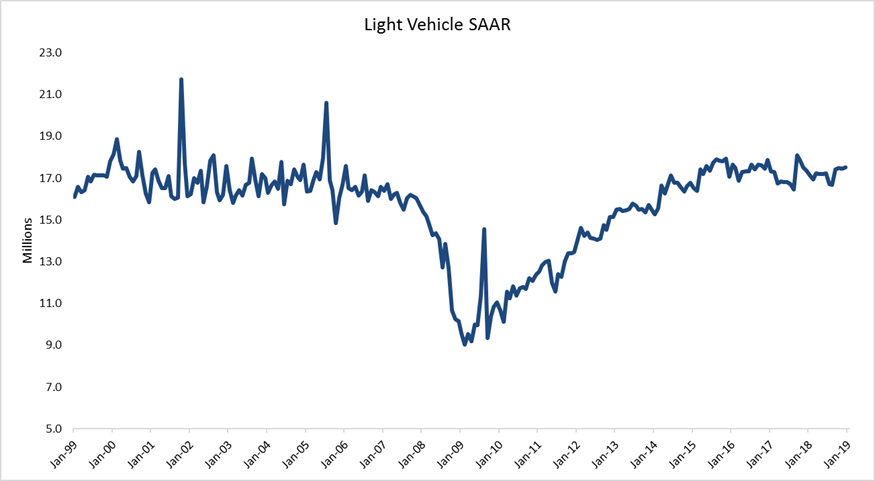 Car sales posted sharp declines, falling 10 percent compared with December 2017. Car market share dropped to 27.6 percent of all sales in December, the lowest monthly share ever. Light trucks again outperformed cars in December and were up 6 percent year-over-year.
Average incentives were $3,807, down 4 percent year-over-year and up 2 percent from November. Stronger sales drove days' supply down, now flat with last year. But the supply of light trucks is more elevated while car supply is down substantially, thanks to big declines in production and elimination of models.
Jobs, jobs, jobs: Job creation accelerated to 312,000 in December and blew through the consensus expectations of 184,000. The prior two monthly numbers were revised upward. The headline unemployment rate increased to 3.9 percent, while the underemployment rate remained flat at 7.6 percent. Average hourly earnings increased by 3.2 percent, the highest level of wage inflation since 2009.
Volatile stock market: Negative news sent the stock market reeling for the first trading days of the year on the anxiety about China's weakening economy and impact on global trade including highly visible U.S. companies like Apple. By week's end, the market rose on the positive employment data and the Fed's announcement that it would be patient and data driven before raising rates.
Where do interest rates go? We face less certainty about the direction of interest rates. It is now possible that rates could go lower in 2019. Yet, the yield curve suggests that credit could tighten as lenders become more risk averse in an environment where rates may need to go lower. Due to deteriorating trends in global growth, the bond market has quickly shifted from a view that the Fed will at most increase interest rates only once in 2019 to one where they may be forced to lower rates.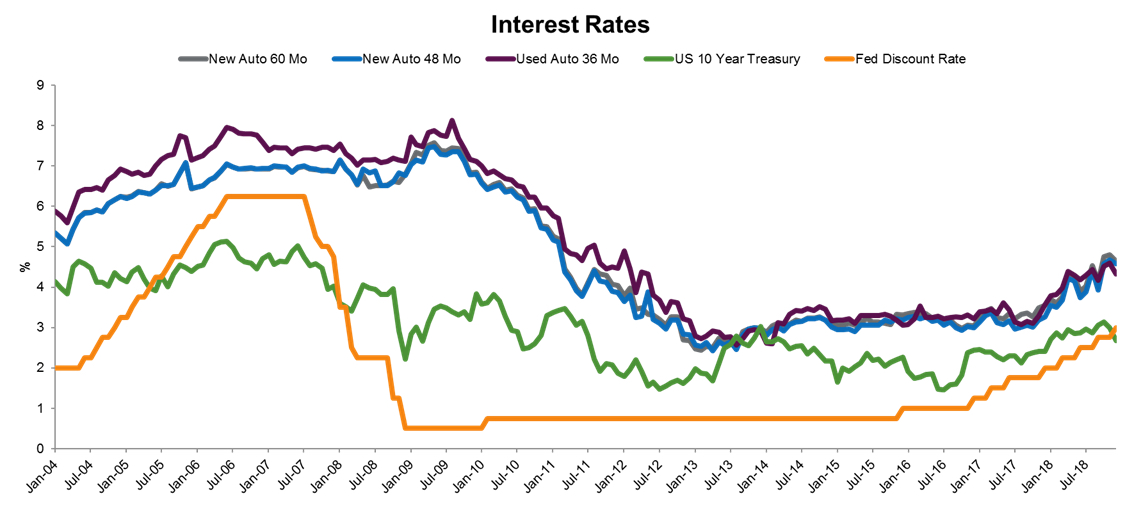 The financial market volatility earlier in the week resulted in big declines in longer term rates, which is good for auto loans and mortgages, but bad in terms of the yield curve, possibly leading to credit drying up for auto loans and mortgages.
What we're watching this week: We'll be watching China-U.S. trade talks, the government shutdown and its impact on businesses and key economic data, additional commentary from the Fed on the direction of interest rate and monetary policy and December inflation numbers.
What we're reporting this week: On Tuesday, Cox Automotive releases the Q4 2018 Manheim Used Vehicle Value Index. Later in the week, we'll give our take on the impact of tax refunds on the vehicle market.
Tags