Smoke on Cars
Auto Market Weekly Summary
Monday January 14, 2019
The government shutdown and a major auto show are the focus of information and data gathering this week.
Looking ahead: This week we'll be monitoring news from the North American International Auto Show in Detroit and the events surrounding it. We will also review fresh data on new home construction and sales, retail sales, and consumer sentiment.
Last week's recap: The government shutdown is hindering our ability to track the economy because some government-tracked data are not being updated, but other key metrics were released last week.
Government shutdown: The government shutdown, now the longest on record, will be a drag on economic growth this quarter, but, most importantly, it's adding to uncertainty when the market already has much to worry about. Despite the shutdown, the stock market ended higher as it reacted positively to seeming progress on mid-level talks to resolve the U.S.-China trade war while also cheering a more dovish stance on future monetary policy by the Federal Reserve.
Consumer prices: The most important new economic data last week was on the Consumer Price Index. That data simultaneously points to consumers benefitting from lower fuel prices while also starting to show that wage inflation is indeed pushing core prices higher. Even though the Fed remains focused on preventing an inflation problem, it is attempting to reduce the balance sheet and manage rate policy in a way that guides the economy into sustainable growth that won't trigger more inflation. That's easier said than done.
Strong close for used-vehicle sales, prices: Last year was another up year for used-vehicle sales and used-vehicle prices. Although used-vehicle values softened at the end of the year, values remain about 2 percent higher on average than where they would have been had we not had the abnormal price appreciation trend that lasted 11 weeks during the summer. That 2 percent-higher price level aligns with the estimated average increase in new-vehicle costs because of the tariffs implemented last year on steel and aluminum and imported parts from China.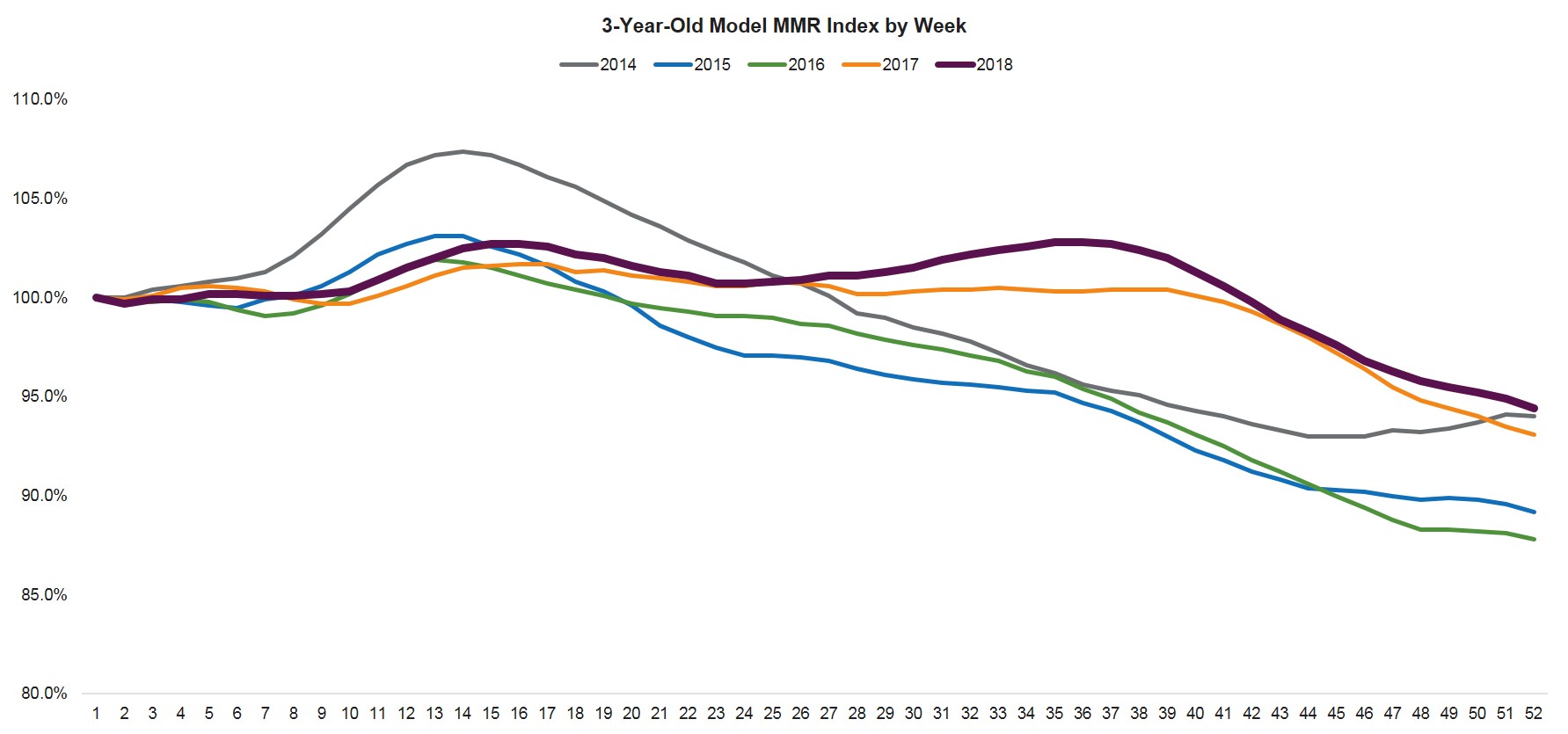 Fewer rate hikes for 2019: The financial markets have liked what they have been hearing so far this year, but there remains a big disconnect in the official Fed rate policy direction of likely two increases in 2019 with the financial markets now leaning toward the possibility of a cut in rates rather than an increase. We believe that rates are likely to move up in 2019 but far less than what we saw in 2018. The average "best available" 60-month new-vehicle auto loan rate according to Bankrate.com was 4.75 percent last week, effectively unchanged from the previous week but up from 3.56 percent this time last year.
Vehicle prices to rise in 2019: Like with interest rates, the year ahead for vehicle prices is likely to be volatile as more tariffs could push prices up again and elimination of tariffs could bring prices back down. Our view is that prices will go up in 2019 but less than what we saw in 2018 or 2017.