Smoke on Cars
Auto Market Weekly Summary
Monday January 28, 2019
The government shutdown limited the amount of new economic data to review. With everyone back to work, we expect to see a flood of new data to review this week.
Looking ahead: With the government back up and running, we expect to obtain missed data from the last three weeks along with January consumer confidence, fourth quarter GDP, December personal income and spending, December pending home sales, January employment and January new vehicle sales.
Last week's recap: The partial government shutdown, which came to an end temporarily last Friday, marked the longest in history at 35 days. That likely means the economy lost a quarter point of growth in GDP in the first quarter. Meantime, Congress will be working on plans to keep the government open beyond the current Feb. 15 deadline.
Housing: Last year was not a good year for the housing market. Existing home sales in 2018 fell to the lowest level since 2015. The existing home sales SAAR fell 6.4 percent in December to a more than 3-year low. The good news is that slowing demand is slowing home price growth while mortgage rates are off last fall's highs. The spring could see a surge in purchases as would-be buyers challenged by affordability get a window of opportunity to buy with more inventory. Without a reversal in sales trends, housing won't contribute to U.S. economic growth in 2019.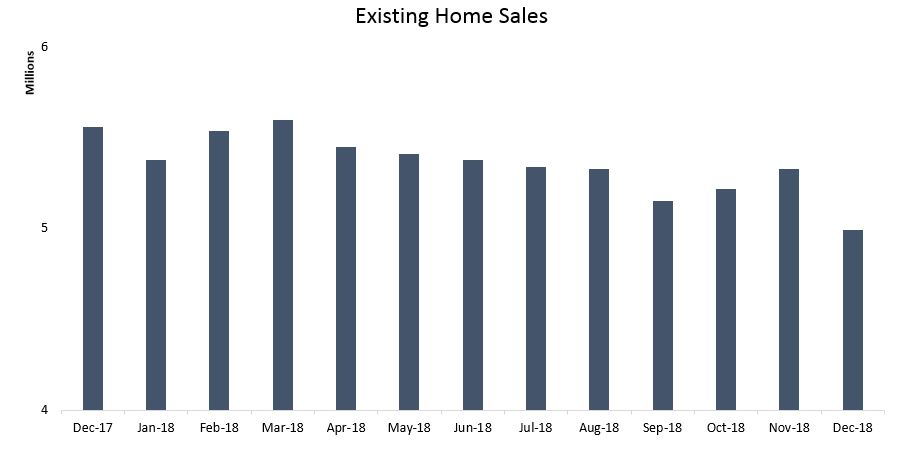 Auto Loan Rates: Average auto loan rates have not come down like mortgage rates, but they also have not increased. We've seen stability for three months now in auto loan rates.
Ford earnings: Ford Motor Co. kicked off the corporate earnings season with disappointing results, including a fourth-quarter loss due to restructuring costs. While its North American operations were strong due to pickup truck and SUV sales, Ford struggled in most overseas markets. Ford results don't necessarily signal the same for other automakers. General Motors, which reports next week along with FiatChrysler, has upgraded its 2019 outlook. Tesla announces financial results this Wednesday.