Smoke on Cars
Auto Market Weekly Summary
Monday February 25, 2019
New data points last week did not reveal any significant changes to major trends. The number and amount of tax refunds and total returns continued their downward trend for the third consecutive week.
Last week's recap: The economy is experiencing uneven growth in sectors. Manufacturing is slowing down, but services is staying strong. Interest rates are holding steady as the Fed affirms a patient and data-driven approach to monetary policy. Housing is continuing to decline but also shows some promise for somewhat of a rebound in coming months due to moderately lower mortgage rates.
Tax refunds: On cumulative basis as of Feb. 15, the number of total returns processed is down 6.6 percent, the number of refunds is down 26.5 percent, the amount of refunds is down 38.8 percent, and the average refund is off 16.7 percent.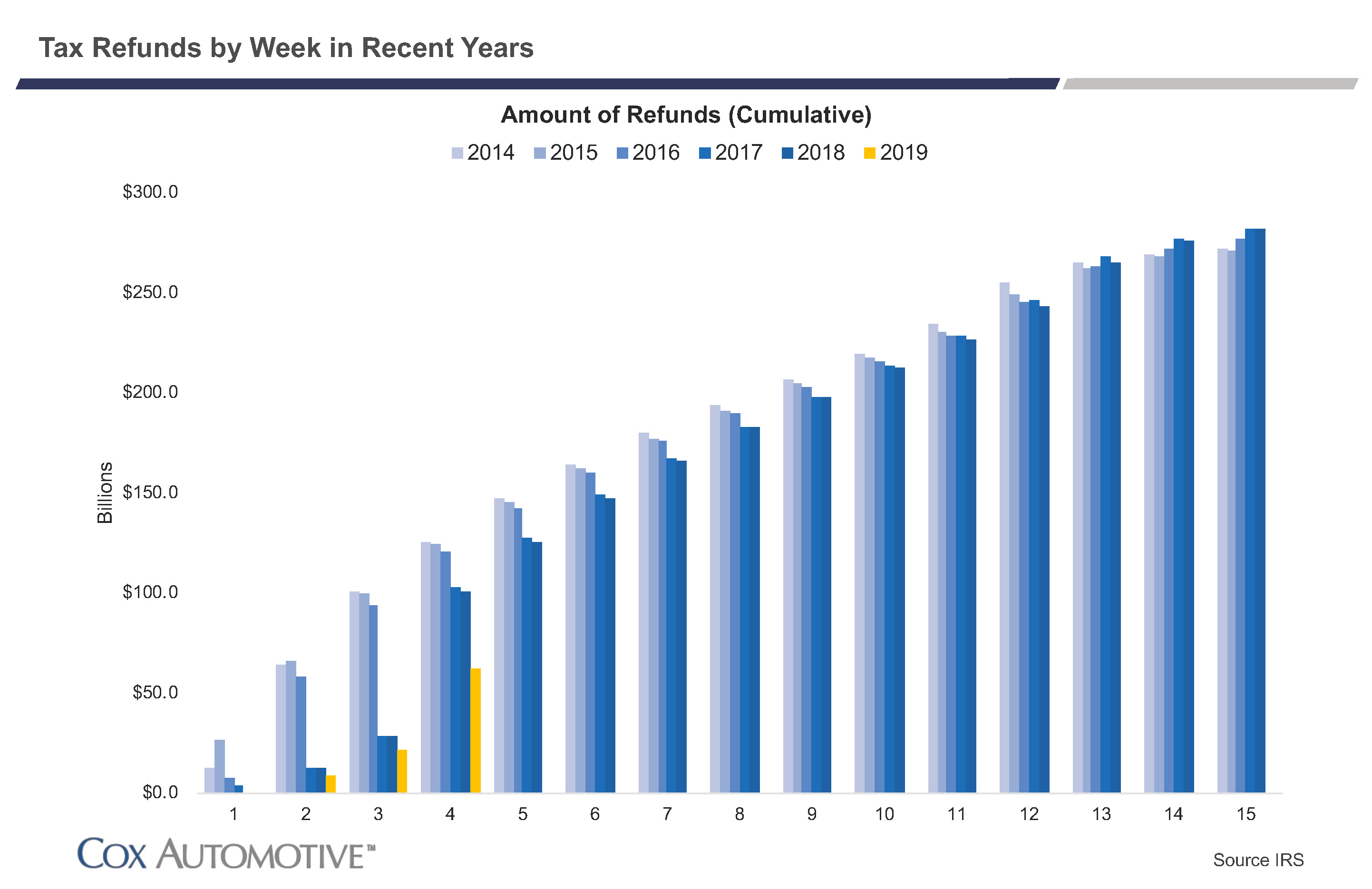 It is important to note that the trend could dramatically change going into March as the IRS expects the earliest Earned Income Tax Credit and Additional Child Tax Credit filers to begin receiving their refunds.
We have been expecting slower, lower refunds to prevent some consumers from spending on things like used vehicles or catching up on bills. The coming weeks will tell to what extent that is true.
Tariff threat: President Trump delayed his March 1 deadline to increase tariffs on $200 billion of Chinese goods, citing "substantial progress" in last week's trade talks, though no official agreement has been made.
Still, the threat of a new auto and parts tariff remains real. Last week, the Commerce Department submitted its report to the White House regarding national defense grounds for pursuing a new tariff of as much as 25 percent on imported autos and parts. That report has not been made public.
The White House has 100 days to implement the tariff – it must issue details in 82 days (by May 18) and then has 15 days to implement. It is anticipated that the Administration will use this full timeline to achieve trade deals with not only China but also Europe and Japan.
Limiting the potential impact to just Europe and Asia (excluding other global trade issues including Brexit and USMCA ratification) and assuming a 25-percent tariff on autos and parts, we estimate the new tariff would result in a decline in new vehicle sales of 1 to 1.5 million units. The decline would be the result of higher prices as well as diminished economic activity once the tariff is fully implemented. Meantime, the EU is threatening retaliation.
We anticipate that consumers and dealers will start reacting to media coverage of the potential for higher prices starting in June. If so, we could see demand pulled forward from the second half of the year. If so, we could see a reversal of softer vehicle price trends that have been in play since last November. Such price-anxiety-driven demand could more than offset weakness from lower tax refunds. The next few weeks should reveal any changes in price trends leading into the spring.
Looking ahead: This more belated government data from December and January will be released as will data on January's pending home sales, February consumer confidence and February new vehicle sales, reported on March 1.