Data Point
Cox Automotive Analysis: GM's Q1 2021 U.S. Market Performance
Tuesday May 4, 2021
Article Highlights
GM Average Transaction Prices soar to new records.
GM Q1 sales were up from 2020 but not at pre-pandemic levels.
GM slashed Q1 incentives.
General Motors posts first-quarter 2021 financial results on Wednesday, May 5. Analysts expect strong earnings on higher revenues. They will look for GM's take on the global computer chip shortage and its anticipated effect on GM's sales and operations.
GM did not return to pre-pandemic sales levels across the board as it was hampered by production disruptions across numerous products and plants due to the chip shortage. However, GM reduced incentives and had sales gains and price hikes on vehicles that matter – profit-rich large trucks and SUVs – all of which should help the bottom line.
Here are some data points from Cox Automotive on GM's first-quarter market performance in the U.S., where the company derives the bulk of its profits.
Sales and Market Share
GM's U.S. sales totaled 639,406 units in the first quarter, up 4% from last year's first quarter, which was the automaker's lowest sales volume in years due to the COVID-19 pandemic. Despite the gain, the first quarter was GM's second-lowest sales volume for the first quarter since 2015. Compared with 2019, GM's first-quarter sales were down 4%.
Sales Volume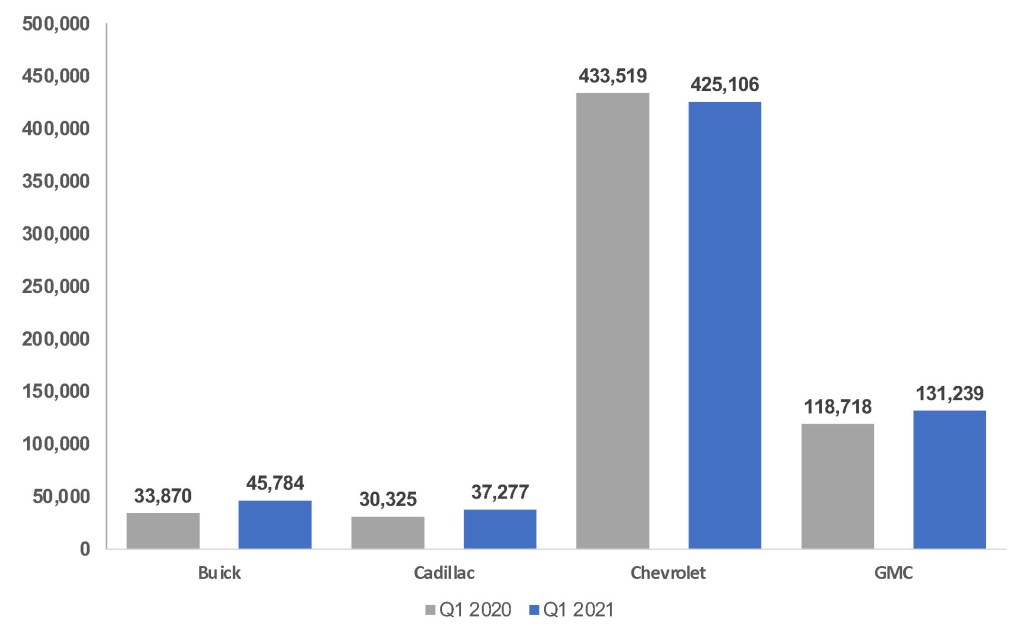 Total industry sales for the first quarter rose 11%. That put GM's market share at 16.4%, its lowest for any first quarter since 2015.
GM's four brands were a mixed bag of performances.
Chevrolet posted a 2% decline in sales at 425,106 vehicles. That was also down from 2019, making it Chevrolet's lowest sales volume for the quarter since 2015. Chevrolet vastly underperformed the overall market, which resulted in a market share of 10.9%, down 1.5 percentage points from the year-ago quarter that marked Chevrolet's highest share for the quarter in at least five years.
Chevrolet's highest volume and most profitable model, the full-size Silverado pickup truck, had sales of 124,704 units, down 13% from a year ago but up from 2019. Due to a lack of computer chips, GM was forced to trim truck production and build trucks without certain modules that required chips, some of which were sold and others that were stockpiled awaiting parts. Chevrolet's second-highest volume model, the midsize Equinox SUV, faced similar production challenges. A plant that makes them will be closed for a couple of months longer. Its sales dropped 14% and were below 2019 levels.
Despite extremely tight inventories, the new Chevrolet Suburban and Tahoe had sales up 17% and 13%, respectively, from a year ago and up from 2019. The midsize Traverse SUV was up 26%, and the new Trailblazer kicked in more than 25,000 units of sales. The Bolt EV had sales up 54% to about 9,000 units. Express vans had sales up 28%, as cargo vans are in high demand due to increased home delivery services during the pandemic.
Buick posted sales of 45,784 units, up 35% from the year-ago quarter but still down from 2019. In fact, Buick, which is converting to an SUV-only brand, had its second-lowest sales volume for any first quarter since 2015. Still, Buick outperformed the overall market and luxury market, pushing its market share a tad higher at 1.2%.
The new Encore GX – a longer version of the Encore – was Buick's volume leader in the quarter with 18,435 sales. Meanwhile, the standard Encore was down 56%, with about a third of the GX's volume. The Envision, which was revamped this year, had sales up 51%. The Enclave, also undergoing a remake this year, was up 21%.
Cadillac sales were also up significantly. It sold 37,277 vehicles, up 23% from the year-ago first quarter, up from 2019 and its highest sales volume for the quarter since 2015. Cadillac outperformed the luxury market, which had sales up a hefty 17%. That pushed Cadillac's market share to a full 1%, its highest Q1 market share since at least 2015.
The new profit-rich Cadillac Escalade posted sales of 6,217 units, up 92% from a year ago. The Escalade ESV was up 52%. The volume leading XT5 had sales slip 3% while the XT6 and XT4 SUVs posted gains.
GMC had an 11% gain in sales volume to 131,236. Its sales remained below the first quarter of 2019 but was still the third-highest first quarter since 2015. Its market share was 3.4%, among the highest since 2015.
GMC Sierra sales soared to 62,917 trucks, up 19% from a year ago and its highest sales volume since at least 2015. The new Yukon had sales up 31% to 11,882 units, its highest level since 2015. The midsize Canyon pickup truck posted sales up 59% from last year and higher than 2019, putting it back on par with other first quarters even though production was trimmed for the chip shortage. Only the Terrain had sales lower than a year ago, and it is GMC's cheapest model.
Incentives and Prices
Strong demand and tight inventories allowed GM to reduce incentives significantly. Total incentives fell 7% from a year ago to an average of $4,787 per vehicle, according to Cox Automotive calculations.
Cadillac had the largest decline in incentive spend, down 21% to an average of $5,670 per vehicle, its lowest per-vehicle spend since 2016. GMC also cut incentives, down 17% to an average of $4,862 per vehicle, its lowest since 2018. Chevrolet spent 4% less for an average of $4,362 per vehicle, its lowest since 2017. Buick incentives were up 3% to an average of $5,291 per vehicle.
Sales Incentives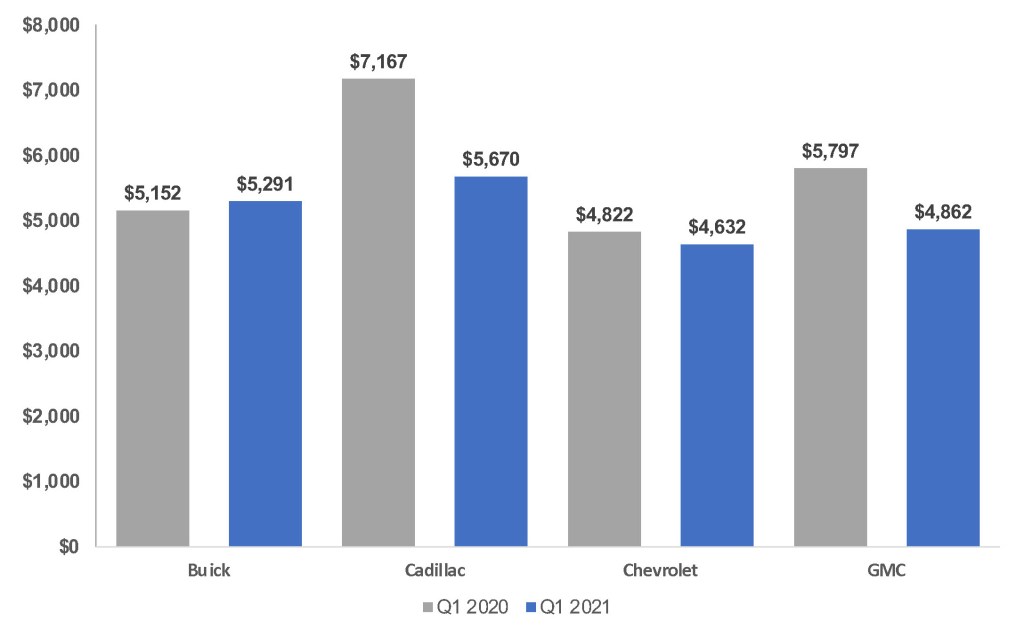 GM's overall average transaction price set a record of $44,685, up 9% from a year ago. The ATP hikes were on the vehicles that matter – GM's most expensive, biggest profit-margin models, mostly large pickups and SUVs.
They included: Cadillac Escalade, up 16% to $100,754 and Escalade ESV, up 15% to $103,729; GMC Yukon, up 15% to $76,319 and Yukon XL, up 13%, to $79,665; Chevrolet Suburban, up 11% to $69,023, and Tahoe, up 20% to $65,460. The new Chevrolet Corvette saw a 12% rise in its ATP, now $81,996. GM's full-size pickup trucks set new price milestones. The Chevrolet Silverado surpassed the $50,000 mark; the GMC Sierra passed $60,000.
Average Transaction Prices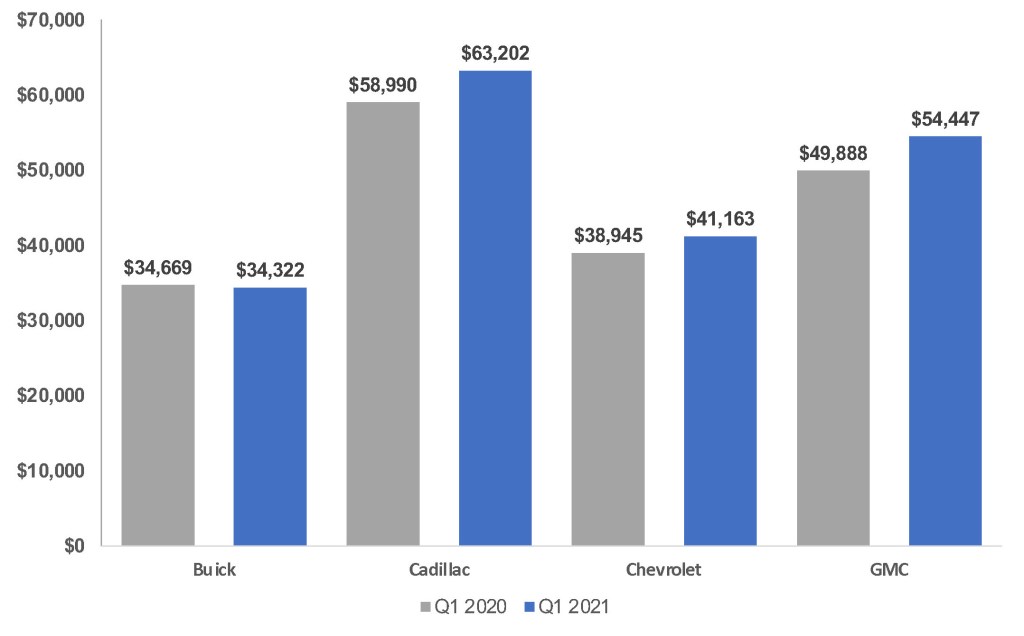 By brand, Cadillac's overall ATP rose 7% to $63,202, GMC, up 9% to $54,447; and Chevrolet, up 6% to $41,163. Buick was the outlier with its ATP down 1% to $34,322, its lowest since at least 2015.
Tags