Commentary & Voices
Cox Automotive Analysis: GM's Q4 2020 U.S. Market Performance
Tuesday February 9, 2021
Article Highlights
GM's Q4 sales climbed 5% to 767,444 vehicles.
GM cut Q4 incentives by 5% to an average $5,115 per vehicle.
GM ATP rose 5% to $44,690.
General Motors reports fourth-quarter and full-year 2020 financial results on Wednesday, February 10. Despite the pandemic, GM's profit in comparison to last year should be favorable. Third- and fourth-quarter earnings in 2019 were clobbered by a 40-day strike by the UAW. In addition, GM gained traction with its redesigned full-size SUVs and increased sales of its pickup trucks – all vehicles that generate big profits for the automaker.
Here are key data points from Cox Automotive on GM's fourth-quarter performance in the U.S. market, where the company derives the bulk of its profits.
Sales and market share
GM's total sales rose nearly 5% to 767,444 vehicles in the fourth quarter. Total industry sales dipped 2%, so GM's total market share edged higher to 18.32% compared to 17.09% in the year-earlier quarter.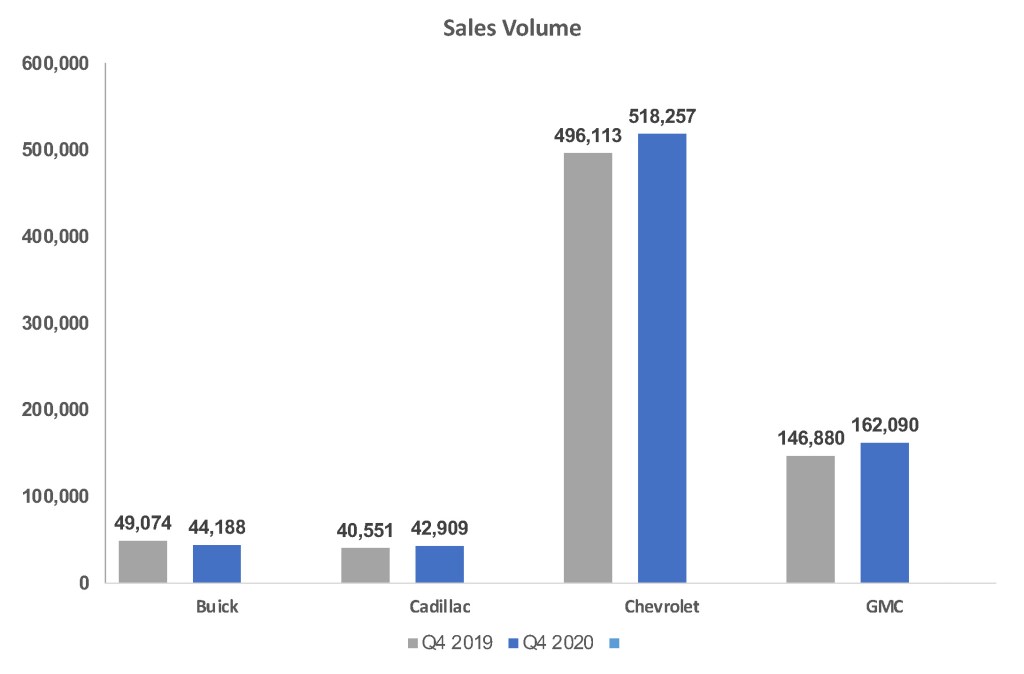 Buick was the only GM brand that reported lower sales in the quarter than in the previous year. It sold 44,188 vehicles, down 10% and dropping Buick's market share to 1.05%, its lowest in at least five years of fourth quarters.
Buick remains in the midst of transforming itself into an all-SUV brand, eliminating its car lines and leaving it with basically three SUV models to sell. The new Encore GX, a longer version of the compact Encore, kicked in 16,965 sales, making it Buick's volume leader and obviously substituting for Encore sales, down 78%. Buick's second-best volume vehicle, the midsize Enclave crossover, had a 22% sales increase to 12,338 units. The made-in-China Envision had a 1% sales gain to 8,474 vehicles. Buick has just launched a new version of the Envision.
Cadillac closed in on Buick's sales levels in Q4 with 42,909 units sold, up 6% from Q4 2019. That put Cadillac's market share at 1.02%, the highest for any fourth quarter since 2016.
Cadillac also continues to transform itself, discontinuing old models and launching fresh replacements. The redesigned Escalade had a 17% sales gain to 5,980 units, making the all-new full-size-plus SUV the brand's volume leader. The new CT4 and CT5 sedans added 2,721 and 5,135 vehicles, respectively. The rest of the line was in negative territory.
Chevrolet sales rose nearly 5% to 518,257 units in Q4. Its market share stood at 12.37%, its highest for the quarter in three years.
Chevrolet sales were boosted by some of its most profitable vehicles. Sales of the full-size Silverado pickup rose 10% to 176,708 units, the highest level in five years of fourth quarters. Despite tight inventories, the mid-size Colorado pickup posted a 9% gain. The midsize Traverse crossover had sales up 24%, its highest level in five years of fourth quarters. Cargo van sales also were up 8%. Chevrolet's second-highest volume model, the Equinox, was down, off 14%, and it undergoes a freshening for 2021 as does the Traverse.
The Chevrolet Bolt EV doubled sales to 6,701 units. Chevrolet offered hefty incentives on the electric car to sell it down to make way for the redesigned version coming this year, along with a utility version. Finally getting rolling with the Corvette, which has had production and supply disruption problems, sales soared 158% to 8,992 units.
Highly-profitable GMC had the biggest gain, with sales up 10% to 162,090 vehicles in Q4. That put its market share at 3.87%, its highest in at least five years of fourth quarters. A number of GMC models had hefty gains: Canyon, up 38%; Sierra, up 14%; and the new Yukon, up 28% with a 3% hike for the Yukon XL.
Incentives
GM cut incentives overall by nearly 5% in the quarter to an average of $5,115 per vehicle. That was still the second-highest for any fourth quarter in at least five years, next to $5,377 last year. GM increased incentives for Buick and lowered them on its other brands.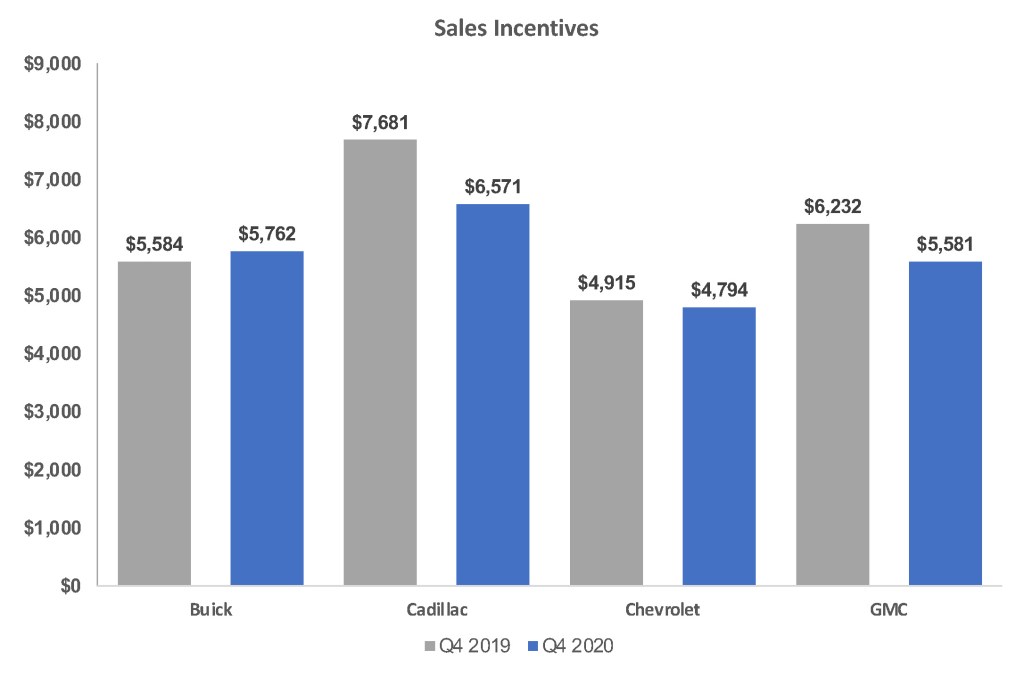 Buick incentives rose 3% to an average of $5,762 per vehicle, the highest since Q4 2017. In fact, for the full year, according to an analysis by our Kelley Blue Book team, Buick led the industry in a measure of incentives as a percent of the average transaction price, at 16.6%. The industry average was 11.3% in 2020.
Cadillac incentives were down 15% in Q4 to $6,571, but the lowest in three years. Chevrolet incentives dipped 3% to $47,94. GMC slashed incentives by 10% to $5,581.
Average Transaction Prices
GM's average transaction price (ATP) in Q4 rose 5% to $44,690, its highest level, according to Kelley Blue Book calculations.
Buick's ATP climbed 5% to $34,798, on the strength of higher sales of its pricey Enclave, with its ATP of $47,766.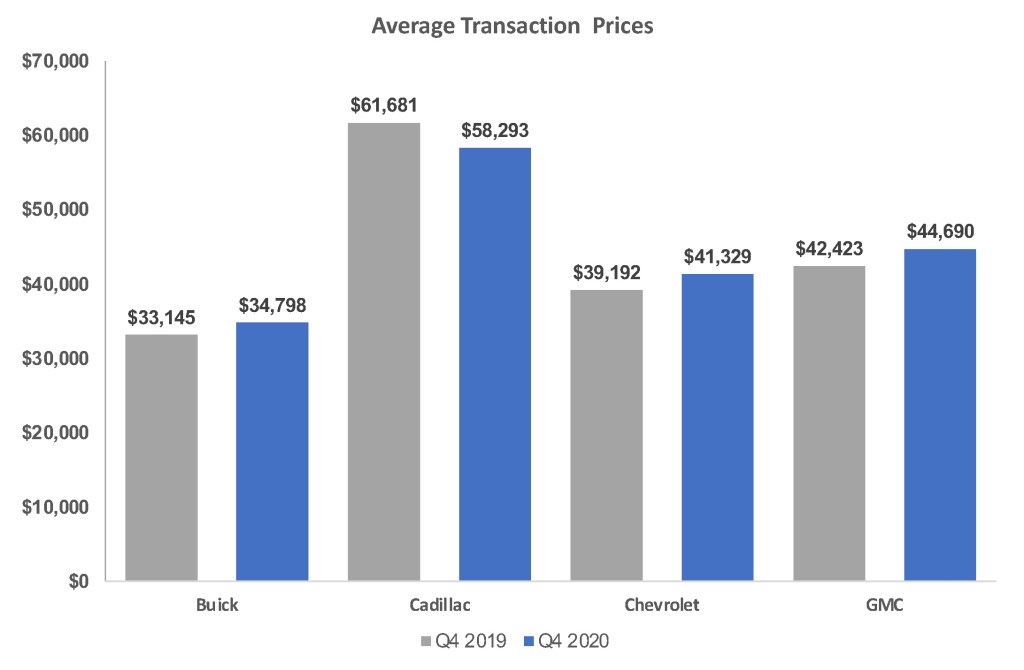 Cadillac's ATP dipped 6% to $58,293. It was Cadillac's first drop below $60,000 since 2016 as the brand sold down its old car model lines.
Chevrolet's ATP rose nearly 6% to $41,329, marking the first time it surpassed the $40,000 mark in a fourth quarter. Booming sales of the Corvette, with its ATP of $80,122, gave the brand a boost. The big, new SUVs also helped. At $68,865, the redesigned Suburban saw a 9% rise in its ATP over the old model. The new Tahoe's ATP climbed 11% to $65,130, the first time its ATP surpassed the $60,000 mark.
Tags